15 Jul 2020 Samantha McLauren
Coinbase Enters A 4-Year Partnership With The U.S. Secret Service
The Federal Law Enforcement Agency Will Utilize Coinbase's Blockchain Analytics Service
---
The U.S. government and its Secret service agency secured a four-year partnership with San Francisco-based crypto exchange Coinbase, according to data, published on USA`s directory for governmental contracts on USASpending.gov.
The data reveals the Secret Service agency paid Coinbase $183,750 in order to gain access to Coinbase`s Analytics software. Тhe agency started using Coinbase's software tools on May 11, 2020, and the contract implies end of usage on May 10, 2024, when the contract expires.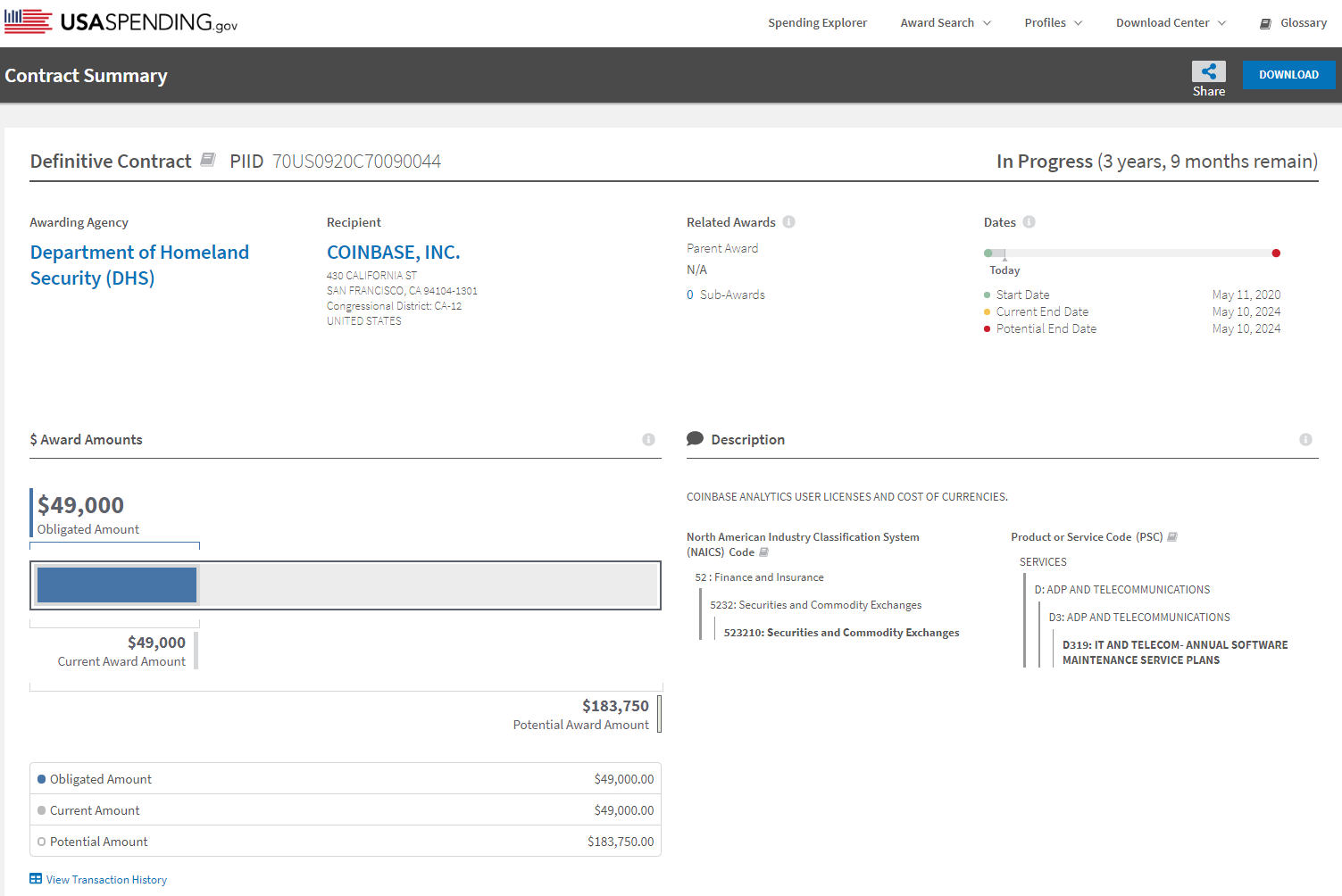 Source: USASpending.gov
The contract signing comes just a month after Coinbase enabled two other agencies U.S. Internal Revenue Service (IRS) and the Drug Enforcement Administration (DEA) to use its analytics software in order to help them with internal investigations.
However, all two offerings, along with the new third deal made with the Secret Service, managed to bring an uproar among Coinbase users, citing "fear of personal data and on-chain activity being delivered to the U.S. government."
Coinbase's CEO Brian Armstrong responded to the accusations as the uproar caught some media coverage. Armstrong made a public statement on Twitter, explaining that anti-money-laundering mechanisms are not perfect, but are mandatory for creating and operating a fiat-to-crypto exchange legally.
Blockchain analytics intelligence is a costly capability and Coinbase is looking for ways to diminish costs which may be seen as an attempt to occupy the leading position on the crypto exchanges market. Armstrong believes that the growing demand for blockchain analytics opens opportunities for Coinbase to sell the solution to third parties. By doing so, building relationships with law enforcement authorities will strengthen the crypto industry.
The acquisition that Armstrong mentioned is the Neutrino merge-and-acquisition (M&A) deal from February 2019. The move was expected to aid Coinbase`s blockchain intelligence system, allowing analysis of data across public blockchains to be made.
Meanwhile, Coinbase is preparing to enter the public sector with an IPO, which may further solidify the exchange's place among the top tech giants. However, in order to go public, Coinbase has to receive approval from the U.S. Securities and Exchange Commission. If Coinbase receives the approval, the U.S crypto exchange would become the first publicly-traded company in the crypto exchange sector
cryptocurrency trading
Coinbase
Crypto Market
Exchanges News
Blockchain Development
Blockchain Application
crypto market monitoring
Coinbase Pro
exchange
us economy
Exchanges
USA
US
Blockchain technology