20 Feb 2023 Josphat Kariuki
Conflux (CFX) With A Five-Fold Price Increase, Stacks And Filecoin Also Explode
Other Cryptos Also Mark Massive Price Gains, Indicating That The Bearish Cycle May Be Over
---
Despite several ups and downs in the crypto sector in February, some coins are making immense gains, and one of them is Conflux network's native cryptocurrency – CFX. According to Chinese computer scientist Dr. Andrew Chi-Chih Yao, who created CFX, the token is a Layer 1 public blockchain that claims to solve Ethereum's trilemma — decentralization, security, and scalability.
Interestingly, the token, which hit a low of $0.022 on January 1, rose to $0.051 on January 26 as its trading volume surged by 373% to $57 million, as "Little Red Book," the Chinese version of Instagram, integrated the Conflux Network to allow its 200 million users access to NFTs minted on the blockchain.
However, the real increase came with Conflux's native CFX tokens price further soaring by 20% after the Conflux network announced plans to build blockchain-based SIM cards (BSIM cards).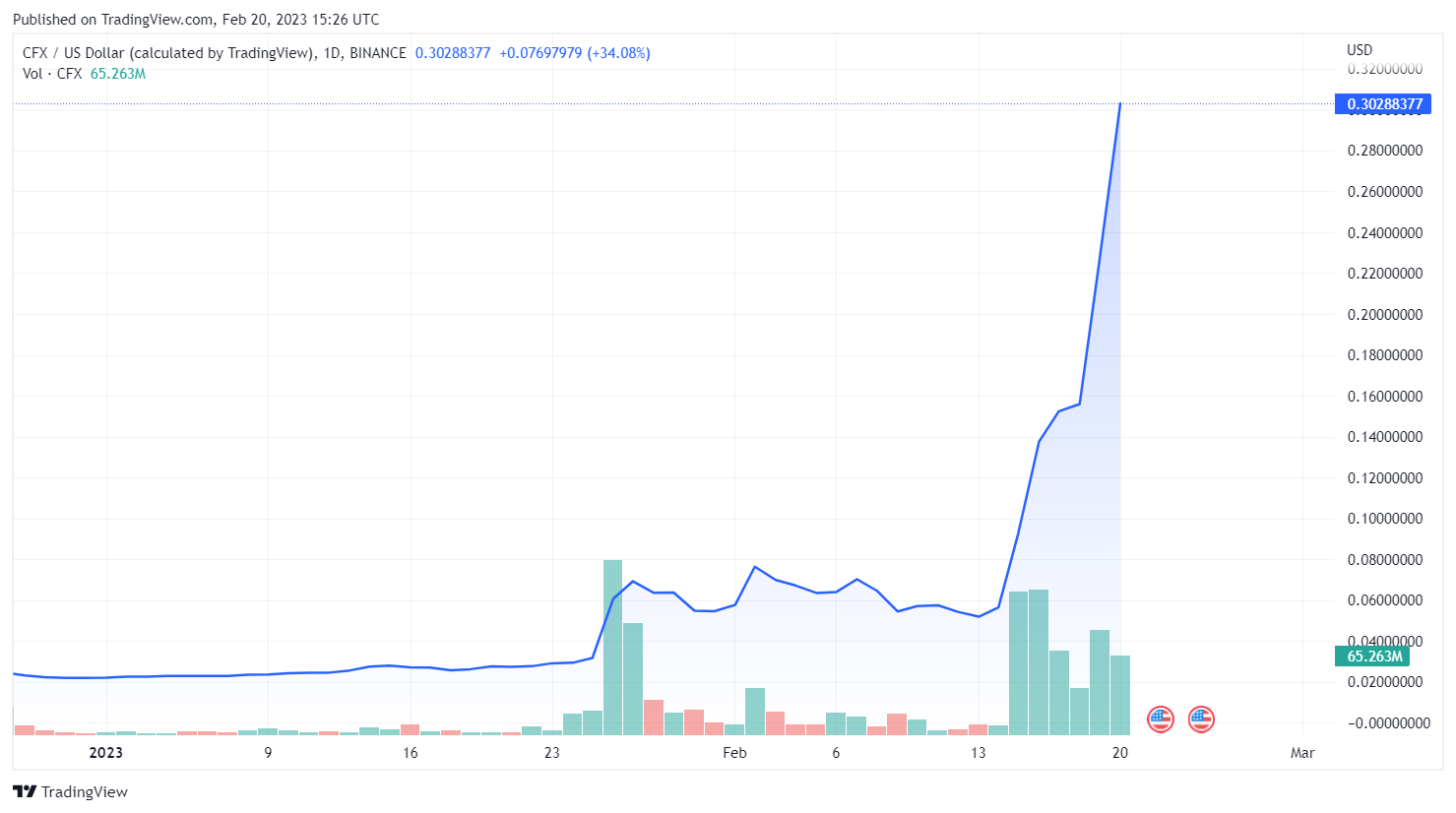 Source: TradingView
BSIM revolution?
Conflux further noted that a user's public and private keys will be managed and stored on the BSIM card, and the user will be able to recover their keys while holding their information in encrypted storage. Users will be able to easily transmit, save, and display digital assets in a variety of apps thanks to the BSIM card.
Leading internet companies with operations in China have increased their efforts to embrace the Web3 transition. Conflux has become the main link bridging Web3 technology with established industrial institutions.
Conflux has emerged as a prominent decentralized blockchain that is open to the public and consistent with legal requirements after China prohibited the majority of Bitcoin activity in 2021. By its own ledger architecture, the blockchain provides scalable, safe, and rapid solutions.
In blockchain and Metaverse projects, Conflux has collaborated with regional governments and well-known companies like Shanghai, Oreos China, and McDonald's China.
Shanghai chose the Conflux network in September 2021 to host its new stablecoin linked to the yuan. After the blockchain startup received a total of $5 million in research grants from the Shanghai government in January 2021, the Conflux token saw a 60% increase in value.
Other cryptos explode
Over the last seven days, the price of Filecoin exploded and increased 70% to a current price point of $8.40. The cryptocurrency increased by more than 80% just last week and broke through many levels of resistance. The value of FIL increased by 24% on the daily chart.
In terms of project development, Filecoin plans to introduce its Filecoin Virtual Machine (FVM) within the next 30 days. This new update will enable smart contracts on the network, indicating that the token's value will likely increase and accelerate in the following days thanks to this improvement.
Stacks (STX) gained over 100% to secure a price point of $0.6 per token. Stacks has been tracking a significant price increase over the previous two weeks, but today the cryptocurrency erupted, rising by around 50%. STX has seen increasing bullishness since the start of this year, according to data from CoinMarketCap, after successfully completing a bullish crossing the day before. The token has increased by approximately 120% over the last four weeks, ranking it among the best-performing cryptocurrencies thus far.
Blockchain
cryptocurrencies
token
cryptocurrency news
crypto news
decentralized
Crypto Price
Filecoin
Web3