29 Jul 2021 Anthony Lehrman
Cryptal Enables Fast And Instant Crypto Trading
Instant Trade Allows You To Easily Buy And Sell A Variety Of The Most Popular Cryptocurrencies
---
The crypto sector spiked up in popularity over the past five years – from the ICO boom in 2017, and Bitcoin's all-time high in April 2021, a large part of the $1.5 Trillion market is the work of crypto exchanges.
Exchanges evolved massively, especially with the DeFi craze, which pushed industry leaders to seek new functionalities and make trading and exchanging as seamless as possible.
Cryptal, established in 2020, is among the best crypto exchanges to date, making it fast, easy, and safe to buy and sell cryptocurrencies. The development team at Cryptal managed to pack a vast array of functionalities in a single, browser-based user interface.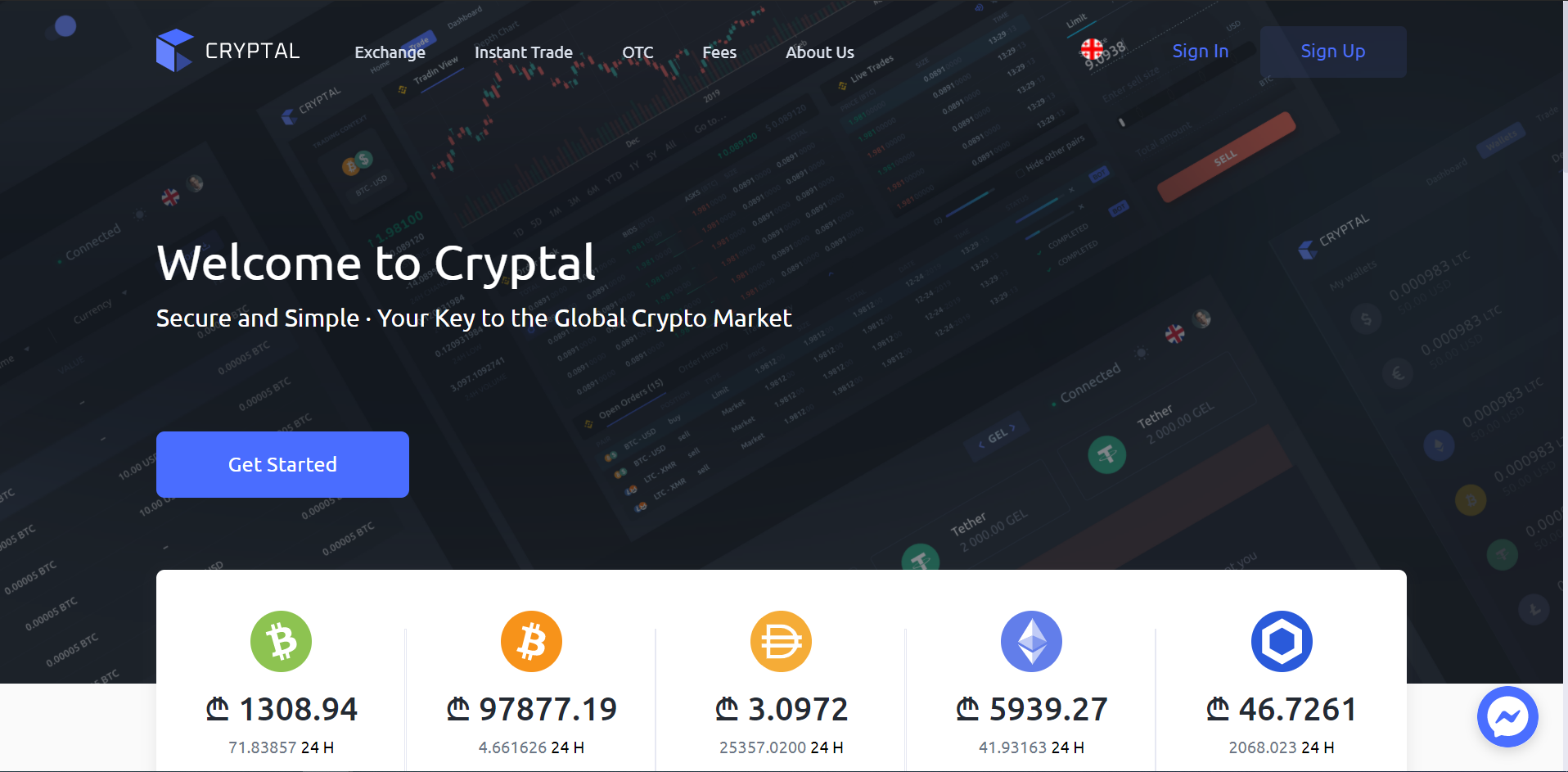 However, despite launching in 2020, Cryptal's parent company, CryptX, delivers world-class crypto and blockchain services since 2018. Apart from other crypto exchanges to date, Cryptal is compliant with ISO 27001 information security standards and the Cryptocurrency Security Standards (CCSS).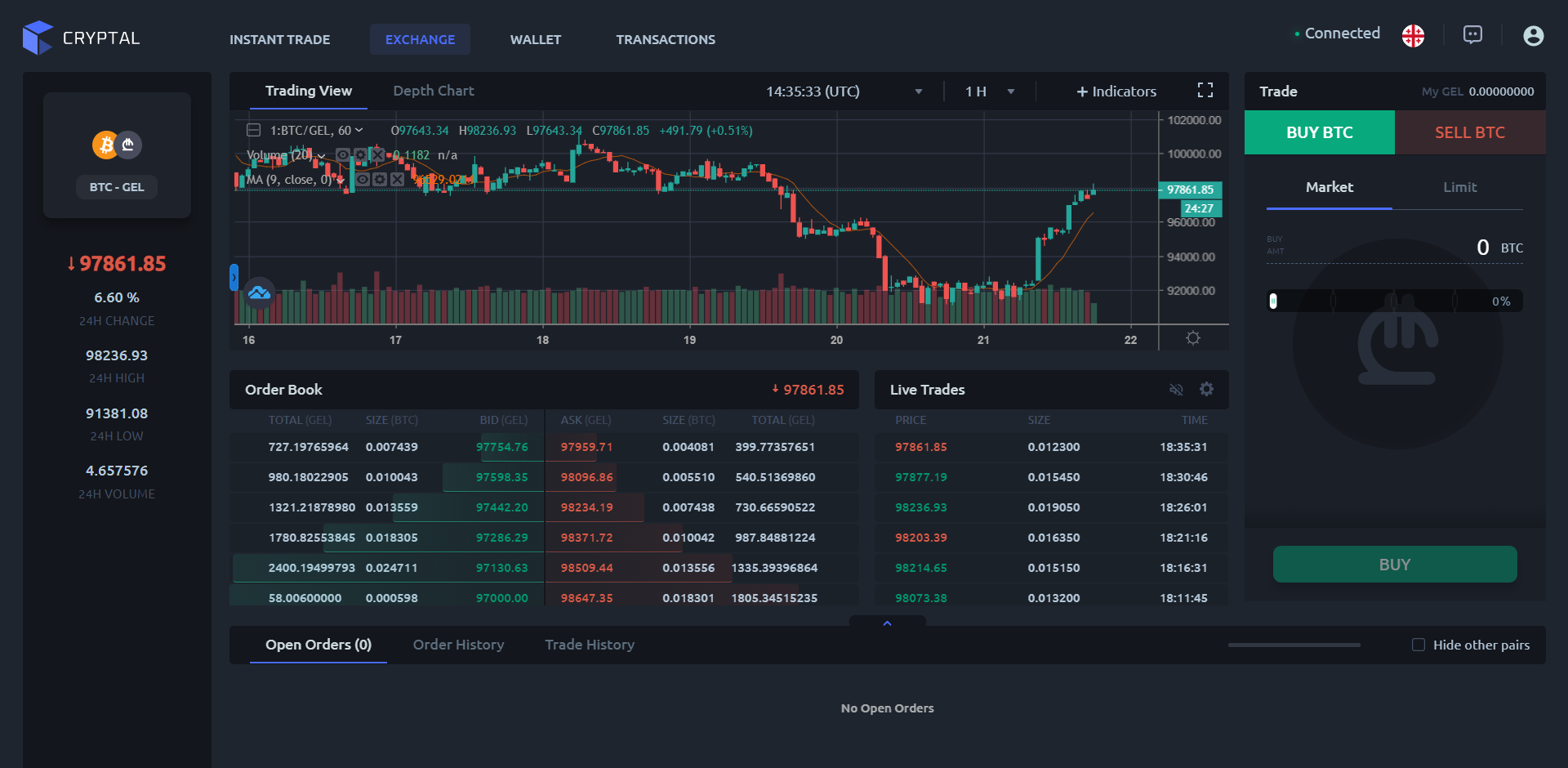 At a glance:
Easy onboarding
Visa, Mastercard, and American Express for deposit or withdrawal
ERC-20 wallet compatibility
Over-the-counter (OTC) desk for large orders
Registering on Cryptal only takes a minute. You simply need to click the Registration button on Cryptal's website, choose an individual or corporate account, and fill in your First & Last Name, and your E-mail address.
After you have read the Terms of Use, and indicated whether you would like to keep informed by e-mail with our weekly news and other important updates, click next and wait for a confirmation e-mail. Follow the link in the e-mail and that's it!
Cryptal accepts all major debit/credit card issuers like Visa, MasterCard, and American Express, which means you can simply add funds and start trading on Cryptal in seconds. Also, you can do a SWIFT wire transfer for deposits and withdrawals, but it would take time for the transaction to be processed.
Depositing

In order to deposit funds, you simply need to select the Wallet menu and choose the desired wallet from the Crypto and fiat wallets in the section on the left.
A QR code and wallet address will show up in the section on the right if you choose to select the crypto wallet option. Use these to transfer your digital assets. After the Blockchain confirms the deposit, your cryptos will be reflected in your wallet.
Visa or Mastercard deposits happen almost instantly, and you have the option to choose from previously saved cards or you can add a new card, specifically designated for crypto deposits. Just input your amount and click Deposit. In a couple of minutes, you will be able to buy your favorite cryptos.
Meanwhile, Cryptal suggests using the CryptX wallet due to its versatility in terms of supporting over 100 cryptos. All supported assets and private keys are held in HSM devices that can be managed through our secure APIs using Two-Factor Authentication.
Withdrawal
You can withdraw your cryptos or fiat money directly from your Cryptal wallet.
In order to withdraw your funds, go to the Wallet tab in Cryptal's user interface and choose the desired wallet from the crypto and fiat wallets. Then, just click Withdrawal on the right.
If you're withdrawing from a crypto wallet, you have to input your destination address and the number of cryptocurrencies. After you select your choice and click withdraw, the updated coin balance would show in your wallet after the Blockchain verifies the transaction.
For fiat money, choose the relevant wallet on the left. Provide your bank account information if you want a wire transfer and input the amount. Local transfers are processed within 1 business day, while international transfers may take up to 2-3 days for clearing. You can also choose to withdraw funds to your credit or debit card – simply enter the card number and amount, and click withdraw. In a couple of minutes, you should be able to see your funds in the card balance.
OTC desk
Another big feature of Cryptal is the Over-the-counter, or OTC desk, which provides personalized service with professional brokers and special terms. OTC desks are primarily focused on large-scale investors, who wish their orders to be kept away from order books while maintaining a personal connection with highly skilled brokers.
Trading fees
Cryptal's operation model lies on little to no fees whatsoever. For instance, all pairs have a Universal Trade Fee of 0.25%, and free depositing via cryptos or bank transfers. Visa owners would have to add 3% in fees, while American Express owners would be charged 4.50% for deposits.
The withdrawal fees are minimal. USD Wire Transfers only cost 1.5% of the total amount withdrawn, while Visa/Mastercard/American express withdrawals are almost free, as Cryptal only adds 1.20 Georgian lari (GEL) for the transaction processing.
In conclusion
In a world full of crypto exchanges and OTC desks, being able to do all of your crypto trading and fund management in one place is essential for a seamless user experience. Cryptal focused on making crypto trading a breeze with its secure and simple approach to the global crypto market. Whether you are just starting out on crypto, or a seasoned trader, you can trade Bitcoin (BTC), Ethereum (ETH), Tether (USDT), Bitcoin Cash (BCH), Dai (DAI) Chainlink (LINK), Litecoin (LTC), MATIC, and Shiba Inu (SHIB) in just a couple of clicks. It's that easy.
cryptocurrency trading
Cryptocurrency exchange
trading
exchange
crypto trading
Cryptocurrency Trading Platform