14 May 2021 Marsha Tusk
Crypto And Wall Street Drown In A Volatile Week Of Trading
The Wild Price Swings Come Amid Binance Going Under Investigation By The DOJ And IRS
---
The past week has been a turmoil for the crypto sector, as one of the biggest and hottest projects experienced wild price swings.
It turns out entrepreneurs and public figures have the ability to shift markets, as the highly anticipated Saturday Night Live show with Elon Musk did not hold to the belief that the "Dogefather" would boost the price of Dogecoin (DOGE). Previous Musk interviews and tweets skyrocketed Dogecoin's price from less than $0.01 to an all-time high of $0.74. However, market pressure tumbled down DOGE and the meme currency lost 23 percent off its price in just seven days, and despite making a large upside correction, it is currently trading at $0.524 per DOGE.
Dogecoin's downfall was coupled with yet another meme coin price plunge, this time - the Shiba Inu coin (SHIB). The meta-joke coin went parabolic at the start of the week, but its hype went abruptly down on Wednesday. And with most of Dogecoin's imitators running on Ethereum's blockchain, the altcoin leader's network became congested, increasing transaction costs to nearly an all-time high. However, SHIB is still trading eight times higher than last week, adding a 27% daily price increase on May 14.
Meanwhile, May 12 will remain in the crypto history as a day that threw both the crypto and traditional stock markets in the red. Everything started with Ethereum co-founder Vitalik Buterin donating more than $1 billion worth of Ethereum to a charity that fights the Covid-19 spreading in India.
Furthermore, Elon Musk and its Tesla automotive brand seem to have turned 180-degree on accepting Bitcoin, as the car manufacturer would no longer list Bitcoin as a payment method. Musk tweeted that the company is "concerned about rapidly increasing use of fossil fuels for Bitcoin mining and transactions, especially coal, which has the worst emissions of any fuel."
And despite Bitcoin's energy profile didn't change much since Tesla's initial plans of adding Bitcoin to its list of payment methods. The market reacted accordingly, with Bitcoin plunging from nearly $57,000 to a low of $46,000 within just two hours. The $500 billion crypto market wipeout is in sharp contrast with the news that billionaire New York Mets owner Steve Cohen's Point72 hedge fund is stepping into the crypto market, which boosted Bitcoin's price by 3%.
The crypto sector havoc continued with the world's biggest cryptocurrency exchange, Binance Holdings Ltd., which was under investigation by the Department of Justice (DOJ) and the Internal Revenue Service (IRS) in relation to possible money laundering and tax offenses. The investigation pushed down Bitcoin's price by 7%, Ethereum followed suit.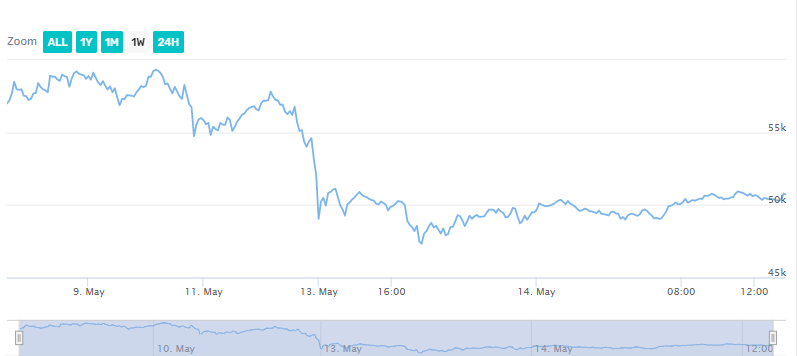 Source: CryptoBrowser.io
And to top it all, the biggest U.S. crypto exchange, Coinbase Global, Inc., reported first-quarter earnings. It turns out the exchange didn't manage to cover its consensus estimates, while Coinbase predicts flat user growth. Coinbase's stock prices tumbled down 6,5% in after-hours trading.
Bitcoin
Ethereum
Coinbase
Binance
dogecoin
bitcoin news
cryptocurrency news
crypto news
Crypto Price
Wall Street