08 Jul 2020 Anthony Lehrman
Crypto Derivative Exchange Volumes Slump Amid Sideways Crypto Price Movements
Despite The Drop, The Derivatives Market Share Has Increased, Accounting For 37% Of The Entire Market In June
---
The crypto market has been going sideways lately. There has been a lowered volatility levels, which forced market traders to hold their asset and expect certain price surges. In turn, this led to an increased consolidation of the crypto trading sector.
Bitcoin, for example, remained under the $9,300 resistance line. BTC's strong influence on altcoins dictated the price changes across the sector, and very restricted movements have been observed throughout the last month.
The sideways trend in June negatively affected spot trading volumes by a 49.3% drop to $642.6. The spot trading volume decrease also reflected on the derivatives market, as derivatives trading volumes dropped by 35.7 percent to $393 billion, which marks the lowest month for this year.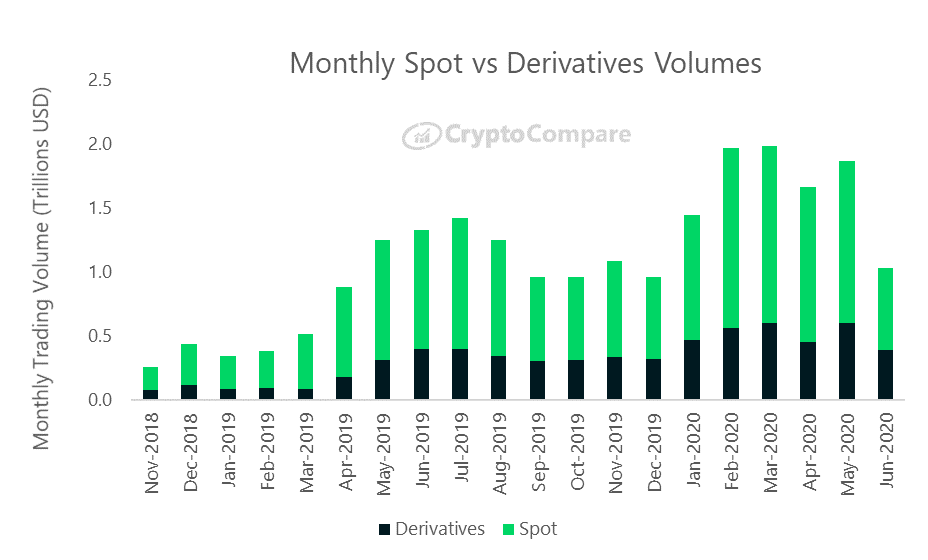 Source: BitMex research
Despite the recent volume drops, the derivatives market managed to gain five percent in total market share to 37% in June, as opposed to 32% in May. BitMEX recorded the largest trading volume drops, with little over 50%. Other crypto exchanges like OKEx, Binance, and Huobi also reported negative derivatives performance, showing decreases of 30.4%, 34,2%, and 38,3%, respectively.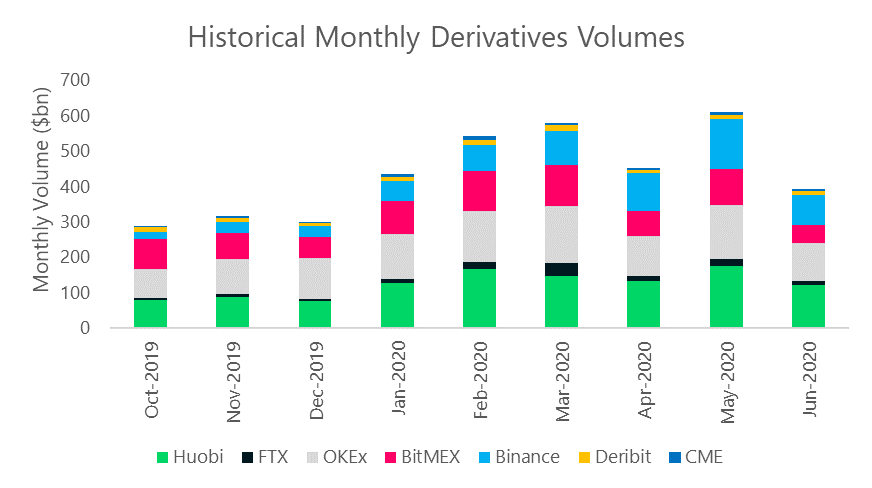 Source: BitMex research
The CME exchange reported a 41% increase in options contracts, with a peak of 8,444 traded contracts. Despite the near all-time-high, CME still reported a 23% decrease in futures trading volumes, with a score of 128,258 in June.
The derivatives trading volumes drop is primarily caused by low-tier and high-tier trading suspension, caused by the financial bloodbath from March and the recent COVID-19 virus outbreak. According to the app comparison website Alternative.ME and its "Crypto Fear and Greed index", the overall sentiment in the crypto market is fearful, with a monthly fear index average of 40. The index suggests that the current cautious trend would continue in July, which may further impact the derivatives realm.
cryptocurrency trading
Cryptocurrency exchange
Cryptocurrency
Crypto Market
Exchanges News
crypto
crypto market monitoring
Derivative market
trading
exchange
market
Exchanges
Tradings