13 Apr 2023 Josphat Kariuki
Crypto Derivatives Exploded In Volumes In March
It Turns Out That Derivatives Trading Volume On Major Exchanges Rose 46.8% In March Compared To The Month Before
---
On the biggest cryptocurrency exchanges, the volume of futures trading skyrocketed in March, indicating optimism. The amount of spot trading is also significantly increasing.
The volume of spot and derivatives trading increased in March, suggesting that the cryptocurrency market is starting to rebound. Derivatives trading, in particular, experienced a rapid increase, expanding by 46.8% month over month in March. Over the same time period, spot trading volume increased by 9.6%.
Wu Blockchain, who published a report on the trading metrics in March, provided the data. Bitfinex, Deribit, and Gate were the top three exchanges that showed an increase in the amount of derivatives trading. They recorded an increase of 123%, 112%, and 66%, respectively. The top three exchanges for spot trading were Gate, Bybit, and Bitfinex, increasing correspondingly by 117%, 113%, and 61%.
The research does mention that wash trading or bot activity could skew the results overall. The increase in activity is noticeable regardless, though.
In 2023, there is a certain resurgence of cryptocurrency exchanges. This is a result of both the demise of the FTX crypto exchange and the general improvement in market conditions.
The derivatives market gets pursuit by crypto exchanges
As the sector gets more well-known, cryptocurrency exchanges have been anxious to increase their market share. This urge has only grown since FTX's bankruptcy.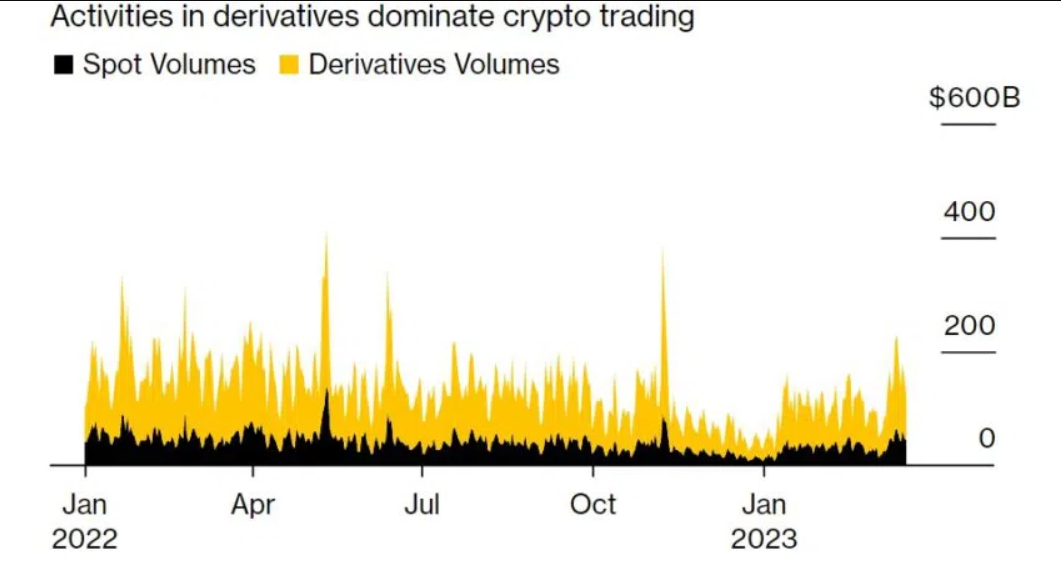 Source: Bloomberg
Exchanges have looked to the derivatives market to increase their footprint in light of FTX's bankruptcy. Many businesses desire to enter the market as a result of FTX's absence, which applies to both centralized and decentralized exchanges. Given the market's volatility in 2023, this is especially true.
Open interest in Bitcoin skyrockets to a record high
Due to how the market has changed thus far this year, trading derivatives has become a significant trend. Investors are interested in options and futures since Bitcoin has increased by roughly 70% since the beginning of the year. People can be drawn to this trading specialty as a result of the banking crisis.
In March, open interest in Bitcoin options reached a record high; nevertheless, this may not be the end of it. The price of bitcoin has surpassed $30,000 and is looking to stay over $28,000, keeping it in the spotlight of crypto trading.
Bitcoin
Cryptocurrency exchange
Exchanges News
btc
Bitcoin price
bitcoin news
cryptocurrency news
crypto news
Exchanges
Crypto Derivatives