18 Jan 2023 Morgan Hayze
Crypto Developers Are Increasing Despite The Bearish 2022
It Turns Out That 25% Of All Active Developers Are Working On Ethereum Projects
---
Even if 2022 proved to be a bear year for the crypto industry, developers are still onboarding the cryptocurrency sector.
The number of active developers doubled over the past two years, according to a Jan. 17 analysis by Electric Capital. The analysis included 250 million commits of code, and more than 300 people contributed to the report.
The Electric Capital report noted that there were around 12,000 active developers every month at the beginning of 2021. However, this number grew to over 24,000 by the end of 2022, reaching a peak of just over 26,000 active developers in June 2022.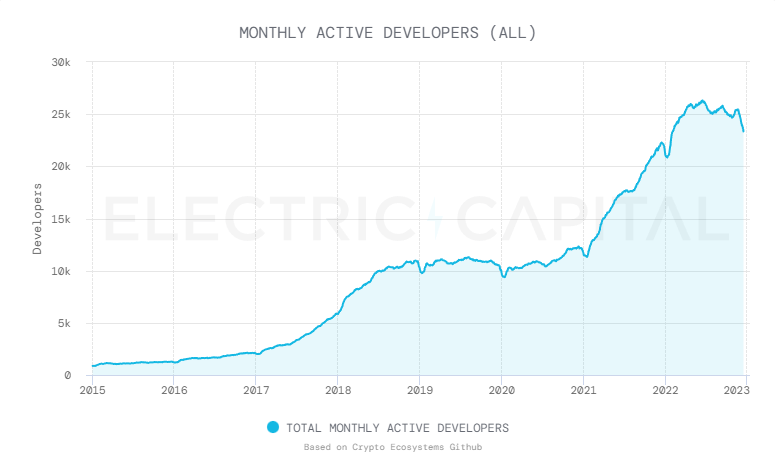 Source: Electric Capital
The report also highlighted that about half of the active developers work part-time. By the middle of December 2022, more than 7,000 developers were working full-time in the crypto sector. Furthermore, in 2022 alone, about 60,000 new developers worked with crypto code.
The study did, however, mention that since the middle of 2022, there have been fewer active developers, mainly due to the bear market growing more severe, and developer activity will probably improve until the market mood improves.
Furthermore, over the past two years, the number of new monthly repositories has climbed by 80%. According to the data from Electric Capital, 3,784 new monthly repositories were created by the end of 2022.
In terms of active developers, Ethereum continues to lead the ecosystem. As of December 2022, there were 5,734 active Ethereum developers, which is about one-fourth of all coders working on Ethereum-related projects.
Polkadot and Solana were tied for second place with about 2,000 total active developers each as of December 2022. With little under 1,800 active developers, Cosmos ranks next in the ecosystems, while Polygon had about 1,100. In contrast, by the end of 2022, there were only 920 active developers, working on the Bitcoin network. Meanwhile, projects like Sui Network, Aptos, Mina Protocol, Starknet, Osmosis, Hedera, Optimism, and Arbitrum are seeing a 50% increase in growth over the previous year.
Ethereum
Crypto Market
crypto
eth
crypto market monitoring
cryptocurrency news
crypto news
Polkadot
Polygon
Solana