01 Oct 2020 Marsha Tusk
Crypto Experts Warn About PlanB's Stock-To-Flow Model
According To Some Of The Experts, The Model Is Faulty And Misleading
---
Bitcoin became among the top performing assets worldwide, despite the COVID-19 induced market crash and recent corrections. The corrections, however, did not stop bitcoin bulls from their sentiment.
Pricewise, Bitcoin is in a steady increase, reaching a net growth of 40% year-to-date, following the stock-to-flow price model. The model predicts Bitcoin to reach a $288,000 price point before 2024. According to the model's anonymous creator, PlanB, stock-to-flow works "like clockwork".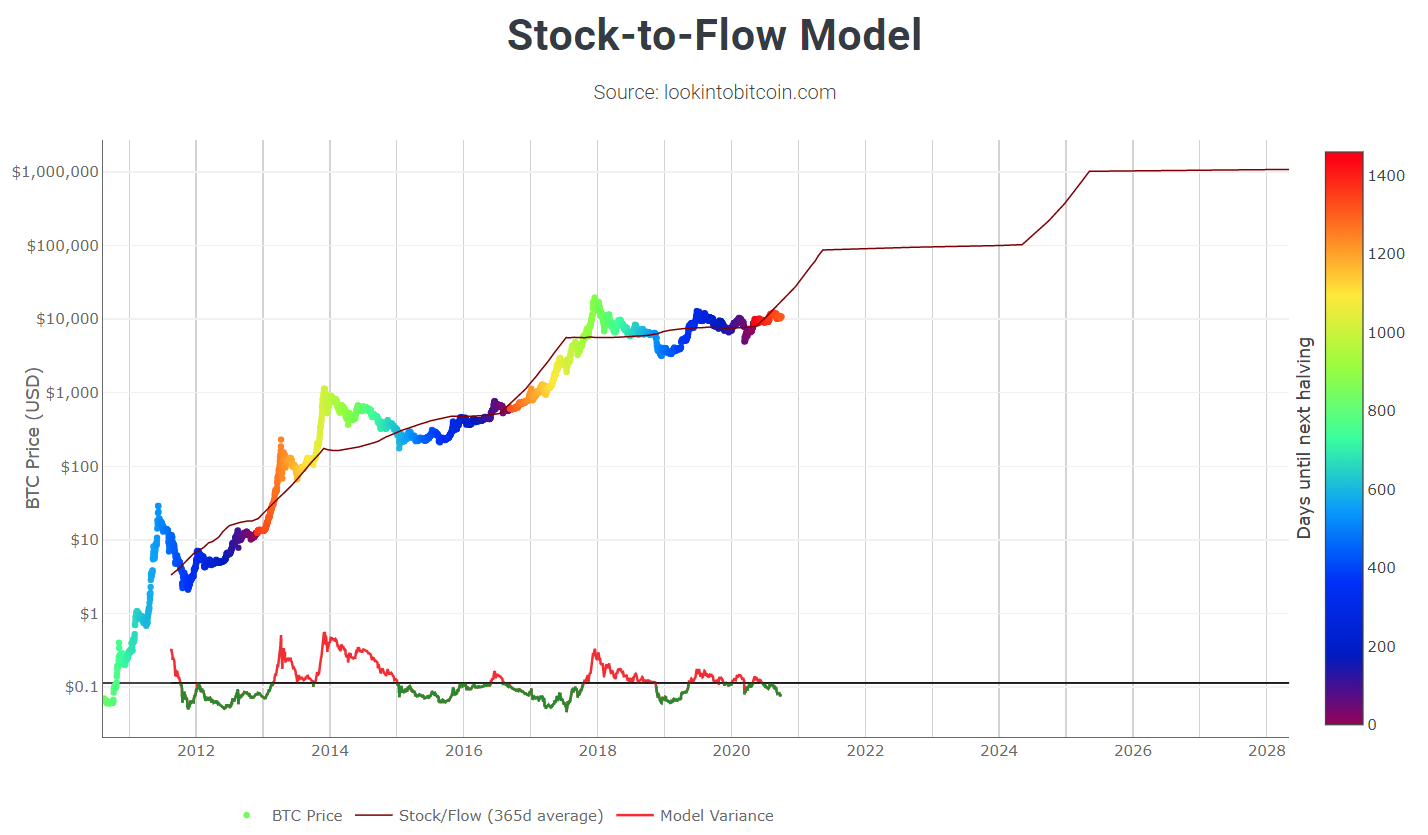 Source: LookIntoBitcoin
However, a large number of high-profile investors and Bitcoin experts stated their concerns over the stock-to-flow model, with PlanB replying that the criticism tries to unmask him and mock the model by labelling it as "absolutely useless."
Alex Kruger, an economist and a cryptocurrency analyst, stated that the model is based on the most fundamental errors which makes it absolutely useless.
The model, created by Twitter user PlanB, is defined by calculating the ratio of the existing supply of an asset against the quantity entering circulation. The anonymous user, who claims to be a Dutch institutional investor, is allegedly responsible for the management of around $100 billion in assets. The model suggests that Bitcoin has a stock-to-flow ratio of 50 after the Bitcoin's third halving, which has decreased Bitcoin mining rewards from 12.5 to 6.25 Bitcoin per mined block.
For example, commodities like gold have a stock-to-flow ratio of 62, which means it will take 62 years for gold production to be equal to the current stock. Silver, according to the model, has a stock-to-flow ratio of 22.
Kruger, alongside other crypto analysts, warned the crypto community that the model is created around faulty comparisons and the misleading relationship between asset prices and scarcity.
"The whole model rests on the wrong assumption that there is cointegration between price and scarcity," Kruger said, adding that it is "nonsensical to think that bitcoin stock-to-flow, a number that goes up programmatically, and everybody knows what it will be at any point in time, can be used to predict the price."
During the wave of criticism, PlanB explained that the stock-to-flow model is a "simplification of reality, and all models are wrong, but some are useful." Meanwhile, PlanB found supporters, claiming that the stock-to-flow model is based on pure data and should be reviewed like Moore's Law.
"It's just an observation and speculative projection an observed trend may continue," founder and CEO of Blockstream, Adam Black, claims. Bitcoin analyst Nick Emblow noted that "what the model does do is give us some evidence to show [stock-to-flow] is an important variable in understanding bitcoin value."
Bitcoin
Cryptocurrency
Crypto Market
crypto market monitoring
Bitcoin price
bitcoins
stocks
cryptocurrencies
bitcoin news
cryptocurrency news
market
digital asset
stock
Coronavirus