09 Oct 2023 Josphat Kariuki
Crypto Fundraising Stalls In Q3 And Retreats To 2020 Levels
By Concentrating On Initiatives That Have The Potential To Generate More Returns, Investors Are Putting Themselves In A Strategic Position For The Bull Market
---
The third quarter of 2023 saw a dip in crypto fundraising to levels last seen in the fourth quarter of 2020, according to recent research from the market intelligence company Messari.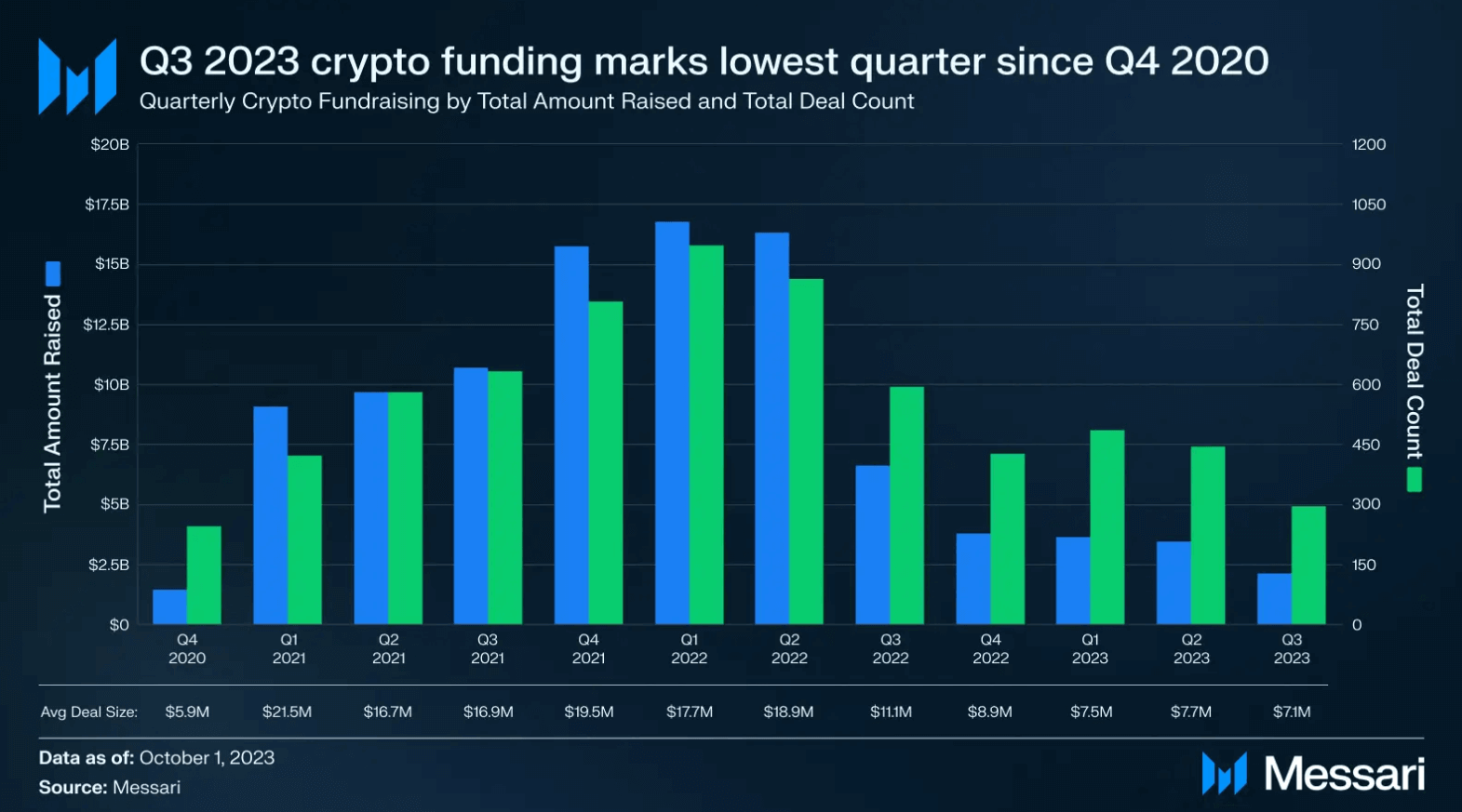 Source: Messari
The State of Crypto Fundraising study states that both funding quantities and deal counts reached new lows in the most recent quarter. Under $2.1 billion in total investment was allocated across 297 deals in Q3, which represents a 36% reduction in both categories from Q2 2023.
Pre-seed, seed, and series A investments accounted for the majority of deals in Q3 according to Messari's experts. The greatest stage was seed fundraising, where $488 million was raised over 98 rounds.
Early-stage transactions climbed from 37% to 48% of all transactions in Q3 2023, while Series B and other round transactions fell from 8% to 1.4% over the same time period. As investors attempt to support initiatives that will yield bigger gains when the cryptocurrency market goes in a good direction, Messari remarked that the trend demonstrates a purposeful bear market stance on the side of investors.
The number of transactions allocated to each stage in Q3 indicates that investors have significantly switched away from later-stage initiatives to early-stage ventures during the past three years.
Additionally, despite the bear market, additional deals for strategic funding have been made. Significant investment for these rounds came from corporate and private equity transactions. It appears that poor market conditions are forcing projects to raise short-term bridge rounds or be bought by larger projects because the total funding share for strategic deals increased to 22% in Q3 2023 from 0.2% in Q4 2021.
In terms of industry funding, the gaming, chain infrastructure, and decentralized finance (DeFi) industries came out on top in Q3. Chain infrastructure saw the biggest capital share (18%) while DeFi saw the highest volume of transactions.
"The services sector, defined by complementary business functions such as marketing, incubators, security, and legal services, was the only other sector to average over $100 million in funding over the last 12 months. While other sectors are important to growing the crypto industry as a whole, these four sectors continue to attract the majority of investor attention," Messari said.
With 68 deals, DeFi had the most projects sponsored during the third quarter. The sector's investments were highly concentrated, with 33 deals totaling 38% of the total invested money in the exchange category. With an average contract size of $3 million, DeFi projects raised $210 million overall.
With $249 million raised across 33 agreements, the gaming industry became the third-highest funded sector of Q3 thanks to a few early-stage deals. Gaming accounted for 67% of capital invested in Q3 when compared to other consumer-facing applications.
The long-tail investors accounted for the great majority of agreements in the gambling industry. Only seven organizations signed agreements involving two or more projects, whereas 104 investors only invested in one initiative.
A $54 million Series A deal for Futureverse, a platform for fusing AI and metaverse worlds, was the biggest deal in the game industry. During the quarter, funding was also successfully obtained for further metaverse-based video game projects like Mocaverse and Mahjong Meta. Last but not least, lead investors a16z and Greenoaks contributed $33 million to Proof of Play's record-breaking seed round. Amitt Mahajan, one of the original co-creators of the well-known Zynga game Farmville, launched the onchain gaming studio in the hopes that blockchain-based gaming can have a similar development curve to early free-to-play mobile games.
Seven acquisitions were completed by Binance Labs during the quarter, including strategic investments totaling $10 million in both Radiant Capital, a money market based on LayerZero, and Helio Protocol, a liquid staking platform on BNB Chain. The $16.5 million Series A funding round for Brine, an order-book DEX built on Starkware, represented the largest DeFi deal of the quarter.
In the third quarter, 98 investments were made by the top 10 cryptocurrency investors. Despite this activity, this group only represented 7% of all investor deals, demonstrating that the long-tail of investors continues to dominate crypto fundraising.
Binance Labs was by far the most active investor; during Q3, it participated in 23 deals, which was more than twice as many as Robot Ventures, which came in second. Binance Labs has been actively investing throughout 2023 with a focus on the DeFi and gaming sectors, as we detailed in August. Additionally, Binance Labs has funding goals for businesses creating privacy and zero-knowledge technology. It is important to note that 12 of Binance Labs' 23 agreements involved projects from its accelerator.
cryptocurrency news
crypto news
Crypto Funds
Funding