02 Apr 2021 Marsha Tusk
Crypto Market Cap Nears $2 Тrillion, Amid Surging Crypto Prices
Bitcoin Surpassed The $60,000 Price Point, While The Altcoin Leader Ethereum Reached Over $2,000
---
The crypto sector is close to hitting a historical milestone, as the total market capitalization nears $2 trillion. In less than three months, the market cap of the crypto sector nearly doubled, it crossed $1 trillion for the first time on January 7, 2021. The global crypto market cap currently stands at $1.93 trillion, with a 2.22% increase over the previous day.
The main culprit for the surge, Bitcoin, managed to record a 12 percent price increase over the past seven days, floating around $60,000 per BTC while Ethereum saw its price increase by 23 percent and it's currently trading at $2,008.1. The third-largest cryptocurrency Binance Coin (BNB), skyrocketed 43% to a current price of $344.50.
However, the trading volumes for the crypto sector saw a slight decrease of 0.55%, clocking in at $167.59 billion. Furthermore, Bitcoin lost some of its dominance over other cryptocurrencies, which is primarily due to the market-wide price increase.
Crypto enthusiasts and experts consider the increase in interest in the crypto sector to be due to growing demand from institutional investors. Hedge funds, as well as major banks, have shown interest in the sector, while Coinbase is rumored to have received approval from Nasdaq for a direct listing.
Meanwhile, experts noted that 78% of the total Bitcoin in circulation remains illiquid, which makes retail investors difficult to acquire Bitcoin, pushing its price high due to the scarcity effect. Data from Glassnode shows that the seven-day moving average of Bitcoin's number of exchange deposits is decreasing, reaching a 1-month low of 2,845.357. The indicator reveals that fewer sellers have entered trading.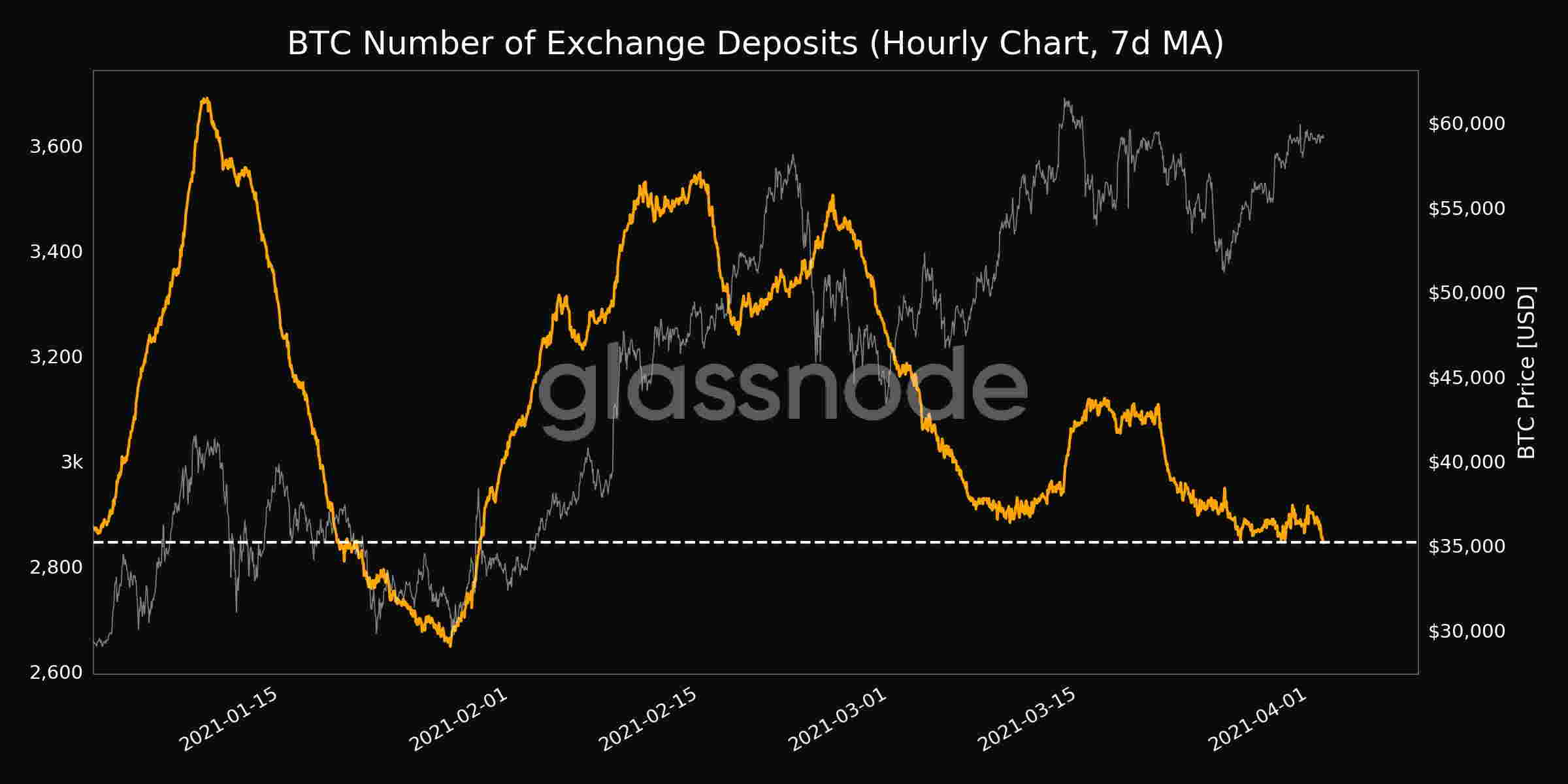 Source: Glassnode
Meanwhile, another reason for the crypto-related surge is the increased inflation of the global financial markets due to record stimulus deals both in the U.S and Europe, in an effort to support the global economy.
The weekly market cap and price surge is a clear indicator of improved trust in cryptocurrencies, amid an ever-changing face of modern financial markets, combined with investors seeking a haven for their assets against inflation.
Bitcoin
Ethereum
Crypto Market
Bitcoin price
binance coin
bnb
Crypto Price
Ethereum Price
Market Capitalization