15 Dec 2018 Marsha Tusk
Crypto Market Plunges by $15 Billion Following a Bad Trading Week
Following a week of poor trading, the crypto market valuation has dropped to less than $102 billion from $117 billion.
---
Following a week of poor trading, the crypto market valuation has fallen by over $15 billion to $102 billion from $117billion with a risk of falling below the $100 billion mark.
With major cryptocurrencies like Bitcoin, Ripple, and Ethereum performing poorly against the dollar in the last seven days, the market risks a dip below $100 billion. Most crypto assets experienced over 10% in losses, with ETH suffering the worst drop among the top three digital coins. ETH declined by over 14% to trade at $84 from $98.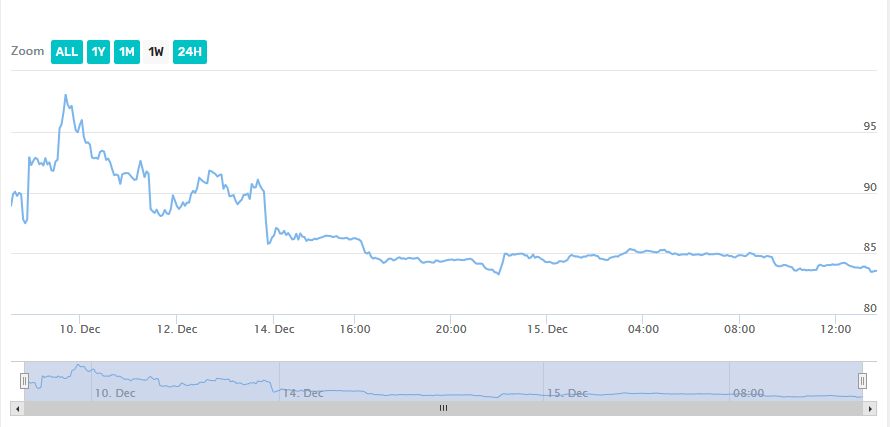 Compared to other major cryptocurrencies, Bitcoin performed relatively well throughout the week. However, due to low trading volumes in Bitcoin markets, the dominant cryptocurrency is at risk of falling below the $3000 mark. According to tech analyst and crypto trader DoanAlt: "As BTC is approaching the target of the 2014 fractal the targets of most people change from 3k to 1k and even lower. I still think $2,700 is an excellent place to buy if we should go there." The analyst further added that shorting the currency is highly risky in a period of extreme volatility and uncertainty.
Major Bitcoin markets like Japan and South Korea have started demonstrating a significant decline in the overall demand and volume of the asset.
Following a report by CryptoCompare – a data provider in the crypto market, South Korea and Japan only account for about 5% of the global bitcoin volume. That's despite the countries consistently ranking above the US in the 2017 bull market. On the other hand, the U.S currently holds about 17.6% of global Bitcoin volume without accounting for Tether (USDT).
Following the drop during the week, this will be the first time the crypto market is falling below $100 billion since August 2017. The underwhelming performance of major cryptocurrencies is the main factor fueling this situation.
Several tokens like Vechain (VET), Zcash (ZEC) and ICON (ICX) have seen a massive decline from their all-time highs, counting 95% to 99% in losses. At its peak, the total market cap of ICX was at about $4.5 billion. However, as of December, ICX is yet to hit the $100 million mark.
If the crypto bear market continues throughout the first few months of 2019, low liquidity tokens will continue to suffer losses against Bitcoin and the U.S dollar.
Currently, there's a significant risk of longing and shorting Bitcoin as well as other top cryptocurrencies in the market. Because of this, many investors are keenly observing the short-term trend in the crypto space by holding their assets.
Bitcoin
Ethereum
Cryptocurrency
Ripple
Ethereum news
Bitcoin price
crypto news