09 Feb 2019 Samantha McLauren
Crypto Markets Rise, JPMorgan Expert is Expecting a Further Positive Shift
Cryptocurrencies are on fire for the first time in 2019 adding $10 Billion in market cap.
---
The cryptocurrency market surged with $10 Billion in less than 24 hours. The most significant player in the cryptocurrency realm, Bitcoin (BTC) is currently exchanging at above $3,600, and the price briefly surpassed $3,700.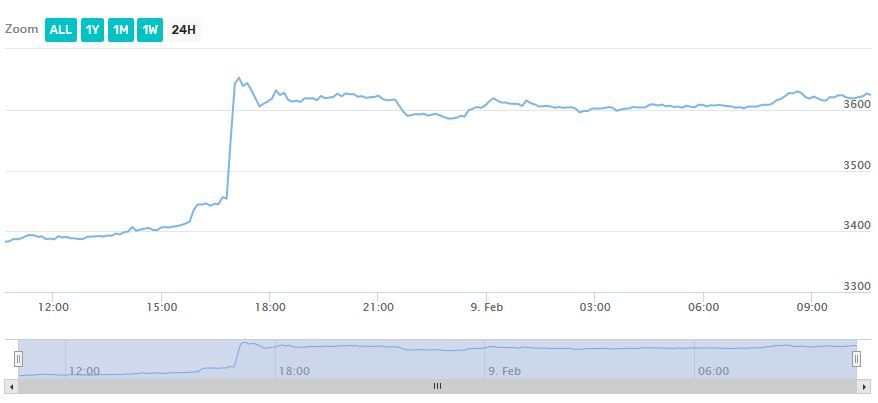 BTC price (source: https://cryptobrowser.io/coins/bitcoin-btc/)
Litecoin achieved the most significant growth with over 30%, overtook EOS and Bitcoin Cash by market capitalization and took the fourth spot with a current market cap of $2.6 billion.
All major cryptocurrencies are in green, and according to experts one of the reasons that fueled the recent momentum of the market can be the support of the approval of a Bitcoin exchange-traded fund (ETF) by the U.S. Securities and Exchange Commission (SEC) commissioner Robert Jackson.
According to JPMorgan's global market strategist Nikolaos Panigirtzoglou, the crypto hype period is almost over, prices are settling around stability, and the crypto sector will rise due to institutional players returning to the crypto realm. Institutional investors are being conservative about entering the crypto world due to cryptocurrency volatility. Now that volatility has settled to reasonable levels, investors are keen on investing in Bitcoin. The JPMorgan expert pointed out the primary reason for cryptocurrencies not being able to grow exponentially so far – the lack of regulations.
Other experts are also showing their support for Bitcoin and the cryptocurrency ecosystem. Finder.com surveyed top crypto and fintech CEOs to find out the trends in the market. The researchers focused on getting insight into the top cryptocurrencies, including BTC, XRP, ETH, EOS, BNB, and LTC. All experts agree on the thesis that cryptocurrencies, in general, will see a rise, while currencies like Cardano (ADA), IOTA (MIOTA) and BitTorrent Token (BTT) may experience a significant price increase.
Litecoin
Cryptocurrency
SEC
Crypto Market
EOS
Bitcoin price
XRP
SEC
Security and Exchange Commission
Ethereum Price
Ripple Price