14 Jan 2019 Arjun Agarwal
Cryptocurrencies Fall Another $5 billion, TRON Is The Only Gainer
Tron (TRX) is the only top cryptocurrency in green.
---
Following the massive dump from last week, the cryptocurrency sector took yet another hit in the red, losing over $5 billion.
The latest drop resulted in total market capitalization falling below the $120 billion support zone to $117 billion, despite the recovery made in the past 24 hours.
Bitcoin fell down below its crucial support zone of $3,600 to a value of 3,590 as of press time. The largest cryptocurrency based on market capitalization will suffer from even higher losses, according to financial specialists, due to trading volumes being shifted towards altcoins.
The third most significant player in the crypto realm, Ethereum, also took a beating. Falling over five percent in value as of press time, ETH went back to its $116 support zone before recovering to $118.
Ripple managed to maintain and even expand its lead over Ethereum, opening the gap to over $1 billion. Ripple is also one of the smallest losers with little over 2 percent drop in its value.
Other cryptos in the top-20 chart are also marking 2-10 percent drops, with only TRON gaining 10 percent as of press time. The ninth biggest cryptocurrency to date is right now exchanging at $0.0240 with a 24-hour gain of 10.05 percent. The $1.6 billion market cap TRX also peaked in trading volumes, managing to mark a $300 million increase.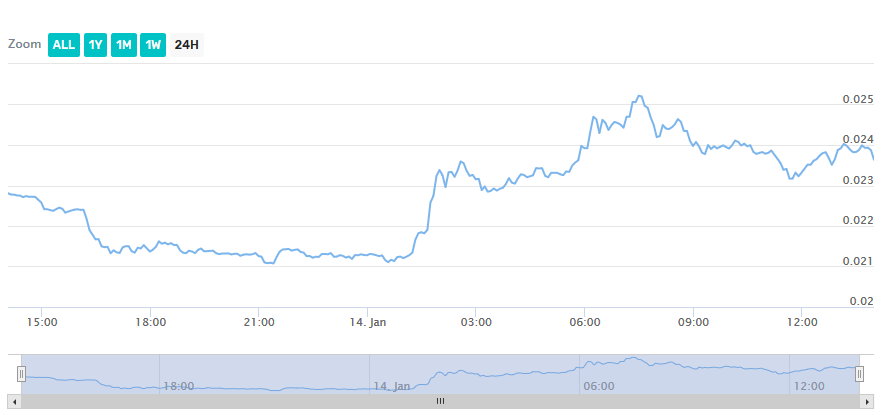 TRX price (source: https://cryptobrowser.io/coins/tron-trx/)
The cause of TRON's success started with the BitTorrent acquisition, and the TRX protocol became a desirable option among Dapp (Decentralized applications) users. TronBet, a Dapp on the TRON ecosystem, registered over $25 million of volume during the past seven days.
Enthusiasm among the TRON ecosystem is expected to increase, as more and more developers and companies are joining forces in the TRON ecosystem.
Justin Sun, the founder and CEO of TRON, bragged about the number of Dapps created on the ecosystem: "We now have 100+ apps on DappRadar and over 130 apps on Dappreview". "With TRON accelerator and niTROn we can expect 200+ apps to be live," Sun added.
Bitcoin
Ethereum
TRON
Ripple
TRX
TRON Foundation
Bitcoin price
Ethereum Price
TRON Price
Ripple Price