21 Dec 2020 Marsha Tusk
Curve Finance Announced Ethereum Swapping Liquidity Pool Launch
However, Curve's Native CRV Token Continues To Lose Ground As Its Price Collapses By Further Five Percent
---
Curve, the third-largest decentralized exchange by total value locked to date, announced the launch of a new pool on its platform, allowing for Ethereum and synthetic Ethereum (sETH) swaps and liquidity provision.
The new pool allows Ethereum users and liquidity farmers to stake their tokens in order to receive extra yields. The pool consists of 65% Ethereum tokens and 35% synthetic Ethereum. SETH is a soft pegged version of Ethereum, which aims to closely follow Ethereum's price. However, the cryptocurrency trades a bit lower than Ethereum, which opens an opportunity for whales to win extra ETH by arbitrage deals.
The ETH/sETH pool, however, is not suited for everybody, as the protocol charges a 0.04% admin fee, which is around $7.82 per transaction. The price per transaction makes the new pool a viable option only for large-scale market players.
The DeFi boom of the summer of 2020 created a lot of market demand for Ethereum-based vaults. For example, Yearn.Finance's yETH vault became a victim of its own success after making one of the biggest starts in the world of cryptos. In just 24 hours after its launch, yETH gathered over $100 million in ETH, which was around 230,000 ETH tokens at the time. However, yETH endured a price crash, which was fatal for the vault, combined with high gas fees, Yearn's 0,3% withdrawal fee, and the small returns for liquidity farmers. Yearn decided to pull the plug on the vault to mitigate risks.
As of press time, the yETH pools grants just a 0.84% return rate, and liquidity decreased to only 36,800 Ethereum tokens. However, Yearn.Finance did hint about a new Ethereum vault under its protocol in the vault v2 upgrade, but no official information has been announced yet.
Pricewise, Curve's native CRV token is still trying to go upwards after the 96% price drop since its all-time high of $15, which occurred in August 2020. Even the recent announcement that Curve would distribute almost $3 million in fees to CRV holders did not help CRV to stop the downfall.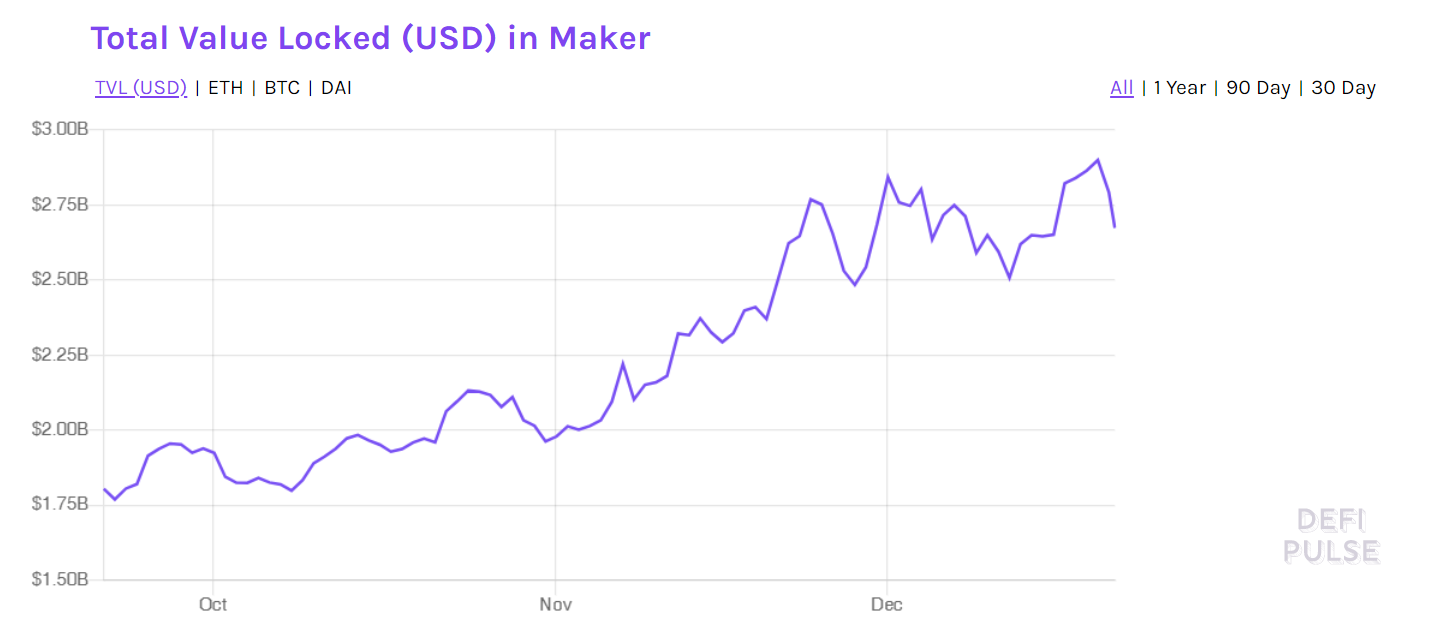 Source: DeFi Pulse
However, data from DeFi Pulse shows that the total value locked (TVL) in the protocol is $905.5 million, which is close to its rival Synthetix. The leader in DeFi, MakerDAO, is on a steady rise, increasing from $1,92 at the beginning of October to reach $2,71 billion TVL as of press time.
Ethereum
Exchanges News
cryptocurrencies
exchange
tokens
cryptocurrency news
decentralization
curve
maker
Defi
Decentralized Finance
Yearn Finance