22 Mar 2021 Arjun Agarwal
Decentralized Exchange Liquidity Near A New $10 Billion High
The Increased Interest In Uniswap And 1inch Pushes The DeFi Hype Even Further
---
2021 proves to be fruitful for the DeFi ecosystem, as the sector continues to experience very high interest from investors. A great portion of the DeFi success can be attributed to Uniswap's dominance over the Ethereum DEX sector, as Uniswap's weekly volumes are greater than the volumes of half of the entire sector combined.
Furthermore, the total worth of cryptocurrencies locked in as collateral in decentralized exchanges is nearing the $10 billion milestone, with Uniswap leading the race, according to data from Messari.
Crypto researcher Rahul Rai emphasized that volumes on decentralized exchanges have soared to a high of $72 billion in February. Data from Dappradar shows that Uniswap is accountant for over 50% of the total collateral locked in decentralized exchanges with a total value locked (TVL) figure of $5.4 billion.
Rai also noted that the success of decentralized automated market makers still suffers from an array of challenges.
"A number of inherent problems such as impermanent loss (IL), capital efficiency, slippage, gas costs, speed, and multi-token exposure are holding them back," the researcher added.
Dune Analytics statistic shows that Uniswap continues its domination against rival Ethereum-powered decentralized exchanges, with Uniswap making around $6.5 billion worth of weekly trade or 62.2% of combined trade across Ethereum DEXes.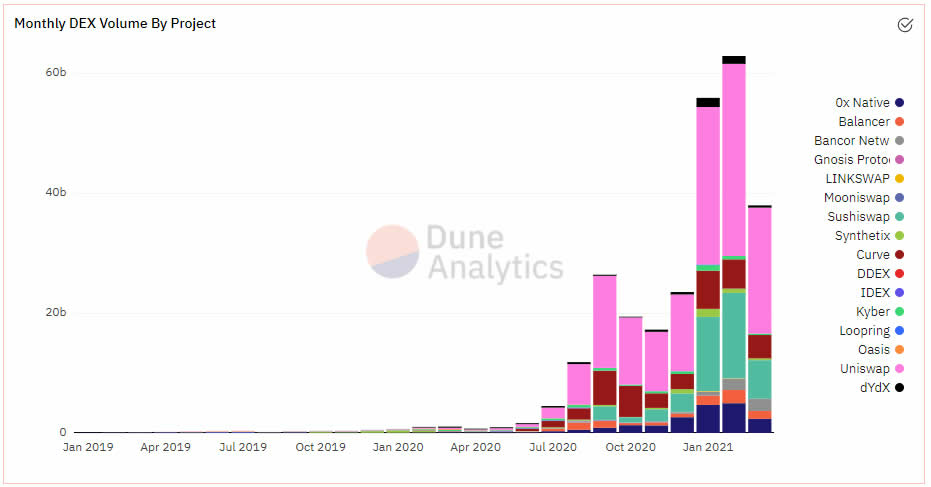 Source: Dune Analytics
Uniswap's hard fork and direct rival – SushiSwap, is nowhere near Uniswap in terms of weekly trading, as the exchange recorded $1.6 billion or 15,2% of the Ethereum DEX sector.
Curve Finance comes third in the rank, hosting $647 million worth of traded tokens, or 6,2% of all tradings.
Meanwhile, DeFi aggregators are making a substantial growth, with year-to-date (YTD) values already surpassing the figures in 2020. 1inch, for example, recorded weekly volumes of over $1 billion, according to data from Dune Analytics.
Combined, the total volume of the DeFi sector in March reached $44.3 billion, which is already over the figures from October and November 2020 together.
Disclaimer: All statistics provided within the article, with exception to all mentioned sources, were collected and provided by Rahul Rai`s research for Messari
Ethereum
trading
decentralization
dex
decentralized
Defi
Decentralized Finance
Uniswap
Decentralized Exchange
Sushiswap
TVL
1inch
1inch exchange