03 Aug 2020 Simon Briggs
DeFi Coin Ampleforth Drops 20% Despite Whale Interest
The Heavy Correction Comes Amid Ampleforth Possible Listing On Coinbase
---
The DeFi ecosystem has been gathering attention over the past months, with some projects like Ampleforth (AMPL) marking a 5,000% market capitalization increase in just a month. However, AMPL saw a massive correction in the past seven days, despite whales` interest in the asset and a possible Coinbase listing on their platform.
Data from TradingView shows a steep correction of over 20%, as of 2nd August 2020. The price drop coincides with Bitcoin's short downfall. Traders consider the price drop of AMLP to also have been impacted by an increase of AMPL's supply.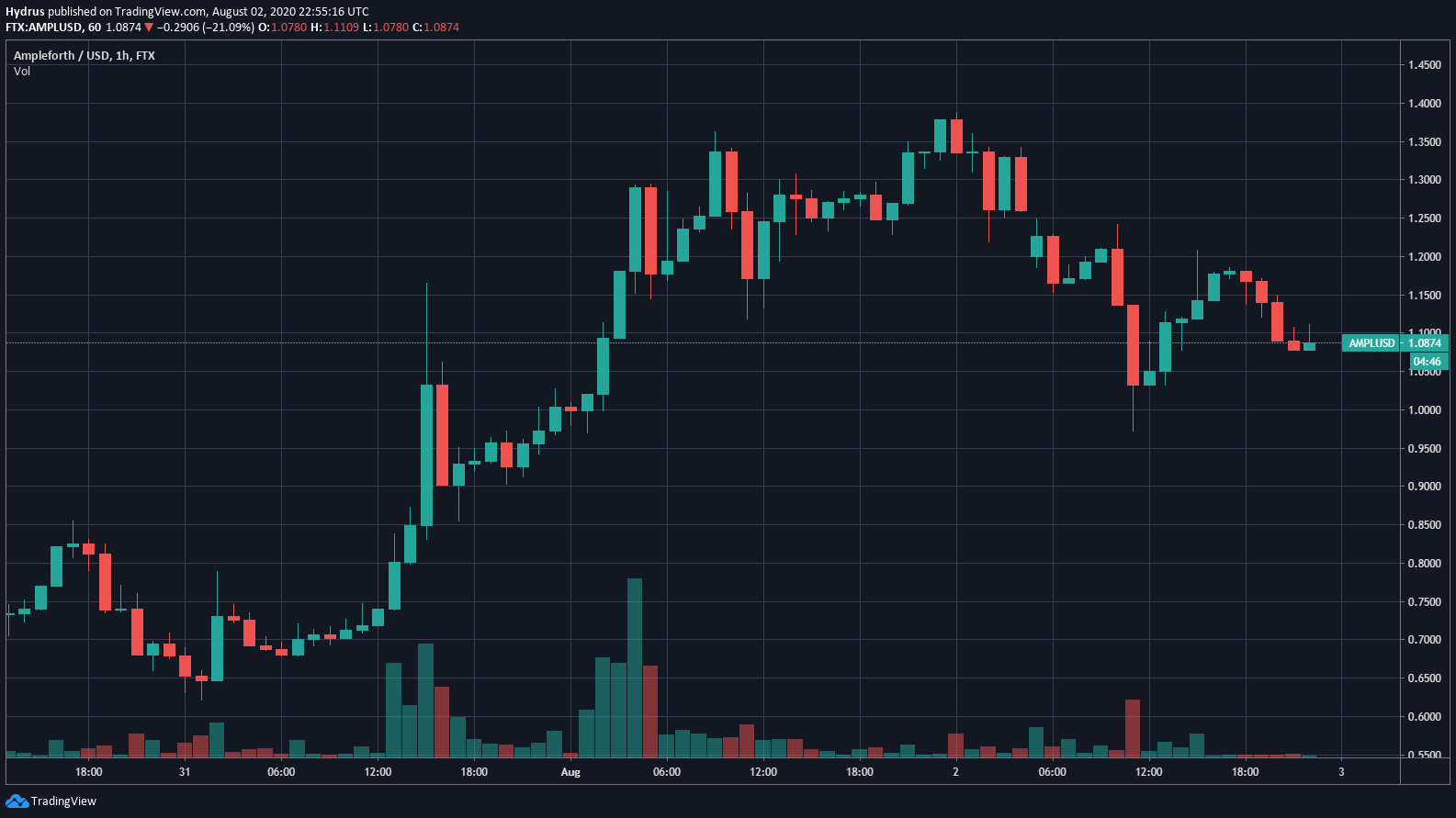 Source: TradingView
Ampleforth (AMPL) acts as an algorithmic stablecoin, tied to the U.S. dollar. The algorithm responds to supply and demands by daily "rebasements" to stabilize its price against USD. So, an increase in demand may also be an option for AMPL's price slump.
Furthermore, AMPL's price crash comes amid an optimistic stance about the DeFi project, with an increase in both on-chain and social media activities. Blockchain analytics company Santiment published a report, showing the weighted social media sentiment of AMPL-related social media activity surpassed "level 3", which indicates bulls are strongly outweighing bears in social media.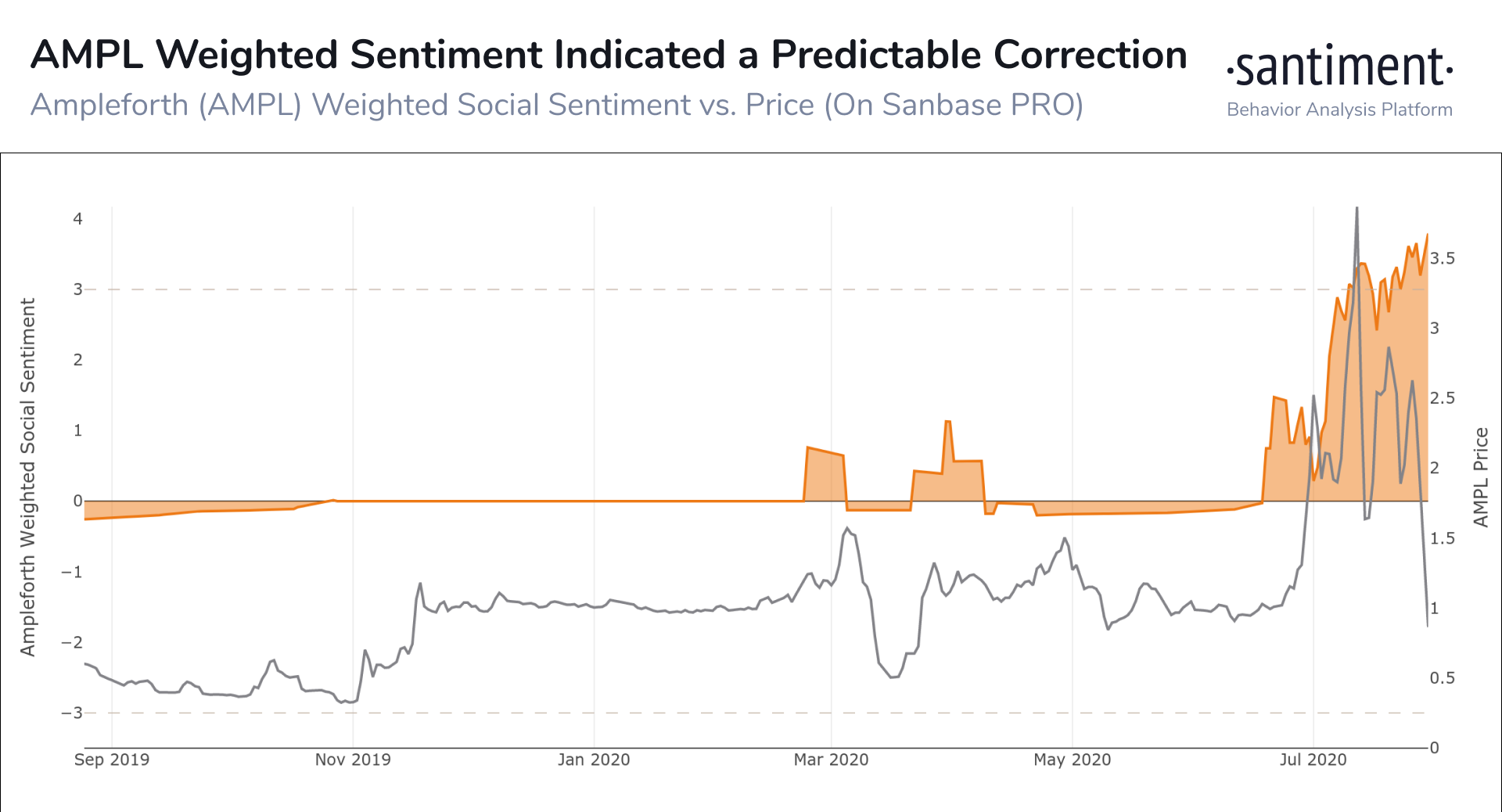 Source: Santiment
Santiment also noted that such activity indicates "whales accumulation" but the recent price drop shows it is still early for whales to have a big enough effect on the Ethereum-based DeFi market.
Meanwhile, Mythos Capital's founder Ryan Sean Adams, considers AMPL's success to be "unbelievably bullish" for the entire Ethereum ecosystem, despite the recent price swings.
Adams considers if AMPL's experiment comes to success, the move will provide Ethereum with massive transaction demand, pushing the price per ETH up.
"BCH, ZEC, XMR, BTC, ETH, DOGE, AMPL. Base monies. M0s all competing w/ each other. AMPL is the only one w/o its own chain. It settles on Ethereum. If the AmpleForth experiment is successful, we'll see a rush of M0 monies competing on Ethereum", Adams tweeted.
On the other hand, crypto exchange Coinbase announced that it's currently researching support for several digital assets, including Ampleforth. The list of assets also includes Ocean Protocol, Paxos Gold, THETA, UMA, Flexacoin, Helium, Hedera Hashgraph, Band Protocol, Balancer, Blockstack, Curve, Fetch.ai, Kava, Melon, Reserve Rights, tBTC, The Graph, and WBTC.
If an eventual Coinbase listing occurs, AMPL's price may see yet another price swing. Prior to Coinbase's announcement on July 31, AMPL price was down at $0,64 rate. Shortly after the news that AMPL may be listed on one of the world's largest crypto exchanges, the price of the asset skyrocketed to $1,36 on August 2, marking a 74% price increase. As of press time, Ampleforth trades at $0.9875.
Blockchain
Coinbase
Cryptocurrency
Crypto Market
Exchanges News
Blockchain Development
coins
crypto market monitoring
exchange
price
dollar
usd
Stablecoin
Stablecoins
Blockchain technology
Defi