02 Jun 2021 Simon Briggs
Dogecoin Jumps Nearly 40% After Coinbase And LocalBitcoins Announce DOGE Listing
Meanwhile, Coinbase Made A Partnership With Apple And Google For Buying Everyday Goods With Digital Currencies
---
The world's 6th most valuable cryptocurrency, Dogecoin (DOGE), made yet another bullish ride into the sky, as the meme coin spiked nearly 15% on June 1 and almost 30% on June 2, 2021. The reason is the news from one of the largest crypto exchanges to date – Coinbase.pro and LocalBitcoins, about onboarding the virtual currency.
The US-based Coinbase.pro crypto exchange announced that inbound transfers of Dogecoin are now available in the company's supported jurisdictions. Trading of Dogecoin on Coinbase.pro is scheduled to start on 3 June 2021 at 9 am Pacific Time, however, it may be postponed until there is enough DOGE liquidity.
The ruler of the meme community – DOGE, was created as a joke, but currently, the meme coin has a market capitalization of over $54 billion. Over $11,2 billion were moved over the past 24 hours, which is almost three times the day before. After hovering around $0.30 for almost an entire week, Dogecoin's popularity surge pushed its price to a current value of $0.4083 per DOGE.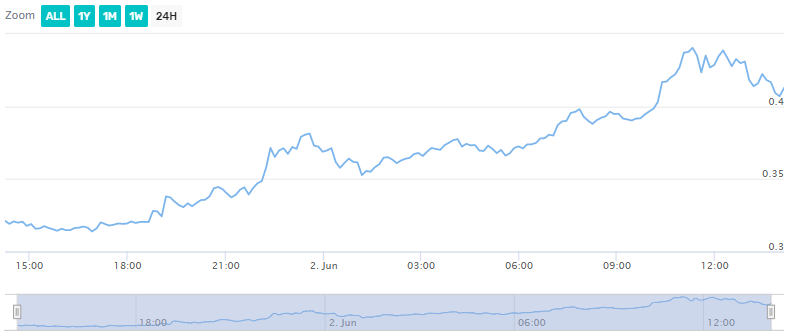 Source: CryptoBrowser
"Once a sufficient supply of DOGE is established on the platform, trading on our DOGE-USD, DOGE-BTC, DOGE-EUR, DOGE-GBP, and DOGE-USDT order books will launch in three phases, post-only, limit-only and full trading," Coinbase.pro explained.
Furthermore, LocalBitcoins announced last week that it's adding DOGE to the support list on its exchange. Elon Musk's favorite cryptocurrency will partner with other crypto projects like Tether (USDT), Polkadot (DOT), Cardano (ADA), Bitcoin Cash (BCH), USD Coin (USDC), and Chainlink (LINK), which is a huge boost for DOGE's accessibility.
"You asked, we delivered! Some highly anticipated altcoins have now been added as payment methods," LocalBitcoins said during the announcement.
LocalBitcoins' move is rather strange, as the exchange kept its website and operations more-or-less Bitcoin-oriented. Now, with the addition of some of the most popular crypto projects to date, LocalBitcoins is expanding its offerings beyond just BTC in a bid to grow its customer base, as well as to adapt to the new market conditions. Also, the exchange strives to embrace the world of altcoins.
Meanwhile, another piece of news about Coinbase also played a big role in altcoin adoption, as the exchange will allow users to add Apple and Google payment cards from their accounts to the payment apps run by the two tech giants.
"The Coinbase card added to the wallets can be used to buy everyday goods with digital currencies," the biggest US-based crypto exchange noted in a blog post.
Coinbase
Altcoin News
Cryptocurrency
Google
dogecoin
Apple
Coinbase Pro
doge
altcoin
cryptocurrency news
crypto news
Crypto Price
Payments