07 Jul 2022 Samantha McLauren
ETH 2.0 Testnet Merge Now Live, Despite Some Hiccups
According To Ethereum Core Developers, Such Testnet Merge Events Are Essential For Everyone In The Ethereum Ecosystem To Fully Understand And Improve The Network
---
The second-largest crypto to date is inching forward into making one of the most anticipated events in the crypto sector a reality – the "Merge". Indeed, the transition from the current proof-of-work consensus mechanism to proof-of-stake is considered to be one of the biggest network overhauls in the history of cryptos.
However, in order to transition, Ethereum must first find a way to merge the existing chain with the ETH 2.0 chain, which would keep the token intact. Now, the merge is even closer, as Ethereum completed a trial on the public test network Sepolia.
It is the second-to-last major Merge attempt, as the final trial of the Merge is set to occur on the Goerli network over the next few weeks.
Ethereum educator Anthony Sassano commented that the Merge transition went through "successfully" despite having some technical issues along the way and that the network would undergo a monitoring stage over the next few days.
Speaking of incidents, Ethereum protocol developer Terence Tsao stressed that around 25-30% of validators went offline after the Merge due to "wrong configs."
During the Merge live stream, hosted by Sassano, founding member of the ETHStaker Community, Superphiz, has raised concerns that the true Merge would be a process, lasting "for several hours or even until tomorrow.". Supherfiz added that despite the Sepolia merge event being mostly a success, the timeline for merging on the Goerli testnet is still not certain.
Ethereum near the end of proof-of-work?
If everything goes to plan, without problems on the Goerli test network, Ethereum may have the "thumbs up" for transitioning into proof-of-stake consensus. However, Ethereum co-founder Vitalik Buterin admitted that one of the challenges facing the main network transitioning would actually be Ethereum successfully merging with "much more third-party infrastructure that isn't present on the testnets."
"So there might be non-critical issues like that that will just pop up in the Merge that we're not catching with these tests. There's a lot of peripherals that are just not getting tested and that's unavoidable and probably fine." Buterin added on the live stream.
The news shifts the crypto sector
And while the crypto sector anticipated a price pump, data from Santiment suggests that Ethereum may actually see a negative price movement pattern due to Ethereum continuing its inflow towards crypto exchanges.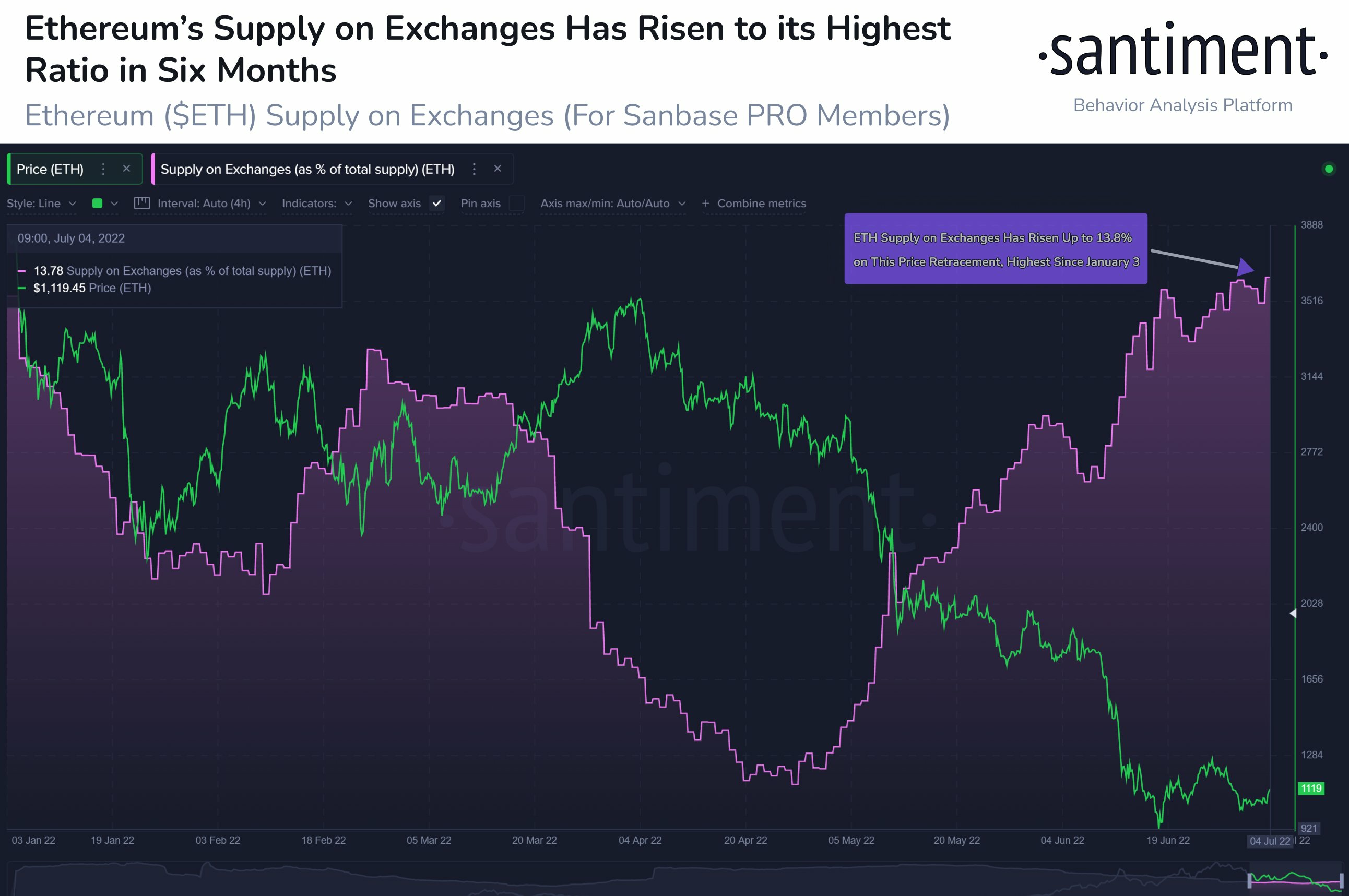 Source: Santiment
However, the second-largest crypto to date acted in contrast to Santiment's predictions, as Ethereum currently hovers around the $1,200 mark, with a price point of $1,194.15 as of press time.
Ethereum
eth
Ethereum news
cryptocurrency news
crypto news
Crypto Price
Ethereum Price
Ethereum 2.0
PoS
PoW