25 Sep 2023 Samantha McLauren
ETH Transaction Fees Are Falling Down; Vitalik Buterin Rumored To Be Cashing Out On Ethereum
Recent Decreases In ETH Fees Have Brought Them To Their Lowest Levels Since 2023, Per Santiment Data
---
The fee structure of Ethereum, the second-largest cryptocurrency by market value, has lately undergone a substantial transformation. Santiment, a well-known on-chain analytics company, has published a research paper, claiming that Ethereum transaction fees had fallen to their lowest levels since 2023. According to the data, the average cost of an Ethereum transaction has dropped to about $1.15, a significant decrease from previous months and levels last seen on December 26, 2022.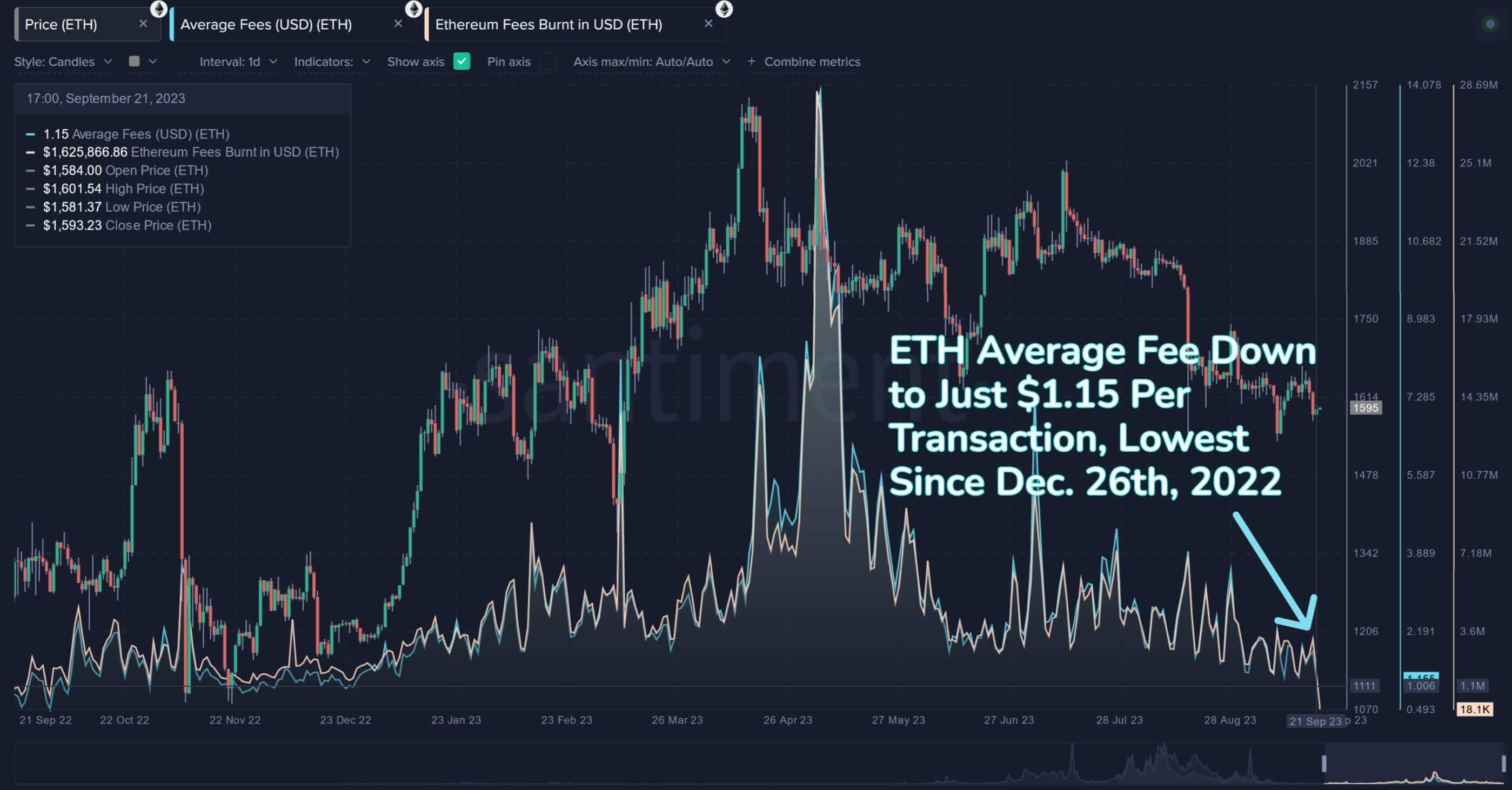 Source: Santiment
Both Bitcoin professionals and amateurs consider this development to be historically significant. According to Santiment, this steep drop in fees would open the door for greater utility on the Ethereum network, which might then help market capitalization levels recover.
Historical Background and Increasing Utility
The observations made by Santiment are supported by past patterns in the Bitcoin sector. A blockchain network often becomes more appealing to users and developers when transaction fees go down. Lower transaction fees will enable more users to communicate with the network, which will expand the use of Ethereum's features.
Developers are encouraged to create and implement smart contracts, decentralized applications (DApps), and other cutting-edge solutions on the Ethereum blockchain as transaction fees become more economically viable. This increased engagement strengthens Ethereum's ecosystem as a whole in addition to increasing its utility.
A matching growth in market capitalization is frequently strongly correlated with an increase in utility. A blockchain network tends to draw more investors as it grows more useful and active, which could increase the value of its native cryptocurrency, in this example, ETH.
Ethereum network costs are now just $1.15 per transaction, the lowest amount since 2023. In the past, the utility has increased as ETH has grown more widely available and less expensive to circulate. The market cap may then increase as a result of increased utility.
Along with the decline in average transaction fees, Ethereum's total network fees—which represent the aggregate amount of fees paid on the blockchain—have also decreased, reaching a nine-month low in the last week of just $22.1 million. According to data from IntoTheBlock, Ethereum's weekly total fees decreased by 9.3%. Additionally, Ethereum had $130 million in negative exchange flows, a $20 million decline in net inflows less outflows, a measure known as exchange netflows.
The adoption of Layer 2 (L2) scaling solutions is partly responsible for these changes, which show a major change in Ethereum's fee dynamics. They are made to improve the Ethereum network's efficiency and throughput while lowering excessive transaction fees.
The Future of Ethereum
While the decrease in Ethereum's transaction costs is undoubtedly a good thing for the network, it is important to think about the wider consequences. Lower prices make the network more accessible and affordable, which can draw in more users and developers. As Ethereum becomes a more cost-effective platform for various applications, like decentralized finance (DeFi), non-fungible tokens (NFTs), and smart contracts, this rise in usefulness may have a knock-on effect on the market value of the cryptocurrency.
But it's still unclear how these cost developments will affect Ethereum's position inside the larger cryptocurrency market. Investors and fans will be intently watching the network's performance, utility, and market dynamics in the coming months as the cryptocurrency field continues to develop.
Rumors about Ethereum co-founder getting rid of ETH
The co-founder of Ethereum has recently been transferring ETH to controlled exchanges. In addition, Ethereum, the second-largest crypto asset in the world, has seen a decline in price, on-chain activity, and mood.
On September 25, Lookonchain stated that Vitalik Buterin had recently made a Coinbase deposit of 400 ETH, which is roughly equivalent to $632,000. Although the action can be benign, the movement of significant amounts to centralized exchanges typically indicates that sales preparations are underway.
Additionally, the price, attitude, and momentum of Ethereum are now unchanged, and it did not move in lockstep with Bitcoin last week.
Late last week, @Ali_Charts noted that "there are no signs of buying pressure from Ethereum whales yet." This month, ETH whales with balances over 10,000 have decreased, along with the price of the asset.
Ethereum
eth
Ethereum news
cryptocurrency news
crypto news
Crypto Price
Ethereum Price