23 Dec 2020 Anthony Lehrman
Ethereum 2.0 Validators Recorded 0.002792 ETH Daily Yield
The ETH Amount Equals To Around 3.2% Compound Annual Interest
---
Users who validate transactions on the Ethereum 2.0 network are earning approximately 0.002792 ETH per day. Data from Flipside Crypto shows that the ETH 2.0 validators are bringing in around $1.67 daily earnings, when calculated to Ethereum`s current price of around $608.
The data from Flipside Crypto shows that ETH 2.0 validators are earning an estimated compound annual rate of 3.2% for staking at least 32 ETH on the blockchain. Furthermore, data from Ethereum's community shows over 265,600 validators currently operating on ETH 2.0's blockchain, locking in around 1.54 million ETH, which translates to $1 billion.
Looking at Ethereum's performance graphs, data from Cryptobrowser.io shows that the second-largest cryptocurrency based on market capitalization made a slight retreat below $600, and then recovered its previous state. Ethereum is currently trading at $608.46.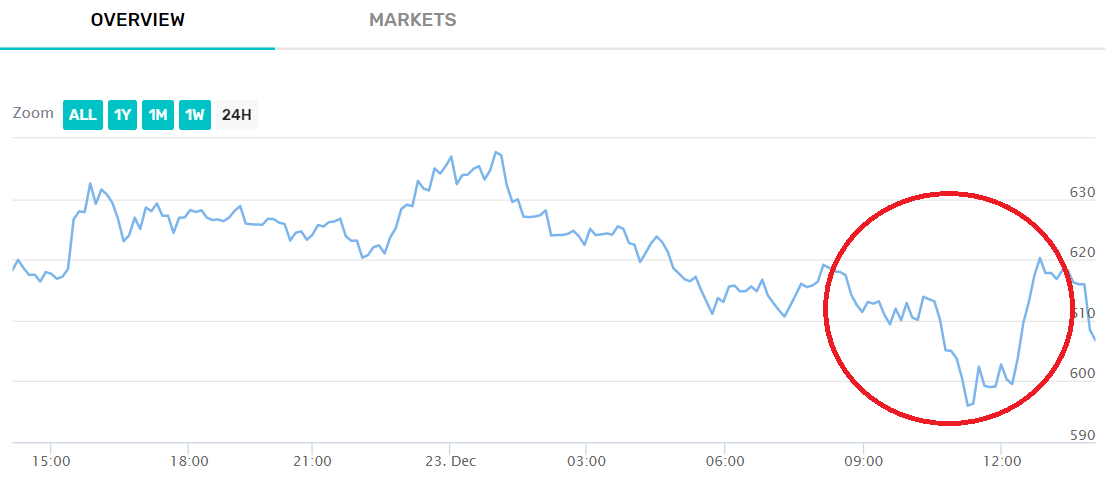 Source: Cryptobrowser.io
It is a well-known fact that Ethereum price is somehow tied to the price of the industry leader in cryptocurrencies, Bitcoin. Expectations are Ethereum to lose its support zone of $600 If Bitcoin price falls below the $20k level. It is even possible the ETH to enter below the $500 zone if Bitcoin crashes. In turn, this will affect the amount of daily returns for validators.
Ethereum staked on the ETH 2.0 protocol upgrade reaching $1 billion is marking yet another milestone for the development of Ethereum's community. As of December 18, a total of 1.5 million has been sent to the ETH2.0 deposit contract. A few days later, on December 23, Ethereum 2.0's deposit was equal to 1,964,834 ETH tokens staked, with a total worth surpassing $1.2 billion as of press time.
Bitcoin
Ethereum
Cryptocurrency
eth
Ethereum news
cryptocurrencies
etherium
cryptocurrency news
Ethereum Price
Ethereum 2.0
cryptocurrency market