06 Nov 2020 Simon Briggs
Ethereum Announces ETH 2.0 Phase 0 Launch, ETH Price Skyrockets
The Price Per ETH May Reach $500 In Q4 Due To Bullish Sentiment
---
Ethereum's long-awaited network update, dubbed ETH 2.0, may be one step closer to its final launch, as Ethereum's development team announced that version 1.0 of Ethereum's new blockchain specs have been uploaded on GitHub.
Ethereum's update has been postponed several times, but now the genesis block of the new beacon chain would be launched on December 1.
"To trigger genesis at this time, there must be at least 16,384 32-ETH validator deposits 7 days prior to December 1. If not, genesis will be triggered 7 days after this threshold has been met (whenever that may be)", Ethereum developers stated.
The deposit contract, where validator deposits would be stored, is crucial for ETH 2.0's implementation, as the contract enables ETH transactions between the native Ethereum chain and the Phase 0 ETH 2.0 beacon chain. The Phase 0 beacon chain is considered to be "the central control tower keeping track of the 32 shards on Ethereum 2.0."
Ethereum developers raised a flag that many illicit entities may try to copy Ethereum's deposit contract address, as well as to mimic Ethereum's launchpad front-end.
Phase 0 would ultimately bring the long-awaited transition from Proof-of-Work to a Proof-of-Stake consensus algorithm, which would eliminate Ethereum mining. The update would allow Ethereum users to become either active or passive transaction validators, earning them rewards through staking ETH on the network. In order to earn the ETH tokens, however, users have to lock a certain amount of ETH on the deposit contract.
The news about ETH 2.0's beacon chain launch reflected on Ethereum's price. Shortly after the news, Ethereum broke above $400 and currently aims for breaking the $500 resistance mark. Crypto traders believe that ETH may be receiving a kick-start to a rally. The break above $400 and Ethereum's current price of $441.53 show bulls are in control of the market.
Looking at the technical picture, ETH/BTC is falling rapidly from its YTD high of 0.0406 sats. ETH/BTC formed an intraday low at 0.02738 sats, which is believed to be both support and resistance levels. Also, Ethereum is seemingly on a bullish run since the March COVID-19 driven market crash. The second-largest cryptocurrency is forming a six-month Ascending Triangle pattern with a fixed horizontal resistance line and a trail of higher lows.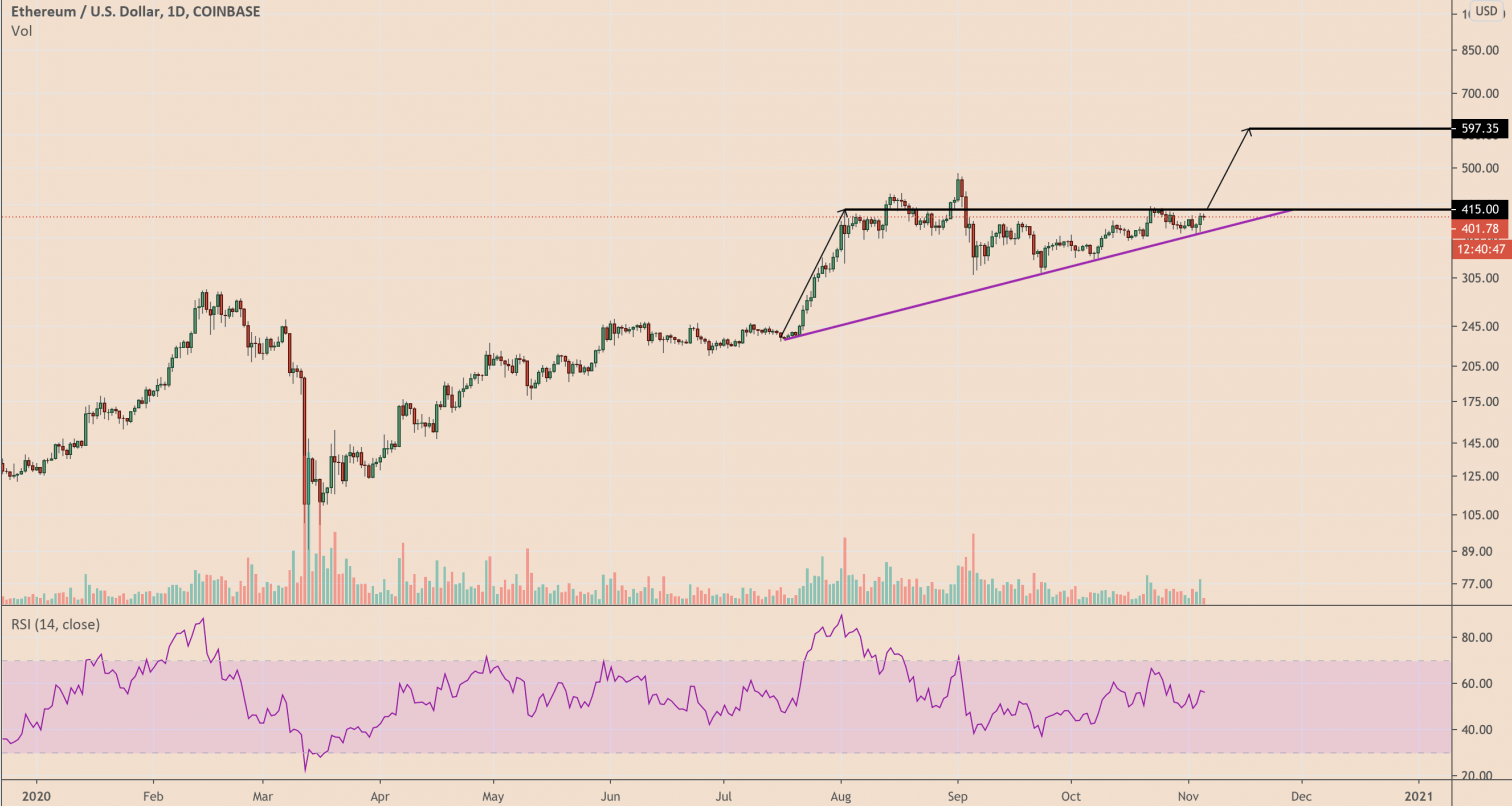 Source: Trading View
"The Ethereum community has been getting prepared ahead of the launch of ETH 2.0, with a record number of wallets now holding at least 32 ETH. The number of Ethereum addresses holding at least 32 Ethereum hit an all-time high (ATH) of 126,852." Crypto Compare noted.
Bitcoin
Ethereum
Cryptocurrency
Crypto Market
eth
Ethereum news
cryptocurrencies
cryptocurrency news
Ethereum Price
Coronavirus
Ethereum 2.0
cryptocurrency market