01 Jul 2021 Simon Briggs
Ethereum Classic (ETC) Spikes 30% Amid A Recovering Crypto Market
The Coin Originated From A Hard Fork In Ethereum's Main Blockchain
---
Ethereum Classic, dubbed as Ethereum's original blockchain, received a welcoming push in its price in 2021. ETC began 2021 with a price point of around $7. However, on May 6, just four months after the start of 2021, Ethereum Classic reached its all-time high of $176.16. After Ethereum Classic's all-time high, the coin went back down trading into the $120 range. The previous all-time high for Ethereum Classic was a little over $48, which is still under current prices. This happened during the bull market of 2017 that eventually ended in 2018.
Currently, ETC's price sits at $54.74, which is almost eight times higher than January 1, 2021.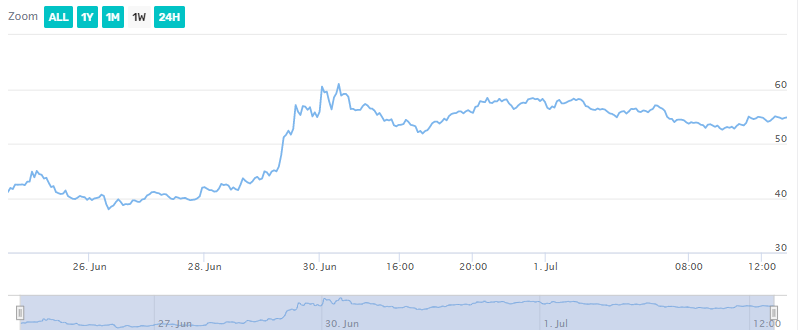 Source: CryptoBrowser
Looking at the weekly graphs, Ethereum Classic gained 30 percent week-over-week, mainly due to the altcoin being resembled as a cheaper option on the Ethereum ecosystem. For some retail investors, Ethereum Classic presents a perfect opportunity to get into the Ethereum network.
The history of Ethereum Classic includes inheriting Ethereum's first blockchain code. Being such, ETC bears much of Ethereum's significant traits. Both networks utilize a proof-of-work (PoW) consensus mechanism. However, Ethereum is scheduled to transition to a proof-of-stake transaction verification mechanism, which would greatly increase transaction throughput and scalability.
Meanwhile, ETC might not follow its big brother's steps into a proof-of-stake consensus algorithm. The conflict between Ethereum developers is still present – whether or not Ethereum deviated from what blockchain technology was created to do, prevent manipulations in the market by people.
Ethereum Classic's bull run is supported by several technical indicators. Moving averages for ETC are on the red over the short term but remain positive over the long term. Five-day moving averages fell down 20%, but the 100-day moving average is up high, reaching 373.10% long-term.
30-day moving averages suggest that Ethereum Classic is receiving strong buying pressure.
Meanwhile, the rest of the crypto market seems to have entered a recovery mode. Bitcoin, the industry leader, however, is still struggling to find solid ground at $35,000 and it trades at $33,619.33, as of press time. Ethereum sits at $2,128.77, gaining almost nine percent weekly. Traders are optimistic about a consolidation period setting in, as most of the cryptocurrencies in the top 20 are showing little to no daily price swings whatsoever. However, looking at the weekly figures, the crypto sector is rising, increasing almost five percent to $1.39 trillion in total market capitalization.
Ethereum
Cryptocurrency
eth
Bitcoin price
Ethereum Classic
ETC
Ethereum Classic Price
altcoins
cryptocurrency news
crypto news
Ethereum Price