16 Apr 2020 Marsha Tusk
Ethereum Enters A Head-To-Head Race With Bitcoin For Daily Transfers
According To Messari, Bitcoin And Ethereum Are Moving Equal Amounts In Terms Of Value On Their Blockchain
---
The biggest cryptocurrencies to date, Bitcoin and Ethereum, are now entering a different level of competition – daily transfer amounts. The two crypto leaders equaled the amount of value transferred on their blockchain networks, denoted in U.S. dollars.
Blockchain analytics company Messari published a report showing the total value of transferred assets equalized on April 12th - $1,5 billion for each network. Massari, however, emphasized that Ethereum's score is a combination of all assets, running on Ethereum's blockchain, including Tether (USDT) and a few other ERC-20-based stablecoins.
The race for total amount of assets moved intensified after Bitcoin failed to sustain an all-time high of $3 billion in July 2019. Meanwhile, Ethereum started a steady increase in value transfer since December 2018.
Crypto analysis companies did further research on the Bitcoin vs. Ethereum rivalry. One of the key metrics for evaluating blockchain network performance is the transactions-per-second (TPS). Blockchair reported an all-time high for Bitcoin at 4.7 TPS amid the BTC all-time high in December 2017. Since then, Bitcoin's TPS rate is decreasing ever since, to reach as low as 3 TPS as of press time. Ethereum, on the other hand, peaked at a little over 15 TPS in 2018, with a decrease to 9 TPS currently.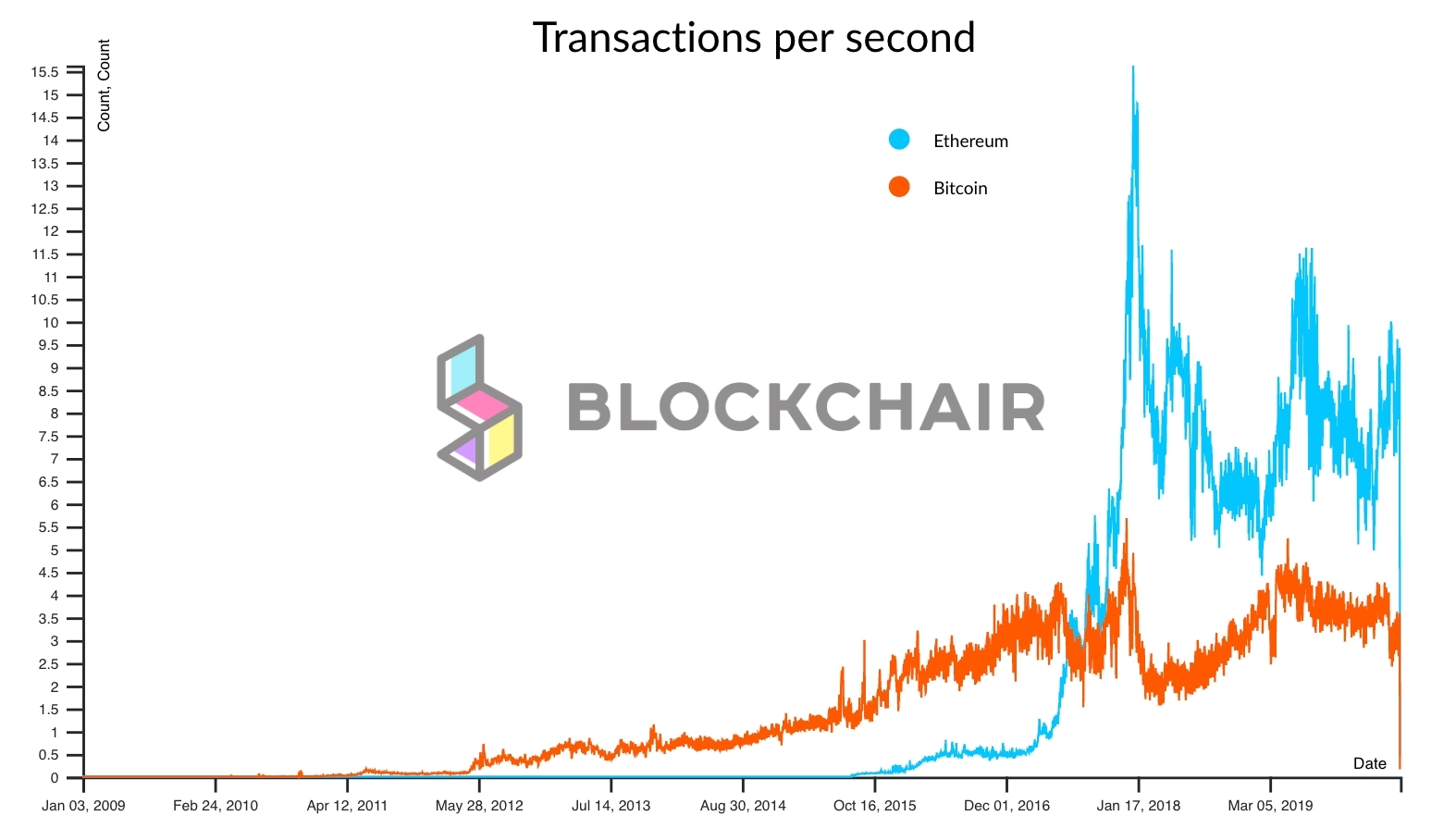 Source: Blockchair
Blockchain analyzers also took into account the development of both networks. Ethereum, for example, has an average of 99 developers on its team, while Bitcoin's development team is 50% lower – 47 developers.
In the meantime, one of the core factors in the daily value transfers for both Bitcoin and Ethereum, Tether, announced yet another printing batch. Tether's treasury released a new portion of 120 million USDT tokens. Dubbed as the gateway to the crypto sector, Tether has no idea of stopping down with the minting spree. The flood rate Tether makes in the past month, and a half is unprecedented.
The minting undermines the trust in the controversial stablecoin. Critics say that real currencies can't back Tether's minting. Also, Tether's connections with Bitfinex put another question mark about USDT's independence.
However, the increased Tether trading volumes are an indicator of a possible price swing – be it upwards or downwards.
Bitcoin
Ethereum
Cryptocurrency
Crypto Market
btc
eth
crypto market monitoring
Ethereum news
trading
bitcoins
cryptocurrencies
bitcoin news
bitcoin news today
daily bitcoin news
ether