07 Jan 2019 Anthony Lehrman
Ethereum Leads Market Recovery, Bitcoin Jumps to $4,000+
Cryptocurrency market came back to life with Bitcoin jumping over the $4,000.
---
Cryptocurrency market came back to life with Bitcoin jumping over the $4,000 resistance, but other top cryptocurrencies like Ethereum, for example, also made substantial gains over the past weekend.
Experts are expecting the biggest cryptocurrency based on market capitalization, Bitcoin to settle around the $4 200 mark, as bulls are pushing the trading volumes up. Other cryptocurrencies also performed well, boosting the overall market capitalization of the cryptocurrency sector from $129 billion to $138 billion.

While Bitcoin lost some of its dominance to altcoins, the most significant player in the crypto realm quickly recovered from the $3,833.99 dip from Sunday to little over $4,000 as of press time. Bitcoin shows support at $4,020 and $3,900. The 21-hour Simple Moving Average (SMA) sits above the 50-day SMA, indicating bullish stance in Bitcoin trading. And while the price is fluctuating around the $4,030 mark, the steady increase of trading volumes indicate that prices will go up.
Ethereum quickly became a market leader after the start of 2019. Regaining its position as the number one altcoin, Ethereum (ETH) showed strong support at $140, maintaining a price between $150 and $155. Trading volumes are also growing in numbers.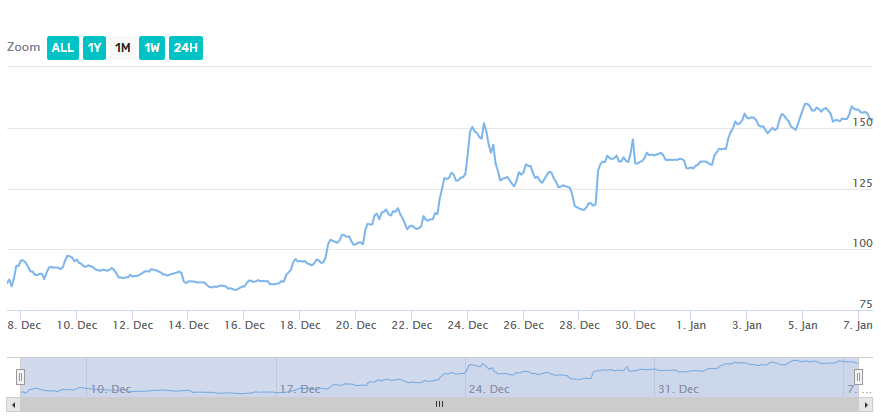 ETH price (source: https://cryptobrowser.io/coins/ethereum-eth/)
Ethereum made almost 100% price regain on a monthly basis, indicating the renaissance for the biggest altcoin to date. ETH tested the $170 level but quickly found a $159 haven with a $160 50-day SMA. We can expect supports at $150, $140 and $110.

Overall, the cryptocurrencies are gaining momentum, with price increases ranging from 2% for Bitcoin Cash (BCH) to over 17% for TRON (TRX) and 22% for Litecoin (LTC). On the losing side – True-Chain (TRUE) lost almost 35% of its market capitalization, followed closely by THETA and Mobilego (MGO).
The losses are caused by users reverting to Ethereum, as the biggest group of losers are Ethereum-based tokens.
Bitcoin
Ethereum
TRON
Litecoin
Bitcoin Cash
btc
eth
THETA
THETA token
Bitcoin price
LTC