11 Apr 2022 Arjun Agarwal
Ethereum Miners Earned More Revenue Than Bitcoin Miners
It Turns Out That This Is The Third Month In A Row Where Ethereum Mining Revenue Outpaces Bitcoin's, Despite Mining Decrease Year-On-Year
---
Ethereum mining is turning out to be more profitable than mining Bitcoin, as data from a research paper suggest that the revenue of crypto mining for the second-largest crypto to date is 10% larger than the rewards miners received from validating transactions on the world's largest crypto project to date's blockchain.
The data revealed that Ethereum mining generated $1.34 billion in revenue, while Bitcoin's revenue only managed to reach $1.21 billion in March 2022. However, the total profitability of Bitcoin mining over the past year was down by 30% since March 2021, which saw $1.75 billion in revenue recorded. Also, the 30-day high in March was still 4% lower than the best day high in February, as data from YCharts revealed a single-day high for March of $47.54 million, compared to February's high of $50.05 million in mining revenue.
Ethereum, on the other hand, managed to become more profitable for miners than Bitcoin for the third month in a row, increasing its mining revenue by 7%, when comparing the data with February.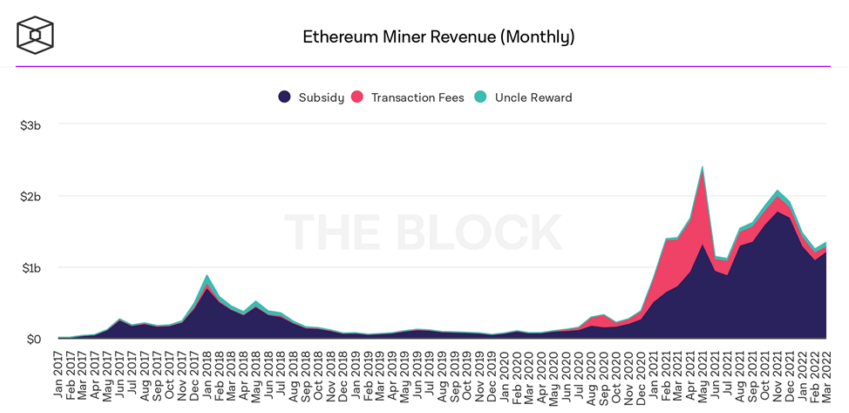 Source: The Block Crypto
However, Ethereum also slid and witnessed a 4% year-over-year monthly decrease in March, as data shows that March 2021 saw $1.41 billion in revenue generated.
Ethereum mining increase causes
Ethereum made its third month of consecutive revenue strikes against Bitcoin, as the 10% figure of March is relatively low when compared to the 17% mining revenue difference in February and the 20% increase in January 2022.
Experts believe the revenue increase in both cryptos is nothing more than a normal consequence of the market recovery towards the end of March, which resulted in increasing demand for Bitcoin and Ethereum. Usually, increased mining revenue is associated with bullish market sentiment, since when the price of the given assets is increasing, so does the mining revenue per mined block.
For instance, Ethereum opened on March 1 with a trading price of $2,919.78 and reached a 30-day high of $3,470.19 on March 29, which resulted in ETH spiking approximately by 18%. Furthermore, the monthly trading volume for Ethereum jumped 4% to $436 billion.
Bitcoin, on the other hand, began March 1 by trading for $43,194.50 per BTC and reached a monthly high of $48,022.29, but closed the month at $45,538.68, reaching a monthly increase of 11%. Trading volumes, however, increased much more than Ethereum's, recording a 23% increase 23% from February to March's trading volume of $830 billion.
ETH 2.0 to change things up
While both Bitcoin and Ethereum are generating increased month-over-month mining revenues, soon the landscape before Ethereum miners would change with the much-anticipated network upgrade to a Proof-of-Stake (PoS) consensus mechanism, which would replace transaction validation by raw computing power with validation based on the amount of staked Ethereum by each node operator. Also, the London (EIP-1559) network update introduced a form of deflationary mechanism, which is still non-existent in Bitcoin's network.
Nevertheless, the upgrade to ETH 2.0 is aimed at solving Ethereum's biggest problem – network congestion, which in turn boosts up transaction costs and makes the second-largest crypto to date not a viable option for small-scale transactions. Furthermore, the emergence and rapid development of the DeFi and NFT ecosystems, the majority of which are built on top of Ethereum's network, added to the network congestion.
Bitcoin
Ethereum
cryptocurrency mining
mining
btc
eth
Ethereum news
Bitcoin price
bitcoin news
cryptocurrency news
crypto news
Crypto Price
Ethereum Price
Ethereum 2.0
PoS
Proof-of-Stake