08 Nov 2018 Arjun Agarwal
Еthereum Price Takes Reverse Course, Despite Yesterday's Peak Momentum
The Ethereum community welcomed the good news of improved price performance and a new monthly high on the 7th November, yet today the second largest cryptocurrency took a downward price direction.
---
Yesterday, Ethereum (ETH) continued its upward movement to form supports at $217 and $220, respectively, in a two-hour rally from $215 to a monthly high of $223.89. After hitting the monthly high, ETH/USD corrected itself with support on $220.
The ETH/BTC trading pair has found support on the 0.0330 BTC level, consolidating gains from the previous week. It is expected the pair to correct to a new support level of 0.0320 BTC before marking a further increase in ETH's favor.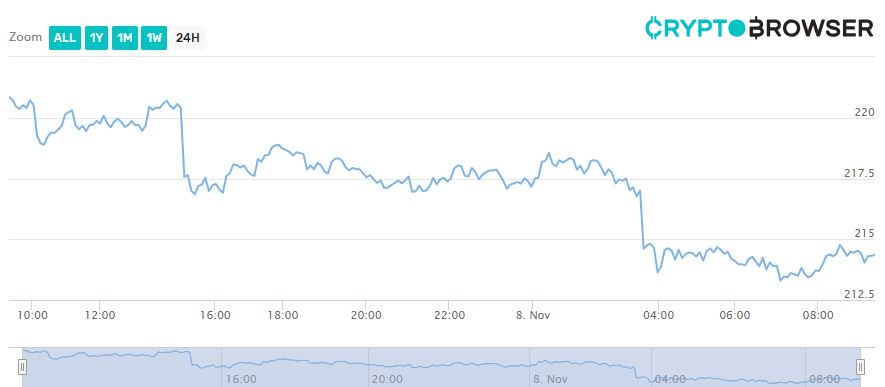 The bullish trend continued, although Ethereum's price has fallen beneath the 23,6 Fibonacci retracement of $208.43. However strong supports are positioned at the $215 and $217 regions.
As of today, the price didn't manage to bounce from the $220 support, Ethereum is not so likely to surpass the monthly high.
Today Ethereum opened at $217.18, reaching a high of $218.33 quickly, but hitting resistance at that point and declining over the next three hours to a low of $213.30, losing almost 3 percent of its value. The $213 support line gave Ethereum a slow rise to $214.32.
The 24-hour trading volume is steadily declining to just under the $1,7 billion mark, and a market capitalization of little over $22 billion.
Ethereum
Cryptocurrency
Crypto Market
Ethereum Price
Prices
Markets