24 Jul 2020 Marsha Tusk
Ethereum Rallies Up 17% Amid Exponential DeFi Growth
Meanwhile, Rumors Of ETH 2.0 Testnet Going Live Gave A Further Boost To Ethereum's Price, Despite Growing Gas Fees
---
The world's second-largest cryptocurrency to date, Ethereum, managed to reach a price point as high as $278 on Coinbase in what it seems a week of upwards momentum for Ethereum.
Ethereum's price broke above the $250 resistance level on Wednesday, July 22, with strong bullish sentiment and growing trading volumes. The recent DeFi boom also contributed to the price surge, as on Thursday, July 23, Ethereum spiked several times, securing both the $250 and $260 zones, which can be considered as a support, if a negative correction occurs.
Crypto experts consolidated upon the statement that if Ethereum secures the $285 resistance, the crypto sector may see the second-largest crypto to skyrocket past $300, which would mean a new 52-week high, according to data from Cryptobrowser.io
However, the upward momentum may be put to a halt, as transaction fees, otherwise known as gas, are exponentially growing. The current gas price situation made Vitalilk Buterin, Ethereum's co-founder, to bring a proposal for restructuring gas fees across the blockchain. Interestingly, the gas prices increase didn't stop Ethereum's upwards rally. Further, one of the biggest gas spenders, Tether, also accounts for the increase in network usage, as 59% of all circulating USDT tokens are currently on Ethereum's network. Ethereum also surpassed the leading cryptocurrency to date, Bitcoin, in terms of network usage.
DeFi also accounts for the increased Ethereum network usage, as the total value locked (TVL) in DeFi projects hit a new all-time high of $3,5 billion, with a peak of 4 million ETH tokens locked in DeFi apps. The rapid growth means DeFi made an 87% increase in TVL in July alone, with a whopping 400% TVL increase since the start of 2020.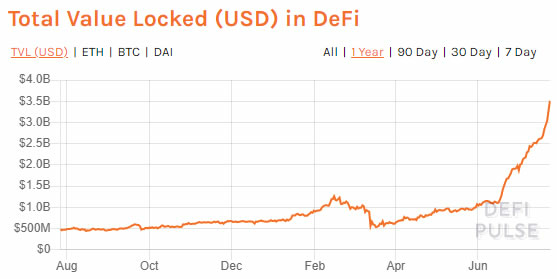 Source: DeFi Pulse
Meanwhile, crypto analysts consider the long-awaited ETH 2.0 update to be at the core of Ethereum's upwards rally. Ethereum officials stated that a testnet for ETH 2.0 would go live on August 4, which is the first step for transitioning from a Proof-of-work (PoW) to a Proof-of-stake (PoS) transaction validation mechanism.
The much-anticipated network update created a vast demand for Ethereum options contracts, with investors betting Ethereum's price would reach the $400-$800 regions. Over $230 million were put into call options, with 6000 contracts expiring on September 25.
Also, crypto derivatives exchange Deribit looked into the possibility for Ethereum to reach and surpass $400 by the end of September or December. It turns out, the odds of Ethereum hitting $400 are 18% and 34%, respectively.
Despite the forecasts, the market is still optimistic in a future price rally above $400. Bitazu Capital's Mohit Sorout published a chart on Twitter, stating that Ethereum's climb to $360 "will be fast", with "Two months of sellers reevaluating their life choices now."
Ethereum
eth
Ethereum news
Ethereum Price
Defi
Ethereum 2.0