10 May 2021 Morgan Hayze
Ethereum Reaches A New All-Time High Of $4,165.06
Meanwhile, The Total Crypto Market Capitalization Jumped Over $2.5 Trillion
---
Ethereum, the second-largest cryptocurrency to date, made yet another historical bull run, surpassing $4,000 for the first time. The 40% price increase over the past seven days reached its highest point of $4,165.06 on May 10 but shortly after corrected itself to a current price point of $4,096.15 per token.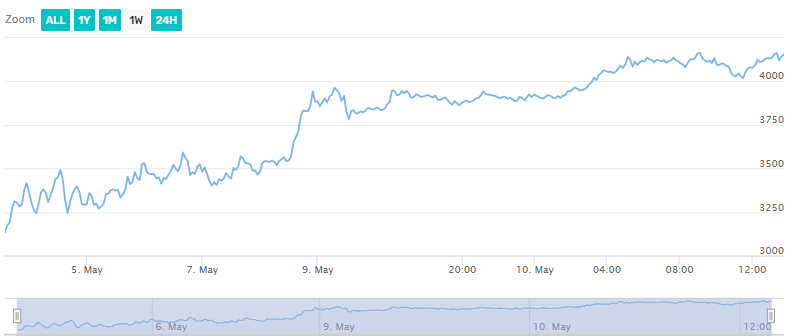 Source: CryptoBrowser.io
Since the start of 2021, Ethereum recorded an almost five-fold price increase, while the largest crypto to date, Bitcoin, only managed to increase its price by 105% with a current price of $57,941.64.
Looking at Ethereum's market capitalization, the second-largest crypto recorded over $20 billion increase in the last 48 hours, making Ethereum larger than a corporation like Walmart. Ethereum's current market cap is just shy of $480 billion, clocking in at $474,7 billion, as of press time. If Ethereum's ongoing rise in both price and market cap continues, the next large corporation in sight is the banking giant JPMorgan Chase, which is valued at $488 billion.
One of the primary reasons for Ethereum's spiking momentum is that more and more institutional investors are seeking ways to expand and diversify their portfolios beyond Bitcoin.
For instance, Purpose Ethereum ETF has added more than 31,000 ETH in the last 20 days, while Grayscale reached 3 million Ethereum under management, worth currently over $12 billion. Furthermore, smart contracts now hold nearly 23% of all Ethereum in circulation.
Another possible reason for the 8% price increase is the Coinbase premium, which created a price discrepancy between the crypto exchange and other exchanges.
"Still an insane $ETH Coinbase premium. Selling $ETH now seems not a good idea in the long term. Follow US institutional investors, not against them." Crypto Quant CEO, Ki Young Ju, posted on Twitter.
However, Morgan Creek managing partner Mark Yusko added a third possibility – Coinbase itself buying Ethereum.
Meanwhile, Ethereum's performance also increased its market dominance over other crypto projects to slightly over 19%, which is an eight percent increase from the start of 2021. The top cryptocurrencies followed suit with the altcoin leader, with Binance Coin (BNB) gained a couple of percents to reach a current price point of $662.98. Stellar (XLM) is among the top performers, adding 23.57% to its price in the past 24 hours, reaching $0.7181.
One of the hottest topics in the crypto sector DOGE coin, rebounded from a short crash, increasing its price by nearly 18% daily, making a weekly price spike of 32%.
Ethereum
Cryptocurrency
Stellar
eth
dogecoin
crypto market monitoring
Ethereum news
Bitcoin price
binance coin
Crypto Price
Ethereum Price