17 Nov 2020 Morgan Hayze
Ethereum Shows Bullish Sentiment, But $500 Breakthrough Is Still Far
Ethereum's Token Staking For The 2.0 Update Is Still Ongoing, Which May Tip The Price In Favor Of ETH
---
The second-largest cryptocurrency to date, Ethereum, has been making gains over the past month, with the price per ETH token climbing from $387 on 1st November to $467.47 as of press time, according to data from Cryptobrowser.io.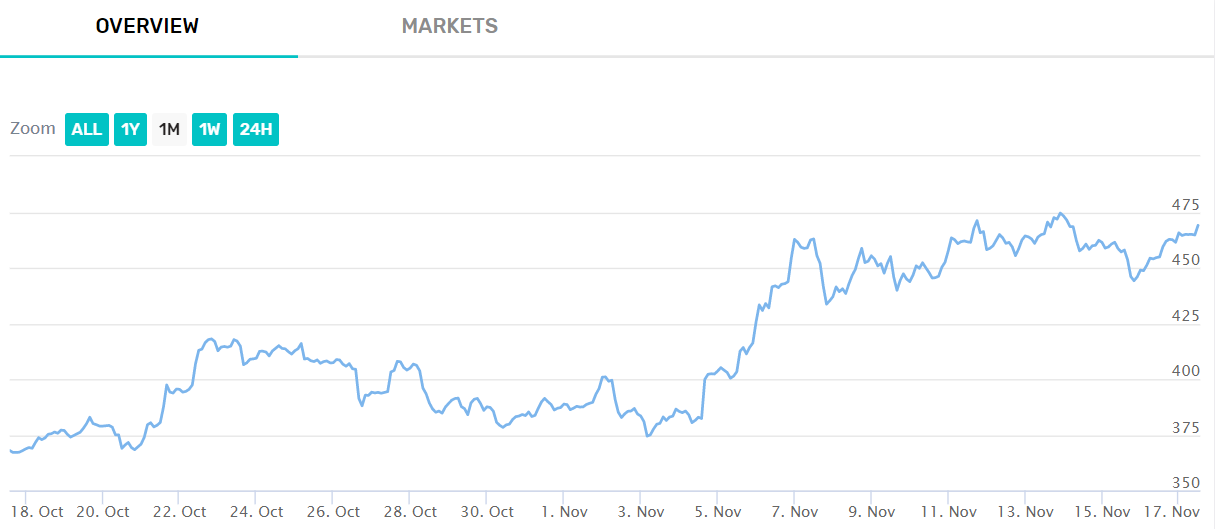 Source: CryptoBrowser.io
However, crypto analysts are raising a flag of concern. IncomingSharks, a prominent cryptocurrency analyst shared their insight on Ethereum's future price movements, emphasizing that ETH "is still buoyant enough to hold support at its current price."
"Eth still holding bullish on the 4th SuperTrend. If support can hold here, I will long. If it breaks, I'll start selling some of my spots," the crypto analyst noted.
Looking at the technical picture, Ethereum seems to be well supported on the $420 mark, receiving almost equal amounts of buying and selling pressure. However, if the trend pattern continues, bears could take over and make Ethereum's price go into a decline. The technical picture confirms IncomingShars' opinion that if Ethereum 's price stays around the $440 support mark, the risk is largely mitigated, but a drop below the $420 support zone could trigger a sharp decline.
Meanwhile, Ethereum's community is preparing for the long-awaited 2.0 chain update, which would introduce an entirely new consensus algorithm – Proof-of-Stake (PoS), instead of the Proof-of-Work mechanism that is currently behind ETH. Twitter service Eth 2.0 Deposit Contract - Progress Meter showed that 98,203 ETH (around $46,3 million) are already staked for the launch of the new chain. However, in order to successfully launch the beacon chain, at least 500,000 ETH tokens need to be staked.
Furthermore, 5,120 ETH were staked in the past 24 hours. This means that the short-term price may be balanced, but community-driven engagement would reflect positively on the price per ETH in the long term. Ethereum's network update would also resolve some of Ethereum's biggest drawbacks like prolonged transaction times and high network fees. Also, the DeFi ecosystem, which runs on Ethereum's blockchain, still has a high interest amongst users, which would affect Ethereum's price positively.
Ethereum
Blockchain
Cryptocurrency
Crypto Market
crypto market monitoring
Ethereum news
cryptocurrencies
cryptocurrency news
Ethereum Price
Ethereum 2.0
PoS
Proof-of-Stake