23 Apr 2020 Josphat Kariuki
Ethereum Smart Contracts Record A 75-Percent Monthly Increase
The Total Amount Of Smart Contracts Reached Close To Two Million, While Deployment Costs Remain At Low Levels
---
Ethereum, the second-largest cryptocurrency to date, reached close to 2 million active smart contracts deployed. Data also shows a 75% monthly increase in smart contracts on Ethereum's blockchain, marking an all-time high.
Data analytics company Dune Analytics made an in-depth analysis, showing an average of 670,000 smart contracts per month, deployed in the past 12 months.

Source: Dune Analytics
The researchers noted that the peak coincides with Ethereum's smart contract deployment cost hitting one of its lowest levels. The cost per smart contract reached an average of $11,600 per contract. The low cost, combined with the all-time high, are indicating Ethereum receives mass adoption. Also, Ethereum's smart contract peak indicates support for the long-awaited ETH 2.0 network update.
However, the total amount of transactions on Ethereum's network remains rather constant, which suggests not enough smart contract utilization or end-user engagement increase.
Prior to the all-time high, the previous peak occurred in November 2018, when the network reached 1,5 million deployed smart contracts. During the November 2018 high, Ethereum's network operated with as much as 1,5 million smart contracts.
Meanwhile, some crypto experts consider Ethereum's blockchain as an "outdated technology" and a "dead end," compared to newer blockchain projects like EOS and TRON. Samson Mow, Blockstream's CEO, described Ethereum as a technology, which "dies faster with the increased rate of usage." He also noted that multi-blockchain projects like Tether, for example, have the chance to scale and allow for Lightning Networks to be deployed.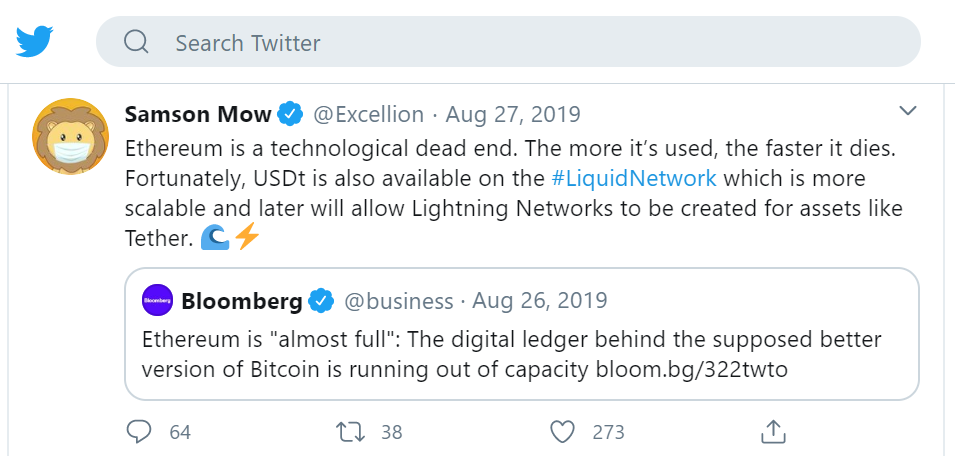 Source: Twitter
Ethereum's long-awaited ETH 2.0 update may be the lifeboat of Vitalik Buterin, who described one of the most significant overhauls in the update would be the switch from proof-of-work to proof-of-stake protocol for transaction validation. The update may improve Ethereum's scalability issues, which are the most significant bottlenecks for developers to join Ethereum as a platform.
Ethereum
Blockchain
TRON
EOS
Blockchain Development
Blockchain Application
eth
Ethereum news
ether
Blockchain News
Blockchain technology
USDT
Vitalik