28 Aug 2020 Anthony Lehrman
Everything You Need To Know About CryptoView
Cryptoview Is An All-In-One Solution For Crypto Trading And Portfolio Management
---
The wide range of crypto exchanges and platforms is still one of the biggest setbacks for novice and advanced traders to join the crypto sector. The steep learning curve of crypto trading further stops beginners from taking advantage of the booming industry.
Despite the obstacles along the way, some companies provide working solutions for placing orders and managing portfolios, which significantly eases the process. CryptoView is one of those providers, who set the bar high. They aim to become the best crypto portfolio tracker for all traders, regardless of their expertise or trading knowledge.
In its core, CryptoView is a crypto portfolio management platform with support for a multitude of the world's largest crypto exchanges to date. The cryptocurrency tool is suitable for enthusiasts with several exchange accounts, as well as seasoned crypto traders and fund managers. CryptoView users can switch between trading pairs and exchanges with a few clicks in a single browser tab, thus giving them the ability to track and manage their portfolios via one secure interface.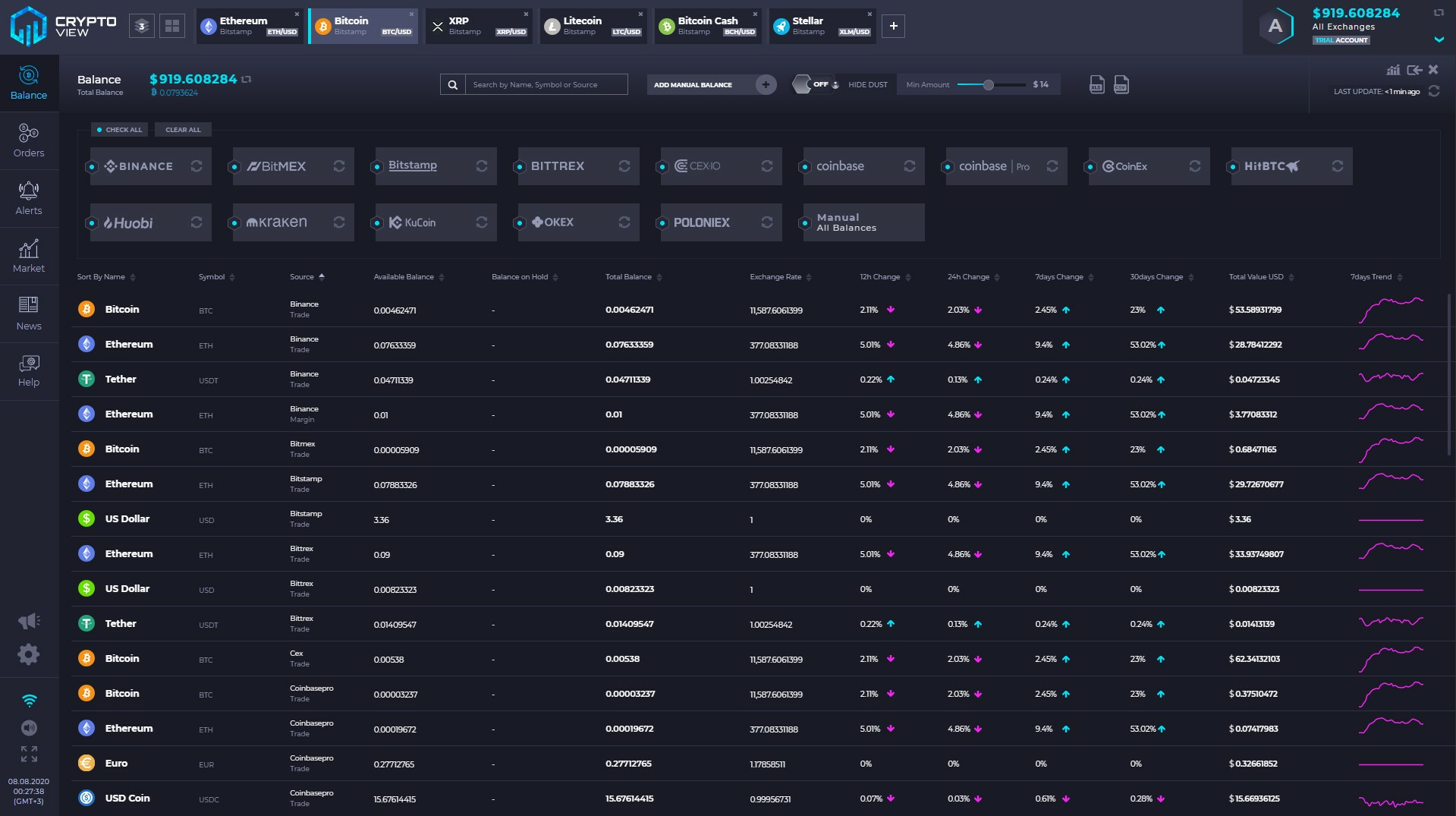 The team behind CryptoView designed the platform as an all-in-one integrated interface that combines cryptocurrency portfolio management, trading, market data, news, calendar, and other useful trading tools, under one secured account. CryptoView's platform utilizes API connections to the world's largest exchanges and grants instant data synchronization between a vast range of wallets and portfolios. The crypto trading platform also utilizes a wide range of professional features like multi-charting, advanced trading orders, portfolio sharing, financial reports, and various performance indicators.
Support for multiple crypto exchanges in a single browser tab
One of the key features the CryptoView platform offers is the multi-exchange support. Users can import and synchronize their portfolio data within a single application from all 15 supported exchanges. The cryptocurrency trading tool automatically updates trading and balance history, allowing users to track and record previous exchange orders and account balances from multiple exchanges.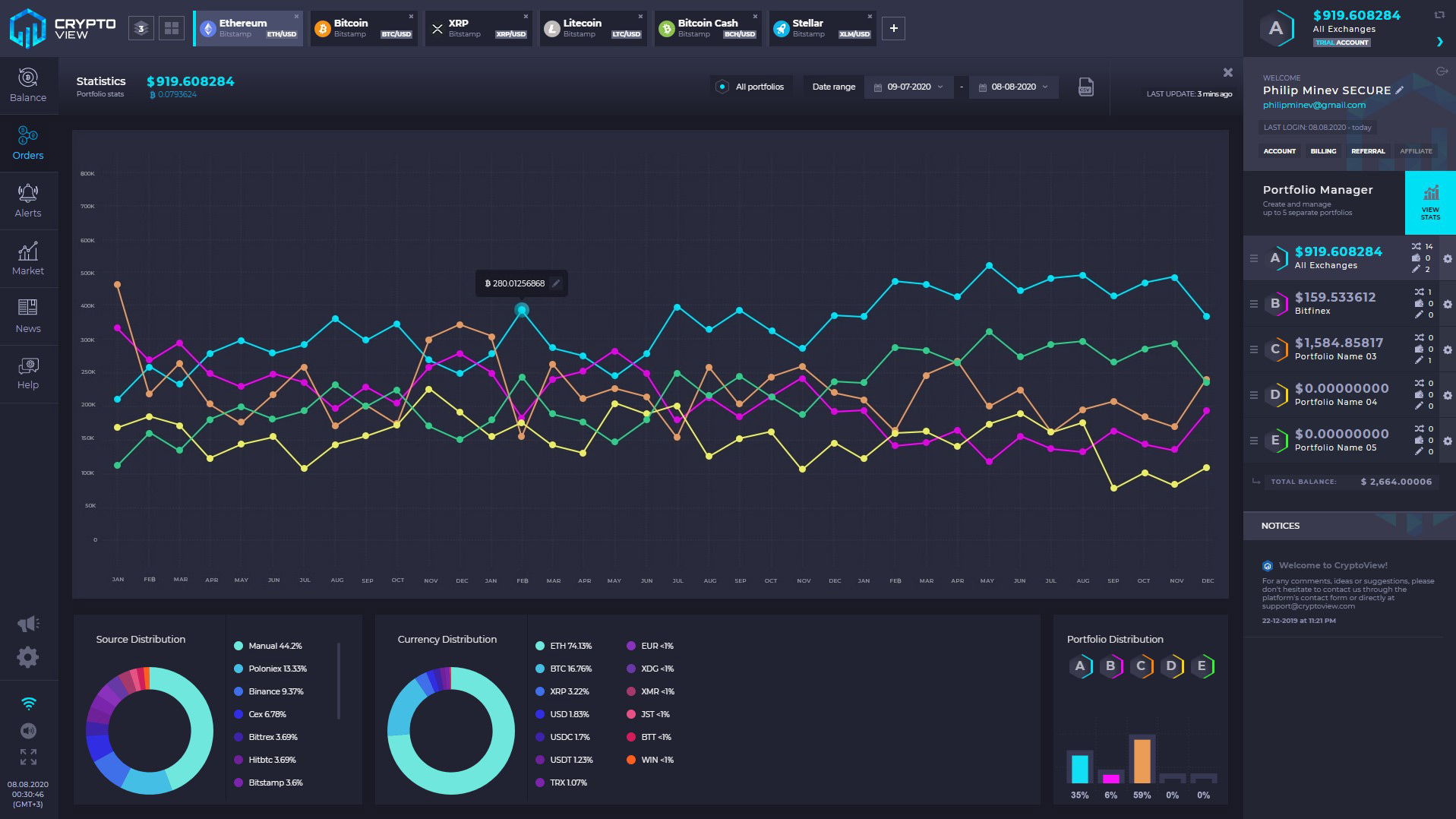 Another important feature of the platform is portfolio management. Users can view, manage, and share current portfolios with colleagues and friends. The portfolio management option gives users access to a detailed list of their assets, as well as various performance indicators to track the profitability of a given portfolio. Users can also automate portfolio reports by receiving them directly via email.
To have full control over investments and minimize possible losses, CryptoView integrates a more professional set of smart features like order depth indicator and access to "stop" and "stop-limit" orders, which minimize the risks of a sudden price drop when trading cryptocurrencies.
CryptoView supports sub-balance accounts such as Margin, Lending, Swap, and Futures, which further enhance the trading experience and give traders full control over their trading. Furthermore, the platform enables the use of manual balance entries, which are useful when connecting the trading platform with offline cryptocurrency storage, like a cold wallet.
Monitor your assets with the best crypto portfolio tracker, powered by TradingView®
In order to get the best comprehensive picture of portfolio asset movements, CryptoView incorporated the crypto trading charts of the leader in real-time price data, TradingView. The charts are intuitive and easy to understand for both novice and advanced traders and portfolio managers. Users have access to 85 technical indicators and 75 drawing tools to simultaneously monitor the real-time market data from all supported crypto exchanges. A multi-screen setup for easy switching between screens and trading pairs is supported as well.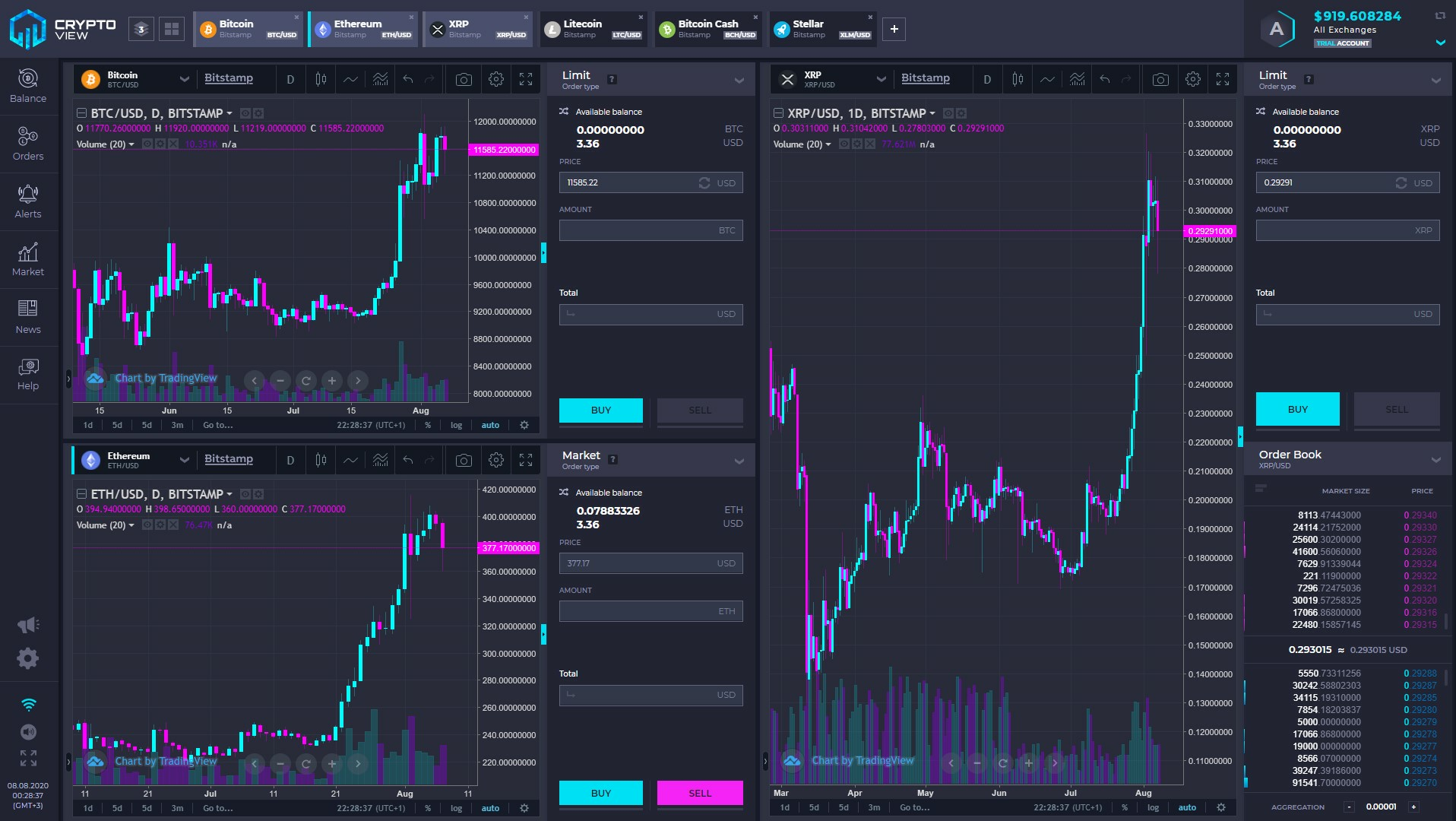 The range of features also includes a customizable news aggregation mechanism, giving users the ability to select the best cryptocurrency news portals, an integrated crypto calendar for tracking all of the major events from the crypto sector, as well as in-browser, SMS and email notifications about price movements.
Is CryptoView safe?
The team at CryptoView takes security to extremes by offering clients enterprise-grade security. All platform actions executed by users are going through a cloud-based architecture with an SSL-encrypted connection. Inside the platform, all data is secured with strong API encryption, DoS protection, as well as two-factor authentication. In the event of unauthorized access, CryptoView has the option to freeze accounts and provide safety for users' funds.
CryptoView does not store any funds on its platform, further increasing the provided security levels and enhancing customer`s experience with the platform
How to use CryptoView?
The signup on the platform takes just a few clicks, and all users receive a 30-day free trial with all of CryptoView's functionalities. To register, users have to fill a registration form and verify their email, 2fA is optional. After account verification, users have to connect their crypto exchange account to be able to track portfolio balances and make all desired customizations.
The 30-day free pass lets users familiarize themselves with the plentiful of functionalities and decide if they are delighted with the features provided by the cryptocurrency portfolio tracker. The prices for using the platform after the one-month trial are lower than the competitors, starting at just $19 for a single month. If users pay for a whole year, they get a 30% discount on their purchase, and will pay only $13 per month.
Trade and earn money with CryptoView's affiliate and referral programs
CryptoView gives users the chance to earn 2 free months by referring to a friend or a colleague that decides to become a paid user. Crypto bloggers or influencers can utilize CryptoView's affiliate program and earn $20 in Bitcoin for every subscriber that comes through their affiliate link. The company provides marketing materials and a 90-day cookie to increase the chance of monetizing their audience.
In the end – beginner friendly? Yes, indeed
CryptoView takes cryptocurrency trading and portfolio management and translates it into an easy-to-comprehend platform, suitable for both novice and advanced users. With the help of a massive range of crypto tools and state-of-the-art software, CryptoView flattens the adoption curve, which still drives users away from the exciting world of cryptocurrencies.
cryptocurrency trading
Cryptocurrency
crypto
trader
trading
exchange
digital asset
tradingview
Exchanges
Tradings
cryptocurrency portfolio management
cryptocurrency trading tools
cryptocurrency tools
crypto portfolio manager