01 Jul 2022 Marsha Tusk
Facebook Tests ETH And Polygon NFTs
If The Test Sees A Final Stage Of Deployment, Users Could Connect Their Facebook Profiles With Crypto Wallets
---
Facebook's parent company, Meta, has begun rolling out NFTs for some U.S. creators on its flagship social network. According to a Meta representative, Ethereum and Polygon NFTs will be joined by adding support for NFTs on Solana and Flow.
Navdeep Singh, Meta's product manager, showcased a sneak peek of what NFTs will look like on Facebook in a Twitter post on Wednesday, adding that users will have a "digital collectibles" tab on their Facebook profiles.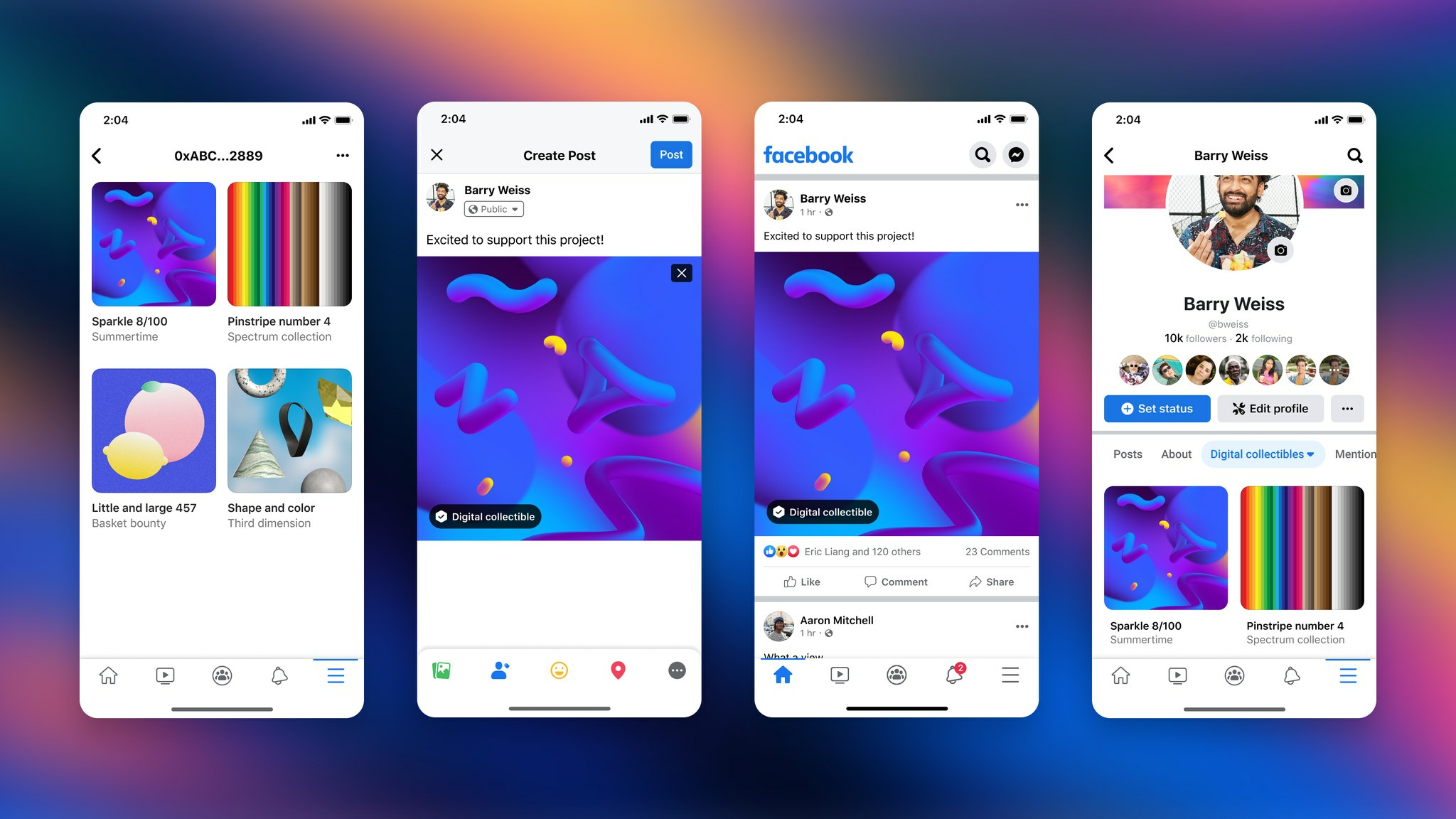 Source: Twitter
Facebook turning crypto after the Diem fold?
It turns out that Facebook may enter the crypto space sooner than predicted, as users will be able to connect their cryptocurrency wallets to their Facebook profiles. Furthermore, Facebookers would also have the ability to turn their NFTs into Facebook posts and receive reactions - just like regular posts.
Meta "clearly wants to offer a home to Web3 folks", according to tech and media consultant Martin Bryant, who added that Facebook is currently testing changes to its Groups functionality, to make them look "more like Discord."
Facebook's move isn't new, as Instagram – one of Meta's other social network products, began rolling out NFTs in May. Instagram also revealed that NFTs posted or shared on the app will automatically tag both the NFT's creator and collector. Furthermore, Instagram won't charge any fees for posting or sharing NFTs.
Adam Mosseri, Head of Instagram, commented that the NFT features rollout is due to the growing creator economy.
"Now, we think one really interesting opportunity for a subset of creators is NFTs—the idea of owning a unique digital item," Mosseri added.
The Diem (ex-Libra) project failed to launch, despite Meta's efforts into creating a stablecoin, tied to a basket of currencies. Libra transformed into Diem but quickly folded under the regulatory scrutiny.
Another turn down for cryptos
The crypto market usually responds positively, but the latest bearish push managed to tumble down the sector. Bitcoin, for example, dropped below $20,000, currently trading at $19,478.76 per BTC. Ethereum sits just above $1,063.82, while the rest of the sector is also down, compared to the last week.
Ethereum
Crypto wallet
eth
Ethereum news
cryptocurrency news
crypto news
Crypto Price
NFT
non-fungible token
Polygon