01 Mar 2019 Anthony Lehrman
Finally – Ethereum's Constantinople And St. Petersburg Are Here. What To Consider In The Update?
The price of ETH is somewhat stable, despite the hard fork, and as of press time is around $137.
---
The Ethereum (ETH) community has been waiting for the Constantinople and St. Petersburg updates since the end of 2018, but now Ethereum developers have given the "thumbs-up" for the backward-incompatible updates. The updates have been injected into Ethereum's main blockchain at block 7,280,000.
But what are Constantinople and St. Petersburg?
The two cities used to name the updates have nothing to do with Ethereum. The Constantinople network update is a backward-incompatible update in the Ethereum protocol. The primary goal is to create new rules and improve security in the network.
The ETH community took center stage in the update, with Ethereum developers asking for their opinion on every small update. ETH developers have postponed the Constantinople update after discovering security issues on their Ropsten test network, thus – the St. Petersburg update, which came to revert the testnet to its previous state.
Ethereum holders and traders have been asking what will happen after the update. The answer – nothing, as the fork is automatic and does not include actions by the users. Some exchanges, however, may have to do small tweaks to be compatible with the Constantinople update.
Miners, on the other hand, have to update their software to the latest version. The team at Ethereum specifies that if ETH miners do not update their software, they will be stuck in an incompatible chain and won't be able to operate on the new network. Miners will also lose one coin per block, making the network even harder to mine. Byzantium, a previous hard fork on the Ethereum network, reduced the number of ETH coins per block from five to three in October 2017. The Constantinople update will reduce the block reward to two ETH.
The price of ETH is somewhat stable, despite the hard fork, and as of press time is around $137. Trading volumes, however, have shifted up and experts are predicting ETH will gain a few dollars in its price.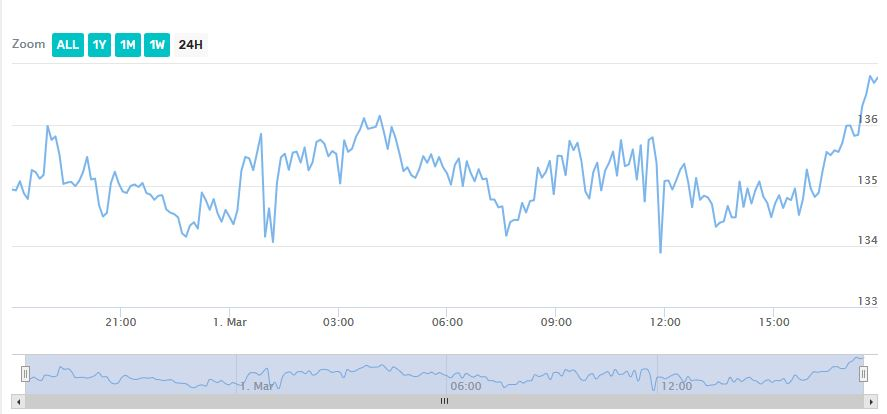 ETH price: source https://cryptobrowser.io/coins/ethereum-eth/
Ethereum
Cryptocurrency
Ethereum news
Ethereum Price
Constantinople upgrade