25 May 2022 Samantha McLauren
Gas Fees On Ethereum Drop To July 2021 Levels, Bullish Break Possible
Ethereum Transactions Now Cost An Average Of $2.5
---
Ethereum, dubbed as the altcoin leader, has been hovering around $2,000 per ETH, as the last seven days witnessed a sideways price action for the second-largest crypto to date. According to CryptoBrowser's data, Ethereum flirted with the $2,000 resistance zone with a weekly high of $2,080.33, and falling down to $1,920.69.
CryptoBrowser's data is backed up by data from Santiment, showing that the Ethereum gas fee (the cost per transaction) has dropped to a ten-month low of $2.54.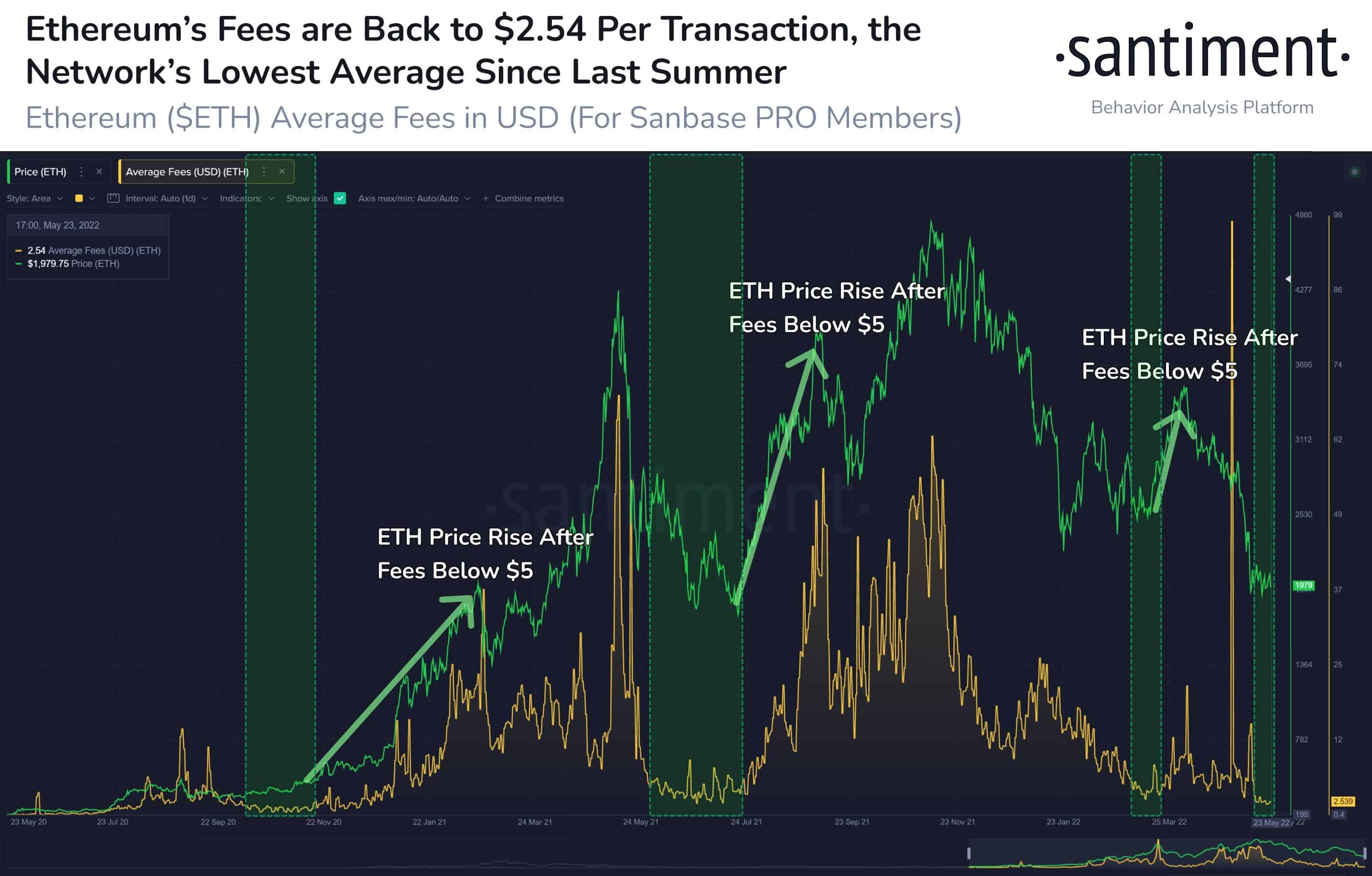 Source: Santiment
"Ethereum's average fees are at an extreme low, costing traders just $2.54 per transaction currently. This is the lowest $ETH cost level since July. Historically (but by no means automatically), $ETH prices rise after average transactions dip below $5", Santiment added.
Ethereum's historic data reveals that the low gas fees act as a leverage for Ethereum's price increases, along with the increase in trading volumes, which is yet another bullish sign.
Ethereum now in accumulation state
Market forces during the last 15 days are pushing Ethereum, as well as other top-tier cryptos into entering a so-called "accumulation" phase. For example, large-scale ETH holders, or whales, (increased their ETH holdings from 28.3M of ETH in March to 29.0M of ETH as of date.
The data translates to an increase of 700,000 tokens, worth almost $1.4 billion as of press time. This means whales are currently holding nearly a fourth of the total Ethereum supply.
Apart from whales, retail investors also participated heavily, with Ethereum addresses holding between 1 to 10 ETH have grown from 1.14 million to 1.19 million.
Could Ethereum swim against the waves?
The sideways price action from the accumulation phase, combined with the low trading fees and increase in trading volume are all pointing towards an imminent ETH price increase. In order to do so, Ethereum has to withstand the force of the fierce resistance at $2,000 and sustain that level in order to attack the later resistance zone at $2,300 per ETH.
Ethereum's way to $3,000, however, may be harder to achieve, as it has to be backed by a broader market uptrend.
Bitcoin, for example, is still struggling above $30,000, currently trading at $29,737.34 with a 1,8% increase over the past 24 hours. Other crypto projects like Binance Coin (BNB), Polkadot (DOT), TRON (TRX), and Stellar (XLM) making 2-3% price increases. Ethereum Classic (ETC) is the only project on the top-100 list to make a double-digit price increase, spiking up almost 11% on the day.
Ethereum
eth
Ethereum news
cryptocurrencies
cryptocurrency news
crypto news
Crypto Price
Ethereum Price