29 Aug 2019 Morgan Hayze
How Could Margin Trading Help You Harness The Power Of Cryptocurrencies?
Over $45 billion worth of daily trading activities make the cryptocurrency sector tempting for investors
---
Cryptocurrencies` popularity has significantly increased over the past two years. More and more investors are looking to join the crypto world as a result of trades exceeding $45 billion in value daily.
Liquid, one of the pioneers in cryptocurrency margin trading, provides their users the ability to maximize profits from trading Bitcoin without owning it, with up to 25x leverage. Spot trading remains as an option, where buying and selling a specific currency is being executed. However, margin trading allows bigger yields to be achieved with the same amount of investment.
But with the cryptocurrency sector still maturing, security concerns arise. Liquid is registered with Japan's Financial Services Authority who are known for their strict regulatory frames. Liquid utilizes two-factor authentication, a cool-off period for password resets and IP whitelisting, so only you (the user) can access Liquid's trading platform. Your funds are stored offline in a cold wallet, and potential risks other than losses from trading are almost non-existent.
Margin trading allows borrowing of funds directly from the exchange, based on the chosen leverage multiplier. If, for example, an individual is to invest $25,000 but their account balance is only $1,000, they could use the 25x leverage on Liquid`s platform to open both long and short positions.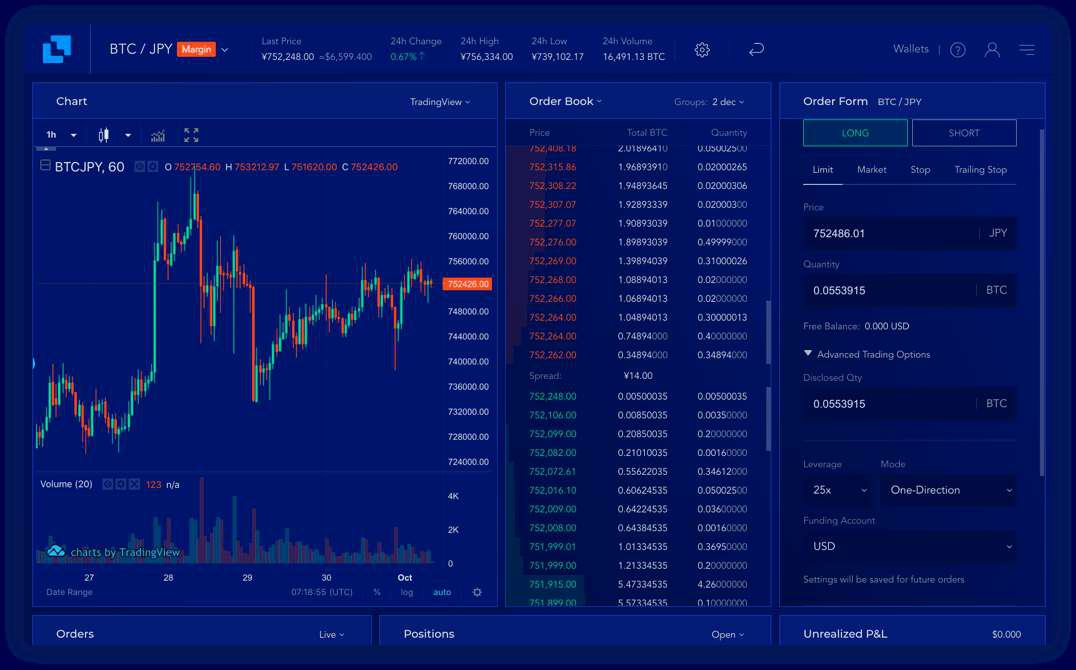 Long positions are bets that the value of a given asset would go up. For example, if $10,000 are bet on Bitcoin at 2x leverage on a long position and Bitcoin's price goes up, the acquired gains will be twice bigger. This is on account of the leverage multiplier. If, let`s say that we are to borrow another $10,000 from the exchange lending pool and we consider the BTC price to increase from $10,000 to $15,000, the following happens: on a 1:1 leverage, the profit made will be $5,000. Opting-out for a 2x leverage will allow higher profit to be generated, resulting in $10,000.
Short positions work similarly, but you are placing a bet that the value of a given asset will decrease. For example, if you open a short position on Bitcoin with $10,000 at 2x leverage, and Bitcoin's price tumbles down from $10,000 to $3,000, you will yield $14,000, as opposed to the $7,000 that you would have generated without leveraging.
Liquid lends money from a so-called "lending pool." This is an exclusive liquidity pool, where users can borrow funds or lend them, for a given interest fee.
Leverage, however, also brings higher risks because you are not operating solely with your funds. A five percent price drop for a long position could result in a 10% loss if your leverage of the position is 2x. If the price of the asset you opened long position continues to drop, it will result in the liquidation of the position to prevent further losses.
Margin trading is a trader's best friend when it comes to harnessing the power that a given asset possesses. As cryptocurrencies continue to mature and to be recognized as a global moving force leveraging on Bitcoin, Ethereum, and other cryptocurrencies, they may be the best move for entry-level traders and huge retail players worldwide. The market is open 24/7, and operations do not go through intermediaries in most of the exchanges. For further information, you can visit , which provides very comprehensive insights on various crypto trading aspects.
cryptocurrency trading
Cryptocurrency exchange
Cryptocurrency
Crypto Market
trading
margin trades
exchange
Cryptocurrency Trading Platform