10 Feb 2021 Anthony Lehrman
How to Bulk Send ERC20 tokens
Tokens Distribution Can Easily Be Performed In A Few Simple Steps
---
Let's explore Multisend.org's Token multi sender and how you can utilise it for your token distribution.
What is a token multisender?
Multisend.org is a decentralised application that lets users send Ethereum tokens (erc20) to multiple recipients using a CSV file. This process uses fewer transactions, just one per 200 addresses.
Is there a maximum amount of addresses I can send to
No.. You can upload as many addresses to multisend as you require, you will be asked to sign a new send transaction for every 200 addresses. This will be prompted automatically by the Multisend platform.
How does it work
Step 1: Visit https://multisend.org/
Step 2: Prepare your distribution address list (CSV file)
Step 3: Make sure you are on Ethereum main net
Step 4: Select a token to send from your wallet in the drop down menu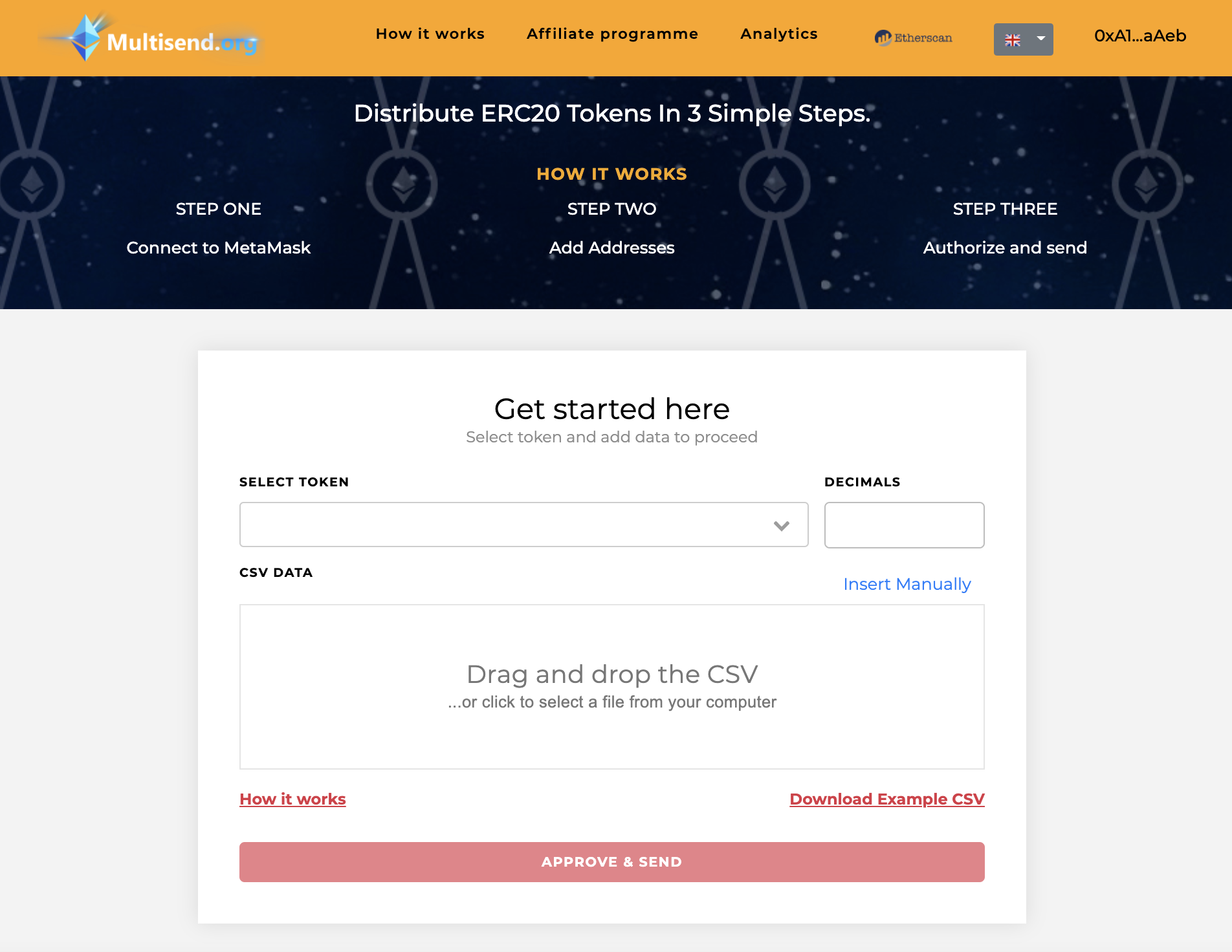 Source: Multisend.org
Step 5: Upload CSV (To format your CSV fike add the address in colum one and the value in colum 2 )
Step 6: Click Approve , This will prompt a transaction in your wallet
Step 7: Check the distribution summary
Step 8: Click send
Step 9: View transaction information on Etherscan
A full step by step guide and tutorial video can be found at https://multisend.org/tutorial
Who can use Multisend
Multisend.org can be used by anyone wanting to send bulk ERC20 payments to different people.
Which Tokens are supported?
Multisend.org is compatible with Ethereum based ERC20 tokens.
Referral programme
you can find more information on our referral programme here https://multisend.org/affiliate-programme
Why use a token multi sender?
With Multisend.org you save on transaction fees and save the time taken to send each recipient a new transaction. Your Multisend information can be added in manually or uploaded from a CSV file.
For more information visit us at https://multisend.org/
Ethereum
ERC20
token
tokens
decentralization
decentralized
Dapps