04 Nov 2020 Marsha Tusk
How To Create An Ethereum Wallet
The Multicurrency Wallet Xapawallet Is The Only Platform That You Need For Your Crypto Transfers
---
Since the creation of Bitcoin, the entire crypto sector has been undergoing a major development, especially through the blockchain technology. A particular area of interested was seen to be the development of wallets, regardless if it is about hardware or software apps that are used to store crypto funds.
Wallets are specifically created to support either a specific type of currency, or they can support a range of selected cryptocurrencies. Software wallets proved over time to be a versatile option for crypto users for storing, managing and performing various operations with their cryptocurrencies.
Xapawallet is a state-of-the-art multi-currency web wallet, which allows users to access their holdings from everywhere – the platform supports all major web browsers and mobile operating systems. It lets users create a wallet very quickly with minimum hassle. It is also packed with enhanced security features, boasting a two-factor authentication, pin code and instant synchronization.
Users of Xapawallet can create Ethereum wallets, but also supports some of the most prominent crypto currencies projects, including Bitcoin, Ripple, Monero, Zcash, Litecoin, Dogecoin as well as others.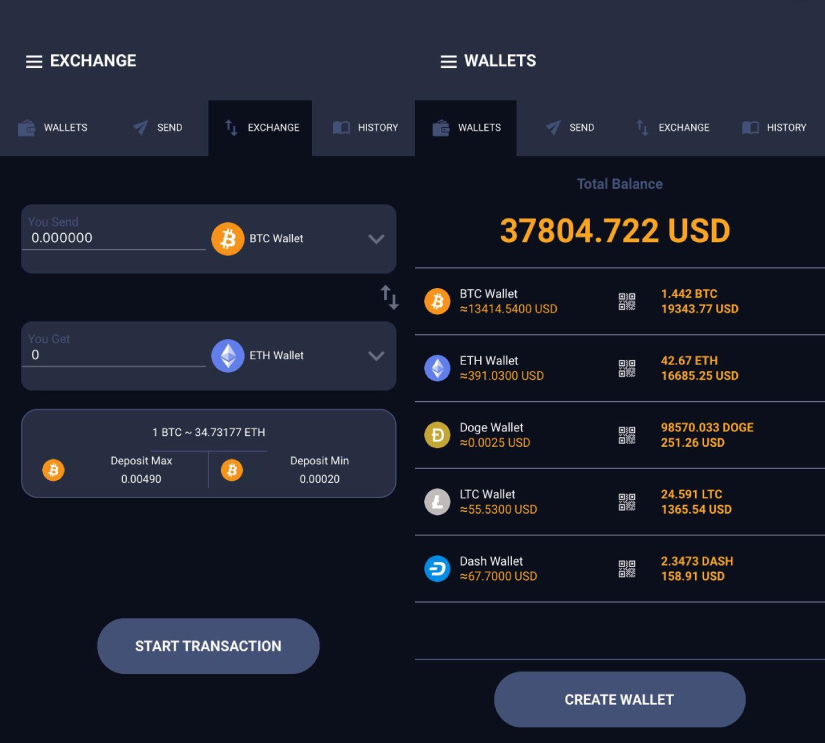 Source: Xapawallet Mobile App
One of the biggest benefits of Xapawallet, which makes it among the best Ethereum wallets available, is the ability to access the wallet interface from anywhere around the world, regardless of the used device, operating system or a browser. Furthermore, Xapawallet syncs all data from the web interface and mobile app in real-time, so users can enjoy a seamless experience across devices.
Users have the ability to quickly exchange funds between different wallets with Xapawallet. If there is a need for swaping Bitcoin for Ethereum, users can easily navigate through the Exchange tab and input the amount of Bitcoin that they wish to convert into Ethereum. Xapawallet will automatically do the job for you and will transfer the requested amount from the Bitcoin wallet to the ETH wallet.
Highest industry security standards are at the forefront of Xapawallet`s platform, which was equipped with strong private key encryption. The encryption ensures that private keys cannot be taken away from the Xapawallet`s secure storage. Users may also enhance the security by utilizing two-factor authentication protection and by setting up a pin code on their mobile app. In addition, Xapawallet uses Cloudflare's SSL connection, which further boosts the security.
Onboarding is fairly simple, as users have to download the mobile app and enter their credentials and register on the platform. After the initial registration, users would receive full access to the platform. With Xapawallet, once users have entered their credentials, created a safe password, and verified their email, they will automatically create their own wallets.
Upon successful registration with Xapawallet, users will have access to their own wallet which can be shared with friends, clients and anyone else to whom they may wish to make transfers. It is highly advisable addresses to be shared, especially since Ethereum addresses consist of 42 characters, and sharing them without making a mistake can be challenging.
Best practices for sharing is by storing the chosen address in the clipboard memory, or by click "Share address". Another important feature that is available in Xapawallet is the QR code.
Many wallet services now use QR scanners to let users transfer funds without having to deal with long wallet addresses. If you were to send Ethereum to a user of Xapawallet, all you will have to do is to scan the QR code of the recipient. Users can also send money to other software wallets in the exactly same way.
For the users that successfully created an account with Xapawallet and created their first Ethereum or Bitcoin wallets, it's finally time to try them out. Regardless of the type of wallet, users have to make a deposit and top up their wallet balances. Xapawallet`s app allows users to receive ETH from both internal Xapawallet addresses and external to Xapa`s wallet addresses.
In terms of making funds transfers outside Xapawallets, users can swap funds directly from one wallet to another. This is in full force for swaps of, for example, Litecoin for Ethereum, or ETH for Bitcoin.
The Xapawallet team offers a 24/7 support for the peace of mind, and are always happy to assist with all users inquiries.
Bitcoin
Ethereum
cryptocurrency trading
Cryptocurrency exchange
Litecoin
Monero
Cryptocurrency
Ripple
Zcash
wallet
doge
digital asset
digital