03 Nov 2020 Arjun Agarwal
Huobi Reports "Normal Operation" After Enormous BTC Withdrawals And USDT Inflow
Еxchange Users Are Worried That They May Become Victims Of A Massive Market Manipulation
---
One of the largest crypto exchanges, Huobi, fell under the spotlight of speculators, as the platform experienced a large Tether (USDT) inflow, as well as several significant Bitcoin (BTC) withdrawals happening around the same time.
The actions quickly fueled a wave of speculation, but Huobi stated "it's all fine" in an official announcement.
"We are currently operating normally, user assets are safe, and trading, deposits, and withdrawals are operating as expected," the exchange posted on their support channel.
However, crypto monitoring service WhaleAlert noted that 204,000,010 USDT was "transferred from unknown wallet to Huobi". The news immediately raised questions about the prices of cryptocurrencies. Some traders believe the massive USDT inflow would cause Bitcoin's price to skyrocket, artificially pumping its price, as Tether is commonly known as a gateway for buying Bitcoin.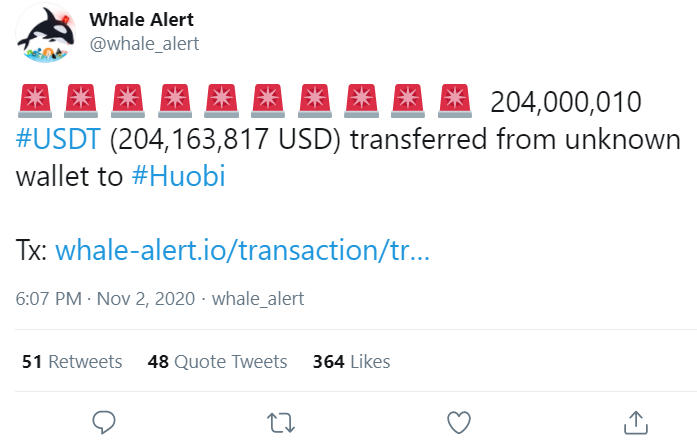 Source: WhaleAlert Twitter
WhaleAlert noted several other USDT inflow transactions, meaning at least 400 million USDT had been sent to Huobi. The monitoring service noted that a large portion of the amount is related to the Bitfinex crypto exchange, while the others came from an unidentified source. WhaleAlert also came across around $100 million worth of USDT transacted from Huobi back to Bitfinex.
Crypto trader and Twitter user Boxmining, however, explained that the massive Bitcoin outflow, which happened at the same time as the Tether transactions, is a function of the rumors that Chinese officials have arrested one of Huobi's top-tier managers.
"The [Bitcoin] dip is caused by some fresh China FUD. Apparently rumors swirling that some core members from Huobi are out of contact."
Huobi's COO Zhu Jiawei was reportedly unreachable on Monday evening, and rumors of his arrest began swirling around Chinese social media. The rumors caused Huobi's native token – HT, to plummet to $3.60 on November 2, then regained about $0.20 shortly after the price drop. Despite the positive correction, HT still falls and in the last 24 hours, it had lost over 12% of its value and trades at $3,56 per token.
However, rumors may not be the only pressure point for Huobi Token, as the momentum Bitcoin had evaporated, causing the top cryptocurrency to lose two percent of its value on a weekly basis, while Ethereum is down almost seven percent. Crypto speculators suggested that the massive Tether inflow, combined with the BTC withdrawals can create a "buy the dip" scenario of market manipulation, where users create an artificial dip and wait for a possible price pump.
Huobi
Cryptocurrency
Crypto Market
Exchanges News
Tether
Bitfinex
btc
crypto market monitoring
exchange
token
tokens
Exchanges
USDT
Withdrawal