08 Oct 2021 Arjun Agarwal
Institutional Investors Are Behind Bitcoin's 35% Rally, Investment Bank Reports
Gold Seems To Weaken Its Positions Of Being A Preferred Choice For Inflation Hedging
---
Bitcoin bulls seem to have control over the world's largest crypto, as Bitcoin skyrocketed past $50,000 and settle to a current price of $54,428 after reaching a three-month high of $55,922.98.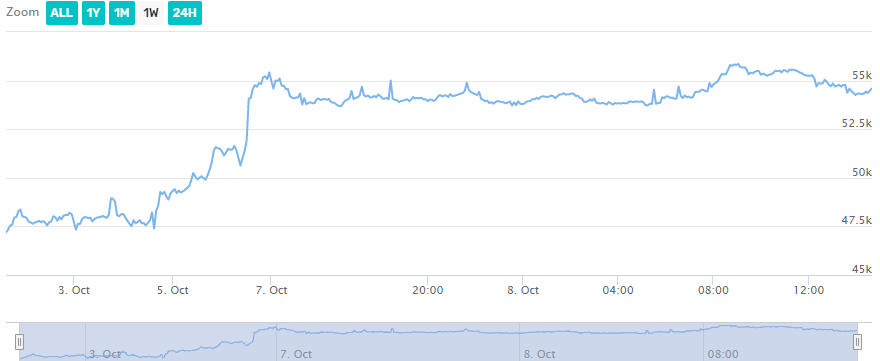 Source: CryptoBrowser
However, banking giant JPMorgan believes the latest price soar has a different set of reasons, rather than pure bullish-bearish market battle.
On October 7, JPMorgan pushed out a note to its clients, highlighting that the recent price increase of Bitcoin was mostly due to institutional investors looking for a hedge to inflation.
"The re-emergence of inflation concerns among investors has renewed interest in the usage of Bitcoin as an inflation hedge. Institutional investors appear to be returning to Bitcoin perhaps seeing it as a better inflation hedge than gold." the note reads, adding that institutional investors shifted their perception of Bitcoin as an inflation hedge, in relation to gold.
Furthermore, Bitcoin is currently up approximately 84% year to date and about 15% below its $65,000 all-time high, which was reached in mid-April 2021. Meanwhile, the precious metal endured a 7% downfall in 2021.
However, the latest JPMorgan announcement contrasts with the bank's May stance that investors are shifting towards gold.
The Bitcoin-Gold battle in the world of finance, on the other hand, hasn't truly started yet, but it seems investors are more into Bitcoin than physical gold. For instance, Shark Tank star Kevin O'Leary announced that his portfolio now has a larger amount of Bitcoin than gold.
Meanwhile, MicroStrategy CEO Michael Saylor commented on the JPMorgan note, stressing that "the implicit endorsement of Bitcoin by major banks and regulators is going to accelerate the collapse of Gold and the rise of Bitcoin as the preferred safe-haven store of value for both institutional and retail investors."
The banking giant offered two more distinct reasons behind Bitcoin's push into the green. The first – U.S. SEC Chair Gary Gensler confirmed that U.S. authorities have no plan to repeat China's steps of banning cryptocurrencies in general. The SEC reassuming its positive stance on cryptocurrencies gave the crypto sector a welcoming push, pouring in fresh capital into it.
"The increase in the share of Bitcoin is a healthy development as it is more likely to reflect institutional participation than smaller cryptocurrencies," JPMorgan concluded.
The second reason is more technical - "The recent rise of the Lightning Network and 2nd layer payments solutions helped by El Salvador's Bitcoin adoption."
Bitcoin
SEC
Bitcoin price
bitcoin news
cryptocurrency news
crypto news
SEC
Security and Exchange Commission
JPMorgan
Gold