26 Jul 2021 Simon Briggs
Is CryptX Terminal The Best Automated Trading Platform On The Market
CryptX Terminal Allows Rapid Discovery And Execution On Market Orders Across Multiple Exchanges Via Just One Platform
---
The crypto sector managed to become a massive factor in the financial world, transitioning from almost nothing in terms of value in 2008, when the original Bitcoin whitepaper was posted by Satoshi Nakamoto, to the current $1.5 trillion USD.

Currently, there are more than 400 exchanges on the market with daily trading volume surpassing $100 billion per day.
The best online crypto trading platforms make it easy for investors to seamlessly trade their cryptos of choice without charging them a fortune. In fact, many crypto trading platforms let you make certain trades for free.
CryptX Terminal: Semi-Automated Trading Solution For Novice And Experts
CryptX Terminal is one of the new additions to the family of crypto-focused trading platforms, offering a vast array of tools, which streamline the user experience – it doesn`t matter whether you are a seasoned crypto trader, beginning crypto enthusiast, or a fund manager.
CryptX Terminal is a trading platform that gives you access to multiple exchanges, all in a single user interface. You can manage all your crypto assets across different wallets via the use of API keys, integrated into the system.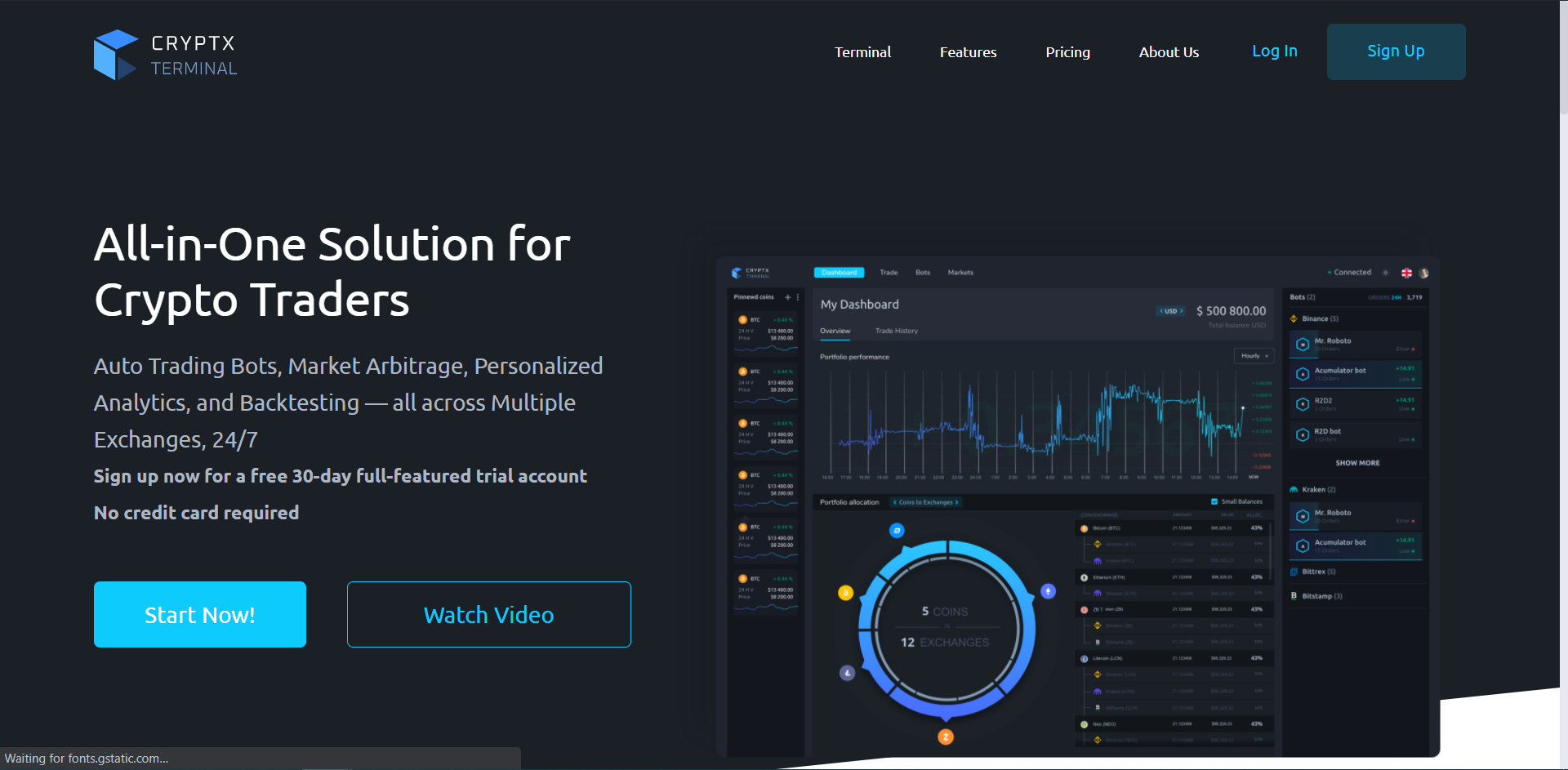 The team at CryptX Terminal believes that crypto trading should be done seamlessly, securely, and in a trustless manner.
"Our Terminal embodies the new trend of a trading platform that unites professionalism, enthusiasm, progressive thinking, and future growth. CryptX is a company with a passion for technology and a belief in making people's lives easier. That's what makes us successful," the company notes.
For a crypto trading platform to be successful, it has to answer the demand for seamless and secure management of crypto assets across exchanges. Among the top priorities for CryptX is the fast price discovery & execution for market orders, as the nature of cryptocurrencies is still rather volatile, so users have to act quick – either to grab the moment for a buy-in or close positions if increased volatility occurs. The Terminal also includes Auto Trading Bots to implement your best trading strategies and a state-of-the-art analytics tab that offers custom visualizations and projections.
At A Glance
Access to 10 large-scale crypto exchanges - Binance, OKB, Coinbase, Kraken, Bitfinex, Bitstamp, Bittrex, Binance.US, Kucoin, and HitBTC.
Portfolio management tab with charts and graphs for open orders, order history, and transactions.
A collection of custom bots, which streamline the user experience and automate tasks such as buying or selling crypto assets whenever specific rules are met.
Account management console for easy operation across exchanges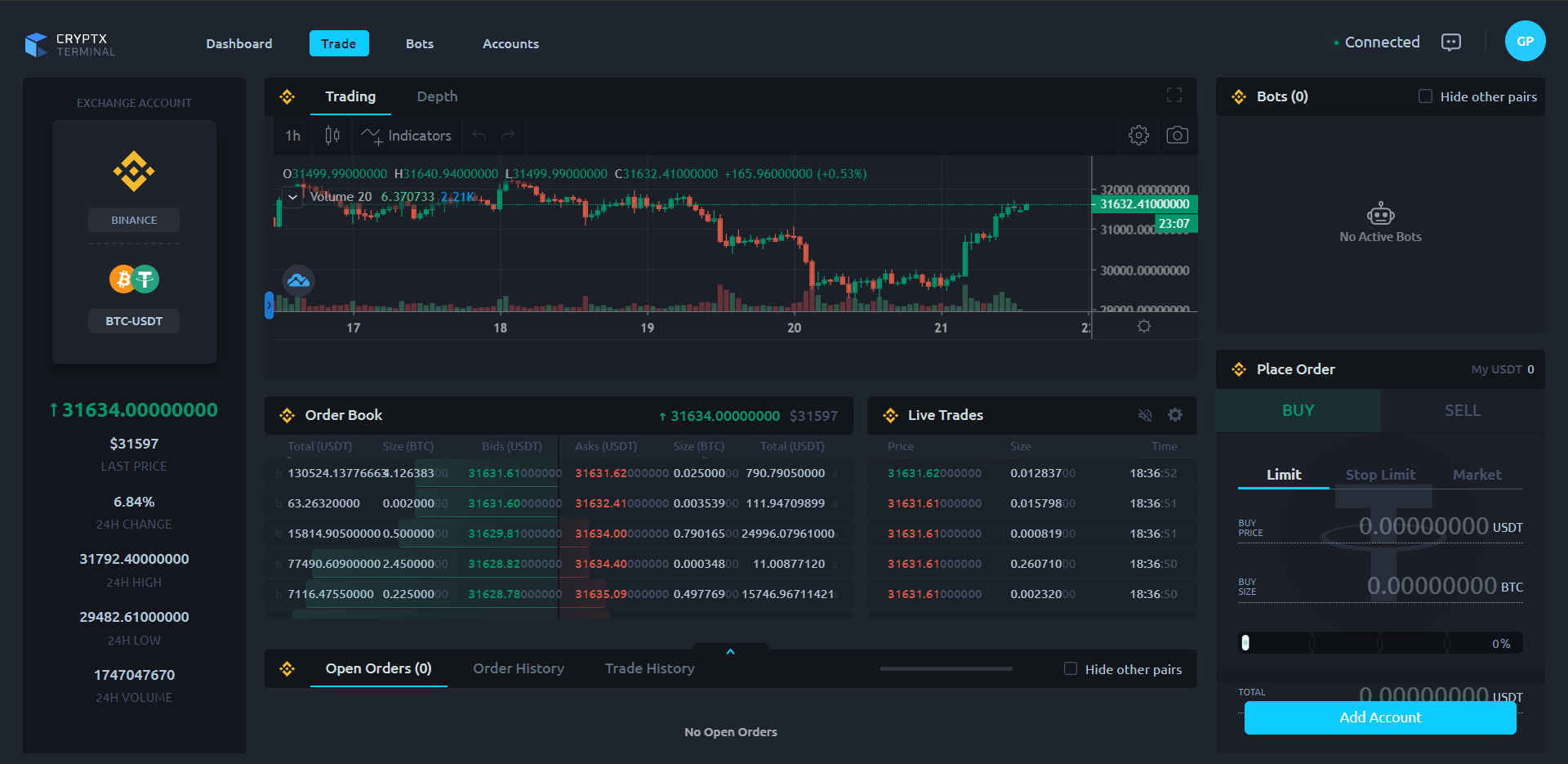 Trading Bots – The Heart Of The Terminal
The team at CryptX developed highly sophisticated automation tools, called bots.
One of the most vital bots in Terminal is the Accumulator bot, which is responsible for automated buying and selling of crypto, so you don't need to watch the ever-changing crypto market.
You simply have to tell the bot when to start, how much to buy or sell within your price settings, and when to stop (usually, once your profit-taking goal is met). You can name your Accumulator bot to any name you like, which helps keeping track on all actively running automation tools. Next, you have to choose the exchange where you want the bot to run. It's important to note that the bot only runs on exchanges, connected to the trading platform.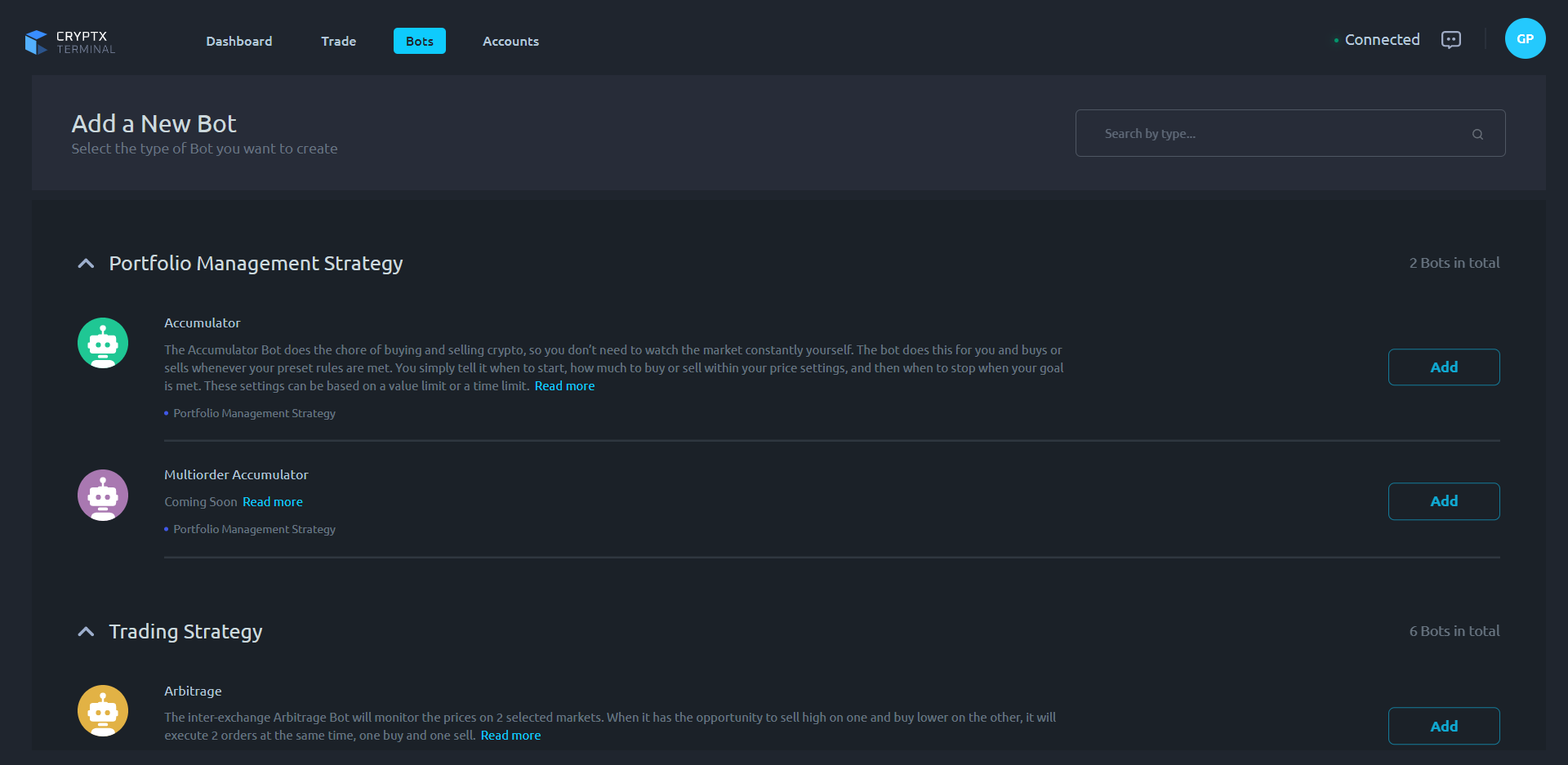 The next step is to choose the right trading pair for your needs. Many investors tend to trade cryptos like Bitcoin or Ethereum, paired up to a stablecoin of some sort (mostly Tether) in order to protect themselves from a widespread market crash, as stablecoins are tied to a fiat currency and have a stable price.
Next up, you need to set a Minimum and Maximum order volume. The bot will place trade orders only within these limits. The bot also has a start trigger - when the bot places its first trade order. You can choose an immediate trade order placement, or when a specific price target is reached.
Once you successfully customize your bot, it just needs to be started via the Start Bot button. You can monitor the bot's performance from the Dashboard panel.
The more experienced traders would love the Multiorder Accumulator Bot, which has all of the functionalities of the Accumulator tool but is enhanced with the option to buy and sell specific cryptocurrencies by placing several orders simultaneously, ultimately saving you time and money.
Other tools include Arbitrage bot, which monitors two separate markets and places both buy and sell orders when a distinguishable price premium occurs, as well as bots, configured to run on trading signals like Bollinger bands, Moving Average Convergence/Divergence (MACD), and Relative Strength Index (RSI).
Pricing
CryptX offers a free plan, which can operate on up to two crypto exchanges with one active bot. The Advanced and Professional plans, worth $37 and $74 per month, respectively, open the doors to unlimited accounts, 10+ exchanges, and a larger amount of active trading bots.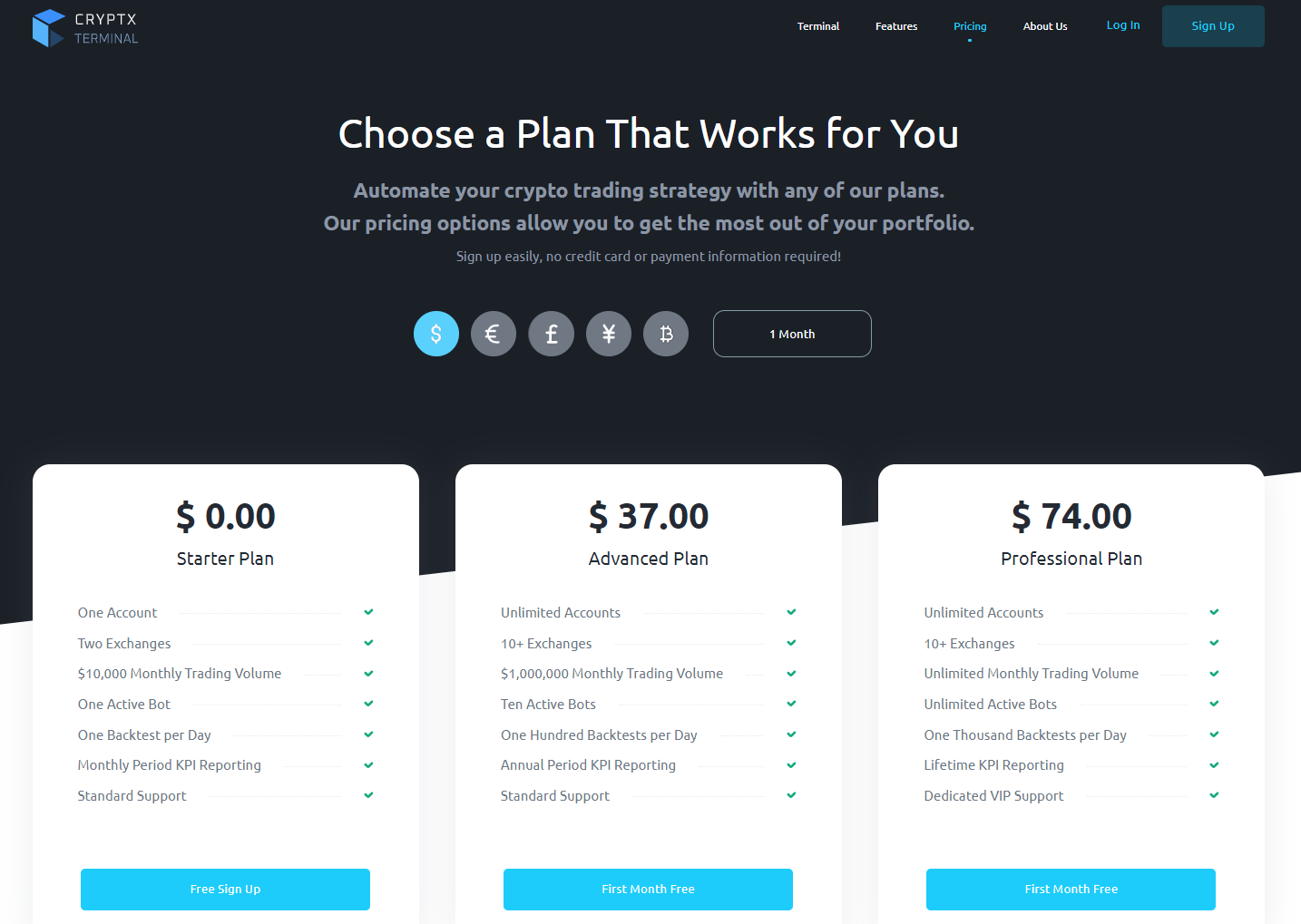 Conclusion
Automating the trading sector, especially for the volatile world of cryptocurrencies has never been an easy task. By implementing API keys, however, CryptX manages to provide seamless integration with the world's largest exchanges through an all-in-one browser tab and lets you deploy tailored to your needs automation tools. This is why Terminal is possibly the best automated trading platform to date.
cryptocurrency trading
trading
price
crypto trading
Exchanges
Prices
Markets
Tradings
Trading bot
cryptocurrency trading tools
cryptocurrency tools