29 Apr 2019 Anthony Lehrman
Is Modern-Day Messaging Privacy At Stake?
Ghost Talk, a disruptive social media application with the goal of protecting users' data, is coming with new security-minded features.
---
Security breaches are not something new when it comes to the Internet. Nearly all online users are widely believed to spend over 45% of their time in the messaging platforms, whilst the risk of private data leaks remains very high. A large number of organizations, celebrities, and ordinary Internet users have become a victim of the Internet.
In addition, the lack of transparency of how data is being stored and processed from the social media websites, brings the question of whether our information is secured and whether we should feel safe that there will not be any privacy-related issues.
Despite the efforts of Snapchat, Viber and the recently launched techniques for temporarily keeping data such as the Facebook and Instagram "stories" that are visible for 24 hours, customer`s trust in the traditional messaging platforms has gone down. This indicates the need for a decentralized, fast, secure and reliable social media platform, which rewards users for their activities.
Ghost Talk, a blockchain social media app, unlike the traditional peer-to-peer messaging platforms allows automatic deletion of messages. Users also get rewarded for using Ghost Talk with a special ERC-20 token – Smart Coin (XSCC). Smart coins are being rewarded for content creation, reacting to social posts, commenting on a photo, sharing, etc.
Below, we outline the competitive landscape for both blockchain-based social media applications and traditional, centralized social media platforms.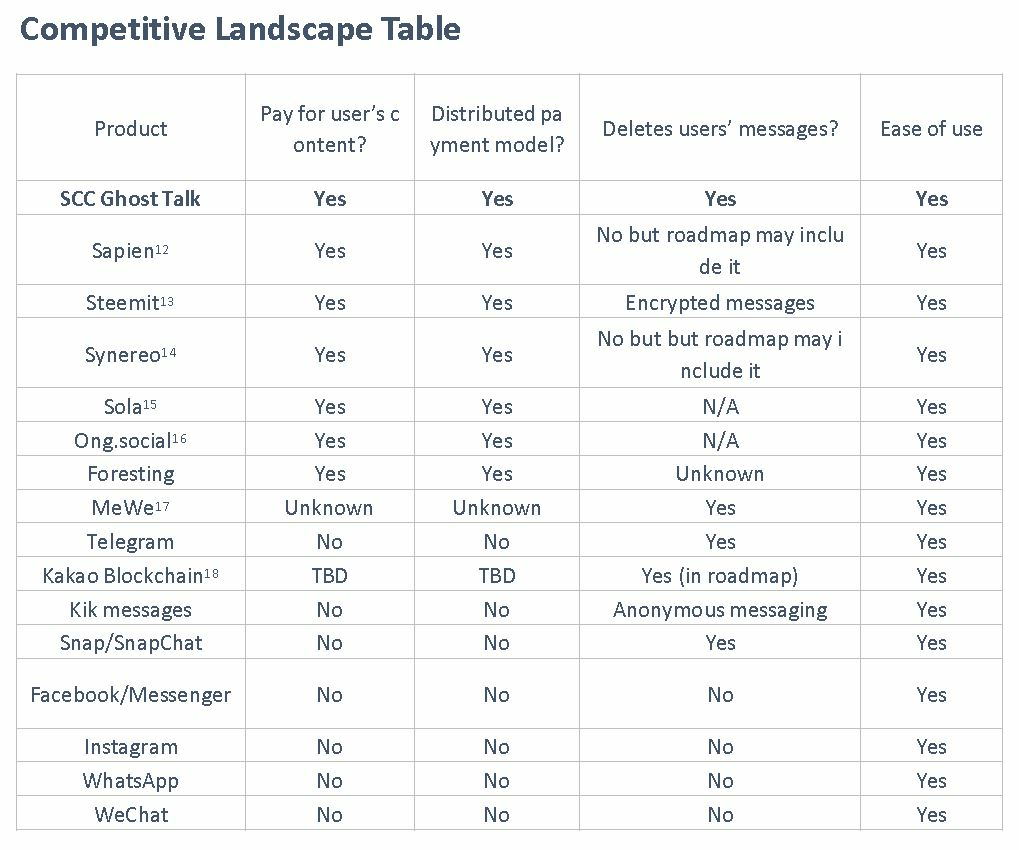 Social Media Apps Competitive Landscape: Source: Ghost Talk
The ERC-20 token and its smart contract will be utilized using Ethereum as the basis and a custom mainnet for operation. Users will also have the Smart wallet option available, where they can store or sell their Smart Coins on an exchange.
Ghost Talk supports and encourages the creation of new content. For instance, new music releases, videos, photo collections can be easily uploaded, and content creators will be rewarded. Users can easily connect with their favorite artist and get rewarded as well.
Another critical feature of Ghost Talk's innovative social media approach is the enterprise promotion platform, enabling businesses to promote themselves or the products/services they offer via special promotion channels. Global spending on social media advertising campaigns is expected to reach over $212 billion by 2021. Social media leaders such as Facebook and Instagram are always trying to adapt to consumer needs, often overlooking privacy issues.
The company behind Ghost Talk - SCC Co., Ltd., plans to launch an IEO at the beginning of May, with 20% of the 10 billion XSCC tokens being allocated to the offering. The hard cap is set to $20 million. By the end of July, a fully-functional version of the messaging platform should be available to Android and iOS users worldwide.
SCC Co., Ltd. have also reported working with some of Asia's largest payment companies such as Jin Pay. The company has also submitted ten patents related to the Ghost Talk distributed social network service platform with three that are issued/registered in Korea.
Asian interest in cryptocurrencies and blockchain is increasing, indicating that there is a real need for a decentralized private and secure social media app such as Ghost Talk.
SCC Co., Ltd. has issued its whitepaper, and all potential investors can refer to it in their assessment of investment opportunity.
Blockchain
Cryptocurrency
ERC20
erc-20
IEO