16 Feb 2022 Marsha Tusk
JPMorgan Enters The Metaverse With A Virtual Lounge In Decentraland
The Bank Sees The Sector As A $1 Trillion Opportunity
---
The largest bank in the United States, JPMorgan, is setting its eyes on what it called "a $1 trillion opportunity" after opening a virtual lounge in the popular blockchain-based world Decentraland.
The lounge, dubbed Onyx - after JPMorgan's in-house blockchain payments system, is located in Decentraland's Metajuku mall. On the first floor, visitors are greeted by a roaming tiger and a digital portrait of Jamie Dimon, CEO of JPMorgan. On the second floor of the lounge, players can watch an executive's presentation on the economics of cryptocurrency.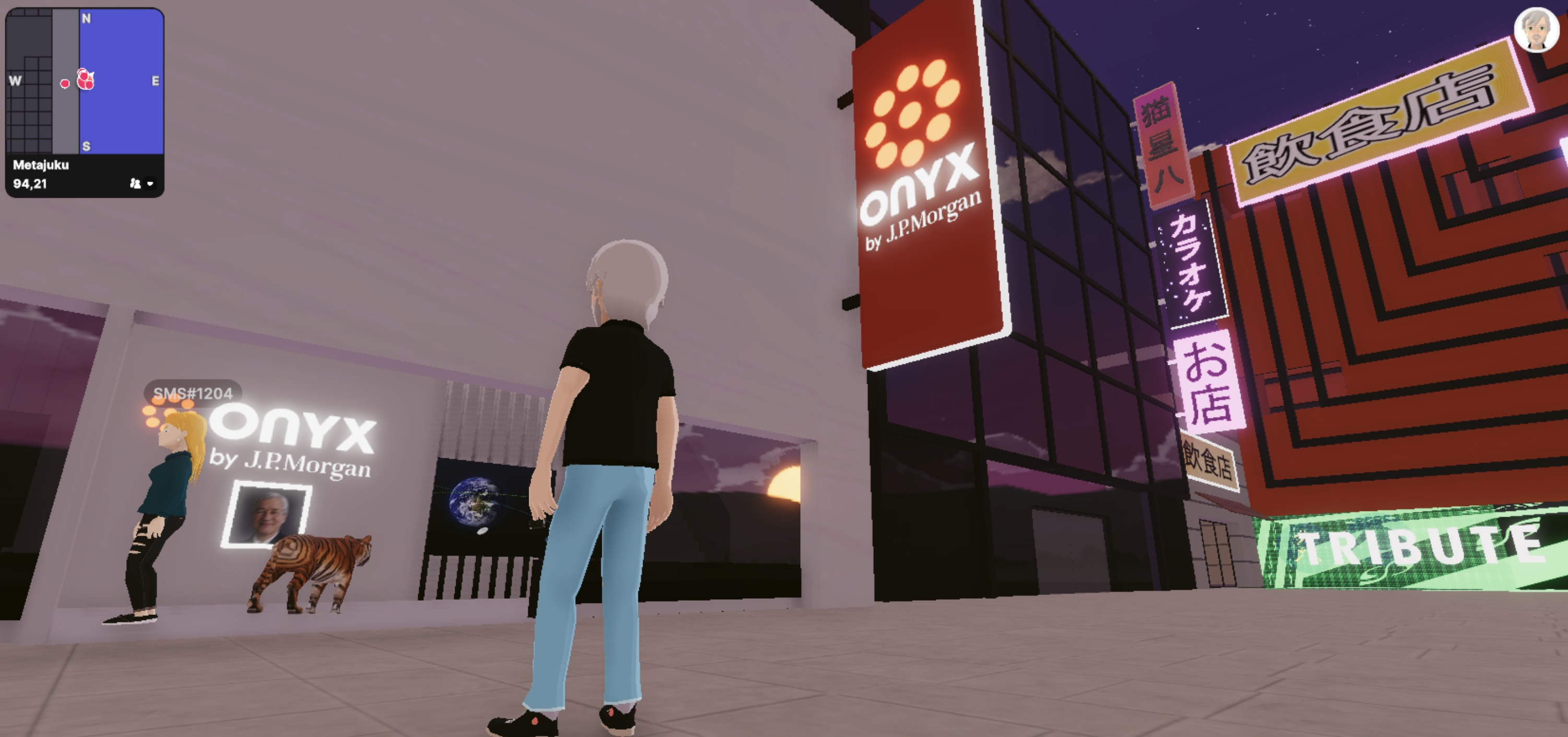 Source: Decentraland
Meanwhile, the lounge unveiling came at the exact same time as a report from the banking giant, dubbed "Opportunities in the metaverse". In the paper, JPMorgan emphasized that metaverse is not a new idea, as its origin may be well traced back to online, multi-player, role-playing worlds like The Sims or Second Life, which entered the scene nearly 20 years ago. Today, according to the bank, modern equivalents like Minecraft, World of Warcraft, and Fortnite "have hundreds of millions of users, and huge supporting economies."
"The Metaverse will likely infiltrate every sector in some way in the coming years, with the market opportunity estimated at over $1 trillion in yearly revenues", JPMorgan added.
Furthermore, the report highlights that $54 billion is already being spent on virtual goods each year, which is double the amount spent buying music, for instance.
The report also takes a deep examination of digital land price performance, as JPMorgan denotes that the average price of a parcel of land doubled in a six-month window in 2021 – "from $6,000 in June to $12,000 by December across the four main Web 3.0 metaverses."
Also, brands have been buying up land at a more rapid pace than retail players, with the main idea of setting up virtual stores. For instance, the Metajuku shopping district, where JPMorgan's lounge is, was formed after developer Every Realm bought a package of land and turned it into a virtual shopping area, inspired by Japan's Harajuku shopping district.
As far as advertising is concerned, JPMorgan predicts that in-game ad spending may reach $18.41 billion by 2027, with brands further setting to bring real-life services and functionalities into the metaverse. For instance, JPMorgan thinks virtual concerts have the potential to be more profitable than physical concerts, which deal with barriers such as capacity and parking, giving a prime example with a recent Fortnite concert, which was seen by 45 million people and grossed around $20 million, including sales of merchandise.
Furthermore, brands like Adidas, Nike, and Samsung already entered the Metaverse with a range of NFT-based products and shopfronts. Also, Disney announced that its new executive, Mike White, would be in charge of Disney's metaverse insurgence.
Individual creators are next
According to the banking giant, individual creators utilizing Web3 to monetize their work in new ways would be the driving force behind the new economy being built in the Metaverse.
"This democratic ownership economy coupled with the possibility of interoperability could unlock immense economic opportunities, whereby digital goods and services are no longer captive to a singular gaming platform or brand," JPMorgan stressed.
Individual creators saw their fair share of glory in 2021, with several NFTs selling for millions of dollars at auctions. Mike Winkelmann, commonly known as Beeple still holds the record for the largest NFT sale to date, with his "5000 Days" collage sold for $69 million at Christie's in March 2021.
Not all sunshine and roses
However, JPMorgan also addressed some flaws in the overall user experience, poor performance of avatars, as well as difficulties with commercial infrastructure.
"Despite much excitement about the possibilities of the Metaverse, in order to enable its full potential for engagement, community building, self-expression and commerce, key areas need to be further developed and matured," the bank concluded.
bank
cryptocurrency news
crypto news
JPMorgan
NFT
non-fungible token