24 Feb 2021 Pavel Petrov
Kraken CEO Replies To Accusations By Noting Ether's 50% Selloff Was Genuine
Meanwhile, Ethereum's Frantic Price Dip Didn't Stop Gas Fees To Hit Another High
---
Ethereum, the second-largest cryptocurrency to date, suffered from a rollercoaster price action on Monday, February 21, which saw prices tumble down from a little over $2,000 to as low as $1,378.84, based on data from Cryptobrowser.io.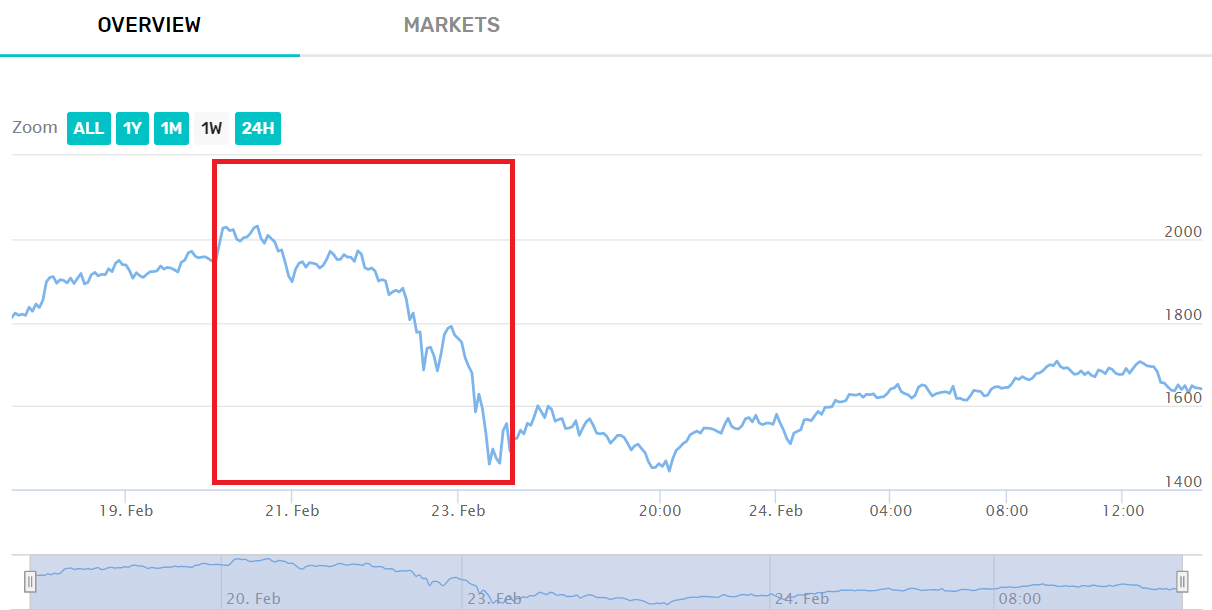 Source: CryptoBrowser.io
However, Ethereum was not the only affected cryptocurrency – almost the entire crypto sector saw a double-digit price correction, which caused massive position liquidations and network congestions. At the same time as the plunge, Kraken's trading engine allegedly ceased operations, with the crypto community answering with accusations towards the crypto exchange and its CEO.
Kraken's CEO Jesse Powell answered the criticism by noting that the company is "in the process of investigating."
"There doesn't seem to be any evidence of a trading-engine malfunction. It seems like trades processed accurately," Powell added, emphasizing that part of the risks, associated with crypto trading might have been mitigated by using margin trading and stop-loss trading.
The Ethereum price plunge comes amid an increased recognition and enthusiasm in the crypto sector, which may undermine the stability and reputation of the entire sector, and crypto exchanges in particular.
Despite the waves of volatility, Powell stated that Kraken received five times more, new clients, compared to several months ago.
"It's still a bit of the Wild West. You still have to do your own research and learn how things work, and you're kind of trading on professional mode on many of these venues," Powell said.
Meanwhile, one of Ethereum's biggest problems – gas fees, seems to persist even when the cryptocurrency is crashing down. Despite the 22% correction, transaction costs for Ethereum reached almost $50 million in daily fees.
In comparison, Bitcoin recorded "just" $8,9 million in transaction cost, while Ethereum-based decentralized exchanges Uniswap and SushiSwap are sitting below Bitcoin with $5.3 million and $3.7 million, respectively.
However, the gas fee crisis is beneficial for Ethereum miners, as they are receiving a larger amount of Ethereum for transaction validations. Things are about to change with the long-awaited EIP-1559 protocol update, which will mitigate some of the gas price problems, but it would also affect the amount of rewards miners are receiving.
The proposal comes with a dynamic auction system for transaction bidding, which would ultimately lead to lower average transaction fees. Furthermore, the fees would undergo a burning process, which would boost Ethereum's price through the scarcity effect. Also, the Ethereum community is preparing for the massive ETH 2.0 protocol update, which would eliminate the current form of transaction validation and miners in general.
Ethereum
Cryptocurrency
Crypto Market
Exchanges News
eth
crypto market monitoring
Ethereum news
exchange
Ethereum Price
Kraken