05 Nov 2018 Arjun Agarwal
Litecoin's Price on the Rise, Aiming for $55.00
Litecoin (LTC) continues to gain forward momentum, as its price managed to hold against the $50.00 and $53.00 resistances. LTC remained well supported on dips around the $52.00 mark.
---
The last few days have been successful for Litecoin (LTC). The cryptocurrency managed to break last week's bearish trend and has been gaining substantial momentum.
Litecoin managed to settle at the $52,00 resistance mark at the 100 Hourly-Moving Average (HMA). LTC reached a high of $55.78 but was quickly corrected to trading levels below $54.00.
Litecoin's break from a low of $50.34 to $55.78 increased trading volumes, so the former $52.00 resistance now serves as a support.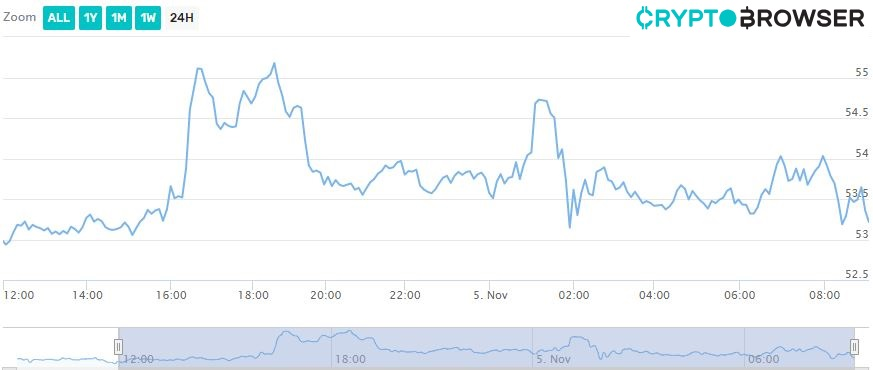 The cryptocurrency showed its bullish trend with $51.60 support on the hourly LTC/USD charts. The $50.34 low and the $55.78 high formed a 61.8% Fib retracement level, with support near $52.42
If the LTC/USD pair continues to correct to lower values, it's possible to see strong resistance at $52.00. If initial resistance occurs at $54.00, Litecoin's price could again rise to $55.00.
Litecoin marks an overall upward movement, which, if the price remains above the $52.00 mark, could mean more gains for the seventh top cryptocurrency by market capitalization. On the downside, if Litecoin loses ground at the $52.00 resistance, we could see a slide to $50.00 short-term.
Litecoin now trades at $53.60, with $3,172,391,133 USD market capitalization and $475,334,784 USD trading volume in the past 24 hours.
Litecoin
Cryptocurrency
Crypto Market
news
Crypto Price
Prices