05 Mar 2021 Marsha Tusk
Mainstream Players' Foray Into Bitcoin Casino Bandwagon
We Are On The Verge Of A New Era For Crypto Gambling
---
Since its launch over a decade ago, Bitcoin's future has always been shrouded in mystery. No one can tell for sure what will happen next. But one thing is for sure, the flagship digital currency is already part of the real world.
Mainstream interest in the new form of money has, in fact, been among the factors behind its meteoric rise in 2021. On February 20, 2021, Bitcoin's market capitalization hit $1 trillion for the first time. Shortly thereafter, it jumped to a record high, surpassing $57,000 following a more than 70% surge during the month.
Institutional Investors Drive BTC to Record Highs
Electric vehicle maker Tesla is among the most recent mainstream investors in the space. On February 8, 2021, the company revealed in a Securities and Exchanges Commission (SEC) filing that it had purchased $1.5 billion worth of BTC. It also announced its intention to start accepting payments in the flagship cryptocurrency.
Bitcoin's bull run is traceable back to October 2020 when online payment platform PayPal has started accepting BTC transactions. MasterCard similarly announced its intentions to do likewise. In January 2021, the world's largest asset manager, BlackRock, included Bitcoin in two funds as an eligible investment.
More recently, the Bank of New York Mellon announced the upcoming launch of a Digital Assets unit. The unit would assist clients to hold, transfer and transact in digital assets.
Additionally, JP Morgan expressed optimism in the currency terming it a rival to gold. According to the institution's analysts, the crypto could soar as high as $146,000 if it becomes an established safe-haven asset.
Lowering the Entry Bar for Brick-and-Mortar Casinos
Based on the level of interest coming from both the corporate and institutional space, it is clear that the crypto uptrend is here to stay.
As has been the case with many industries, the gambling industry initially saw new players take the lead in crypto adoption. However, institutional interest in the digital assets space and skyrocketing crypto values has piqued the interest of established industry players. Mainstream companies in the gambling industry are jumping on the bandwagon, further spurring crypto's popularity in the space.
At the beginning of the year, International Game Technology (IGT), a top gambling tech firm, patented a crypto-based payment method. The company is currently rated as the largest slot-maker in the brick-and-mortar casino world. It is also renowned for online gamer favorites Wheel of Fortune and Megabucks.
Using the newly patented system, punters can choose to transfer Bitcoin to and from their Bitcoin casino bankrolls. They can store BTC and use it to play slot machines. To access crypto funds, players using the system scan a QR code and make deposits on a slot betting unit. The new system lowers the entry bar for land-based casinos which have so far had a hard time embracing the use of digital assets.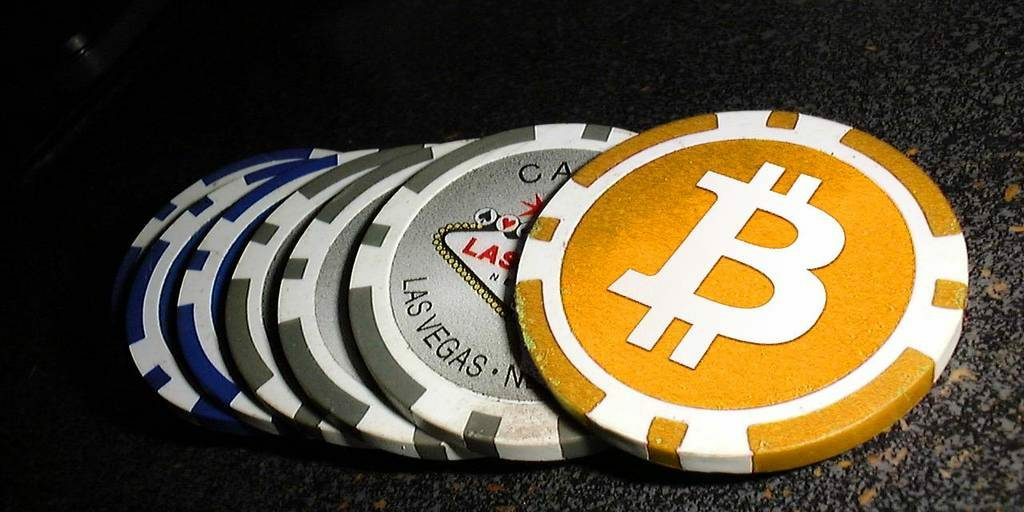 The potential adoption of cryptocurrencies on brick-and-mortar casino floors opens up a whole new world of possibilities. It holds the potential to make these establishments friendlier for younger gamblers who prefer the use of Bitcoin casinos. Furthermore, it welcomes a whole new audience of punters who have so far limited their exploits to online casinos accepting crypto.
Cashless Gambling – The New Normal
Nevada Gaming Commission introduced a new set of regulations in 2020, allowing players to transfer funds from online accounts to live gaming machines. The new rule is bound to make cashless gambling commonplace in Las Vegas. Already, there are multiple Las Vegas casinos accepting payments in BTC. These include the Golden Gate Hotel and Casino and the D Hotel and Casino among others.
With IGT-like innovations in place, more brick-and-mortar casinos in Las Vegas and elsewhere will more likely adopt the use of digital assets. Furthermore, the pandemic has created a contactless payment culture, which could further spur crypto adoption in gaming.
The possibility of using virtual money for the purchase of chips in live gaming scenarios would offer plenty of benefits. High rollers would have a secure way to transact in large sums of money. The innovation would also allow gamers to expand their bankroll with very little effort. Currently, casino patrons in gambling epicenters like Las Vegas have to convert their crypto into fiat money at special ATMs so as to enjoy the gameplay.
Bitcoin
Cryptocurrency
Crypto Market
crypto
bitcoins
cryptocurrencies