16 Jul 2020 Josphat Kariuki
Major VIP Twitter Accounts Hijack Results In $118,000 BTC Loses
Billionaires Jeff Bezos And Bill Gates, Former U.S. President Barack Obama And Entrepreneur Elon Musk Are Some Of The Targeted Victims Of The Massive Twitter Hack Attack
---
One of the largest social media platforms in the world, Twitter, experienced a massive security breach, as hackers took control of several top-tier Twitter accounts, which belong to key public figures. Among the victims of the hacker attack are Kanye West, Joe Bidden, Warren Buffett, Uber Technologies Inc., Apple Inc., and Michael Bloomberg. The list was also populated by the official Twitter accounts of Bitcoin.com and Bitfinex.
The principle of operation of the hacker attack included a Twitter post by the victim, stating that the victim will double the amount that users donate to a provided Bitcoin wallet address in the next 30 minutes.
Twitter officials stated that attacks of such large scale were well-coordinated social engineering interventions, aimed at Twitter employees with access to internal tools and systems of the company. The social media giant further explained that "by exploiting this access, the hackers took control of many highly-visible (including verified) accounts and Tweeted on their behalf." Twitter also noted that the company is taking serious measures to limit access to its internal systems, while the investigation remains as ongoing.
Twitter's CEO Jack Dorsey also made a short statement on the social media, stating that "It's a tough day for us at Twitter. We all feel terrible this happened." Dorsey and his team took some extreme measures in order to cope with the situation. Some of the measures included stopping many verified Twitter user accounts from posting, as well as forbidding password reset requests, which can be used to highjack user accounts.
Dr. Alexi Drew from King's College in London, however, noted that such an attack would have inflicted much more damage if it was planned during times of crisis.
Other crypto exchanges also took a hit, with Coinbase and Gemini reportedly having their Twitter login emails changed. The organization, which was falsely claimed to be responsible for the attack, is CryptoForHealth, which website was taken down moments after the attack.
The amount of cash collected by hackers equals to $118,000, collected in just three hours. Crypto analytics company Blockchair published a timeline, outlining the start and end phase of the attack. It seems that the first VIP user whose account was attacked was Elon Musk`s, followed by Bill Gates, Uber and Apple.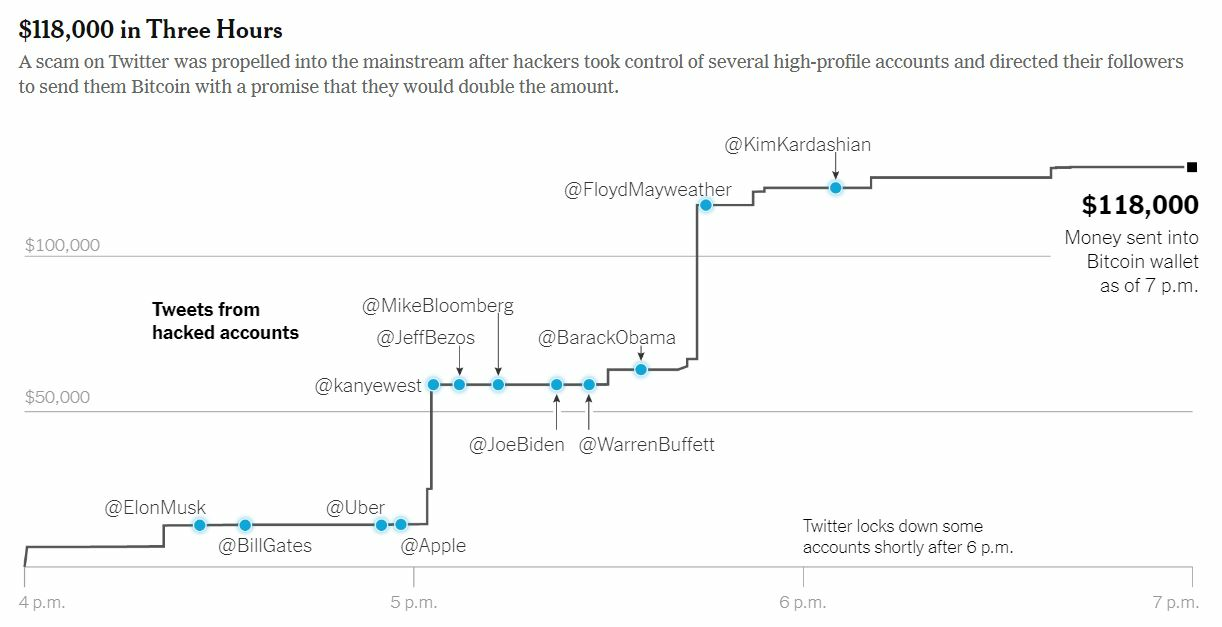 Source: Blockchair.com
Bitcoin
Coinbase
Cryptocurrency
Scam News
Crypto Market
Exchanges News
Bitfinex
Gemini
btc
crypto market monitoring
bitcoins
exchange
bitcoin news
cryptocurrency news
scam
bitcoin news today
Exchanges
Bitcoin Scams News
Hacks
Cryptocurrency theft
Twitter