30 May 2018 Hristina Ivanova
Market Insight: Neo Marks Price Rise
NEO, also known in the crypto world as "The Ethereum of China", is making a bold statement in becoming the main representative of the third generation of cryptocurrencies, following the examples of Bitcoin and Ethereum.
---
NEO has successfully maintained a top 20 ranking at all leading crypto rating sites. NEO's innovative protocol has led to a current position at №13 on coinmarketcap.com, among more than 4000 different currencies on the market.
In contrast to Bitcoin, Neo's platform for decentralized applications allows coding in different languages, including Javascript and C++.
Alongside its popularity, Neo is designed in compliance with the latest cryptocurrency regulations in China. This is an essential factor in the cryptocurrency world, as the Chinese crypto market offers numerous possibilities. NEO's flexibility could make it a local market leader.
Focusing on its price, market analysts saw NEO's big leap, as illustrated in the graph below. In July 2017 traders could buy 1 NEO coin for $6, whereas in January 2018 the price skyrocketed up to $2700, providing early investors with a return of the impressive 2600%.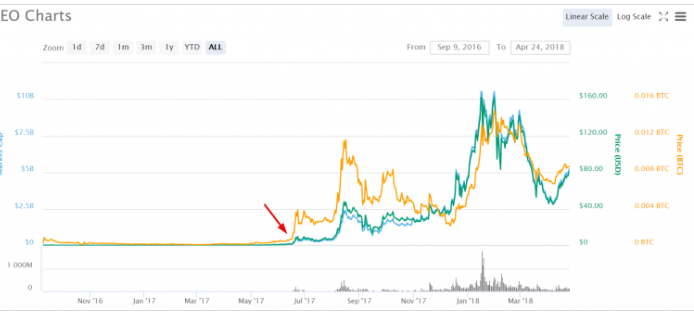 Looking into the driving forces behind the impressive price rise, the coin started attracting more attention following its rebranding from AntShares. Since then, Neo has been among the most popular currencies worldwide and is China's crypto market leader.
The cryptocurrency market has shown that the currencies which remain stable on the market and pride themselves with good performance, are the ones that invest in continuous network developments and updates.
NEO's team has been working hard on polishing ts imperfections. Its advantages, growing popularity and investor interest promise growth of the price in the second half of 2018.
The huge potential of Neo as a platform is based on its diversity in offering a combination of services that other platforms and currencies don't provide simultaneously.
Based on technology and market trends, Neo's value is expected to increase or at least stabilize for the next 2-3 years. According to some analysts, the price will be around $450 in December 2020. While this is a long shot and the market is very dynamic, chances are Neo will continue to grow upwards and make its way into the 'big 10' on the market in the months to come.
NEO
Cryptocurrency