06 Oct 2020
Metamask Reaches One Million Monthly Users, Marking A 400% Increase From 2019
Metamask Increased Its Growth And Popularity Among Users Through The Booming DeFi Sector
---
One of the leading software wallet providers, Metamask, announced that the total monthly users reached the one million mark. Being Ethereum-centric, Metamask gained popularity amid the boom of DeFi protocols. The news comes just seven months after Metamask announced reaching its previous milestone – having one million users in general.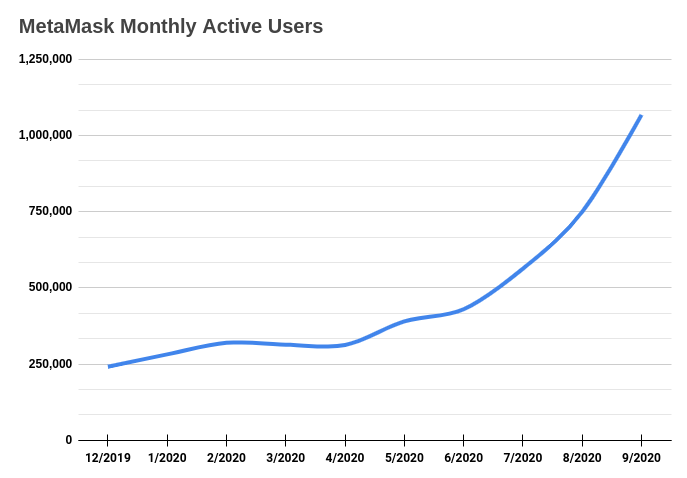 Source: MetaMask
The primary reason behind Metamask's rapid growth in terms of monthly users is that most of the DeFi protocols like Uniswap, Maker, Aave, Curve, and Yearn are running on the Ethereum's blockchain. The platforms need services like Metamask in order for customers to stake-in or withdraw from liquidity pools, or swap tokens on various decentralized exchange (DEX) sector.
Also, the developed by ConsenSys wallet service released a mobile version in early September, which largely contributes to the parabolic growth of the wallet users. A blog post from Metamask explained that the largest wallet users by country are the USA, India, Nigeria, and the Philippines.
"Additionally, over the last twelve months, significant growth in the adoption of DAOs, Web3 games, and the rapid consumer uptake of DeFi products and services has further accelerated our growth curve," the blog post notes.
However, crypto wallets still have a long way to go in terms of wallet development, as services like Metamask can seem counter-intuitive for novice users, who are not that familiar with the way transactions are made on the blockchain.
Meanwhile, most of the users demand for additional functionalities to be implemented, such as a more intuitive user interface, better control over gas usage, a hardware wallet, improved stability, and even a Metamask token.
Looking at the DeFi sector in general, the total value locked (TVL) slipped to sub-$11,000 levels, despite the recent very bullish growth curve. Uniswap remains the current DeFi leader with a market share of 22% and TVL of $2.38 billion. Over the past couple of months, Uniswap made a whopping 1700% price surge. Aave slips 11% in collateral, while Curve Finance climbing to the third spot with $1.23 in total value locked.
Ethereum
cryptocurrency trading
Cryptocurrency exchange
wallet
Ethereum news
token
decentralization
curve
maker
Metamask
Defi
Decentralized Finance
Uniswap
Yearn Finance
Aave
Decentralized Exchange