07 Jul 2023 Arjun Agarwal
Mining Stocks Are Performing Better Than Bitcoin In 2023
However, On-Chain Data Suggests That The Triple-Digit Increase May Soon Come To A Halt
---
Despite the recent bullish price movement in the leading cryptocurrency, Bitcoin mining businesses surpassed Bitcoin by a significant margin.
In 2023, the top nine publicly traded Bitcoin mining companies by market capitalization saw average annual stock price increases of 257.14%. The amount is almost three times greater than the increase in Bitcoin within the same time frame.
The greater returns are an indication of the leveraged beta impact that mining stocks experience. Leveraged beta shows that while these equities outperform when Bitcoin is rising, they are more susceptible to downside risk when Bitcoin is falling.
Bitcoin's price performance will continue to be a key determinant in deciding the direction of mining stocks because of its highly leveraged beta.
By purchasing additional equipment, miners are positioned themselves for the long run, according to industry trends. The fact that they haven't yet seen accumulation levels consistent with other bull markets raises the possibility that the upward trend in the stocks may eventually come to an end.
The recent growth of a number of mining businesses contributed to the positive sentiment and long-term worth of the equities. A decrease in hash rate and a price increase coincided with better mining circumstances.
On-chain data, however, reveals that miners sold off a sizable chunk of their holdings, which might portend a fall soon.
Miners expand, but a big shorting wave may hinder their expansion
In June, the publicly traded mining corporations in the United States took bold steps, indicating the industry's long-term strength.
Hut 8 Mining (HUT8) and US Bitcoin Corp (USBTC) united, raising their combined hash rate to 9.8 EH/s and elevating them to third place among public mining companies in the US. However, it also obtained a $50 million loan from Coinbase for business-related needs.
To improve its hash rate by nearly 1 EH/s, Cleanspark (CLSK) invested $9.3 million. At the same time, Riot Blockchain (RIOT) agreed to pay mining equipment maker MicroBT $170 million to roughly double its hash rate capacity by the time it is fully deployed in 2024.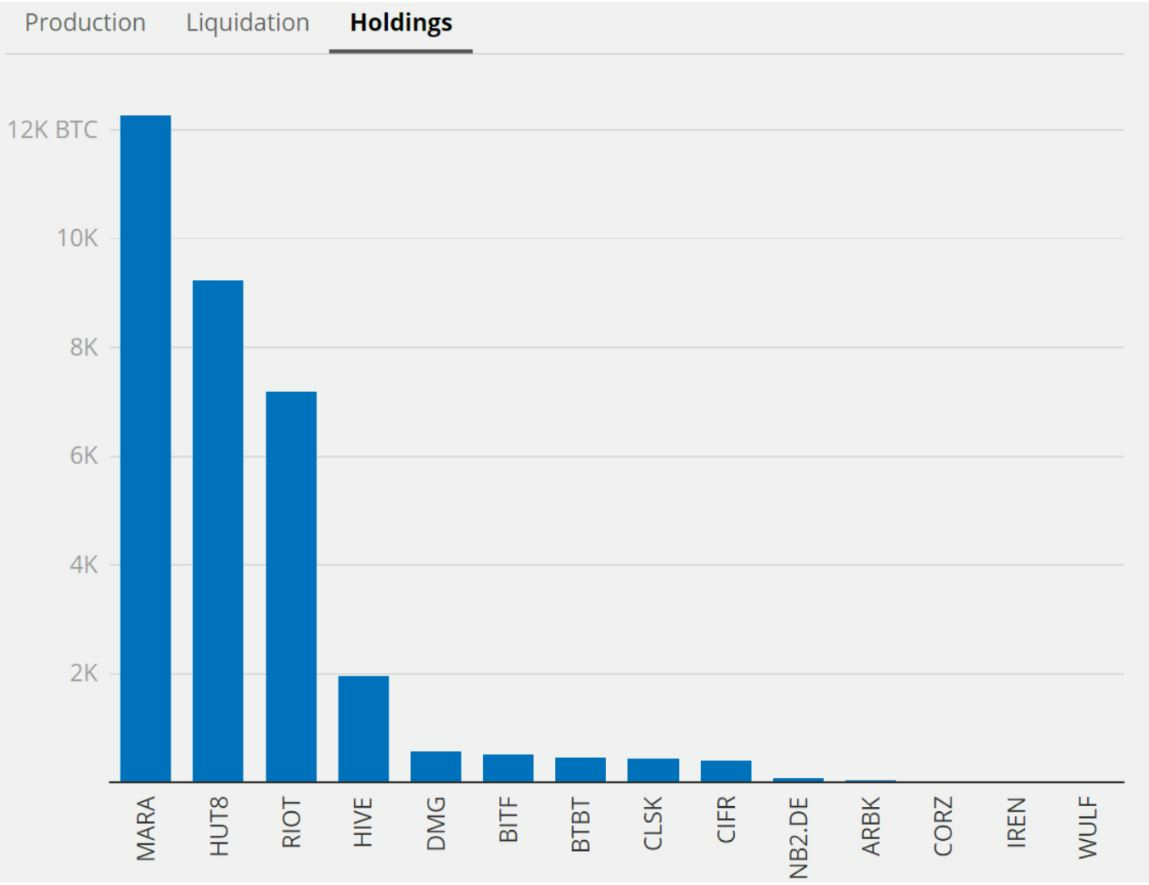 Source: Mining Mag
However, according to data from Fintel, Marathon Digital Holdings (MARA) is among of the most shorted stocks on the Nasdaq, with 25.06% of its float shares being shorted. Values above 10% are regarded as being substantially shorted.
Similarly, Riot has 14.54% of its float shares shorted, up from 13.48% in May, while Cipher Mining (CIFR) is at 22.32%.
The remaining companies have between 5 and 10 percent of their floating shares shorted, which reflects a generally stable market environment. Rising debt and stock dilution, which have a negative impact on the profitability of current shareholders, may be the cause of the rising short interest in MARA, RIOT, and CIFR.
Mining is profitable, but miners are on a sell-off
According to Coin Metrics' one-hop supply statistic, which measures the holdings of wallets that have received coins from mining pools, these addresses have decreased their holdings to levels that are almost one year low.
Additionally, a sizable amount of miner coins were transferred to exchanges, according to Glassnode data. Even during the bull market of 2021, the exchange inflows were more than they are right now. Meanwhile, miner holdings are still close to a two-year low, which is probably related to 2023's overall low profitability.
Beginning in June, the network's overall hash rate surpassed its previous record. It has, however, been falling despite Texas heat waves. The declining hash rate and rise in Bitcoin's price above $30,000 are factors that are boosting miners' income.
Meanwhile, depending on the price of energy, the Antminer S19, the most popular mining device, can cost anywhere between $20,000 and $25,000.
Notably, businesses like Riot that operate mining farms in Texas may suffer losses as a result of the weather. However, given that they had previously experienced heat waves, it is likely that the enterprises would have taken precautions to reduce their exposure to heat wave dangers.
Despite the increase in profitability, miners are selling off Bitcoin, which can be a warning of future downward price movement. Although revenue increased in June, miners have kept up with the expansion and operational expenditures, which signals that a bull market in cryptocurrencies has not yet begun.
Companies' expansion intentions and the dip in on-chain miner holdings suggest medium-term sideways price action or, if the BTC price falls, a probable correction in mining equities.
Bitcoin
mining
btc
Bitcoin mining
Bitcoin price
stocks
bitcoin news
cryptocurrency news
crypto news
Crypto Price