30 Mar 2021 Marsha Tusk
NFT Market Cap Increased Almost 18 Times In 2021
The NFT Demand Rage Is Showing No Signs Of Slowing Down As NFT Marketplaces Continuously Raise Millions Of Dollars From Large Investors
---
A new trend has been emerging in the world of cryptocurrencies lately – the non-fungible tokens trend, also widely known as NFTs. Since the start of 2021, the new market has experienced a major upward movement of the total NFTs market cap by 1,785%.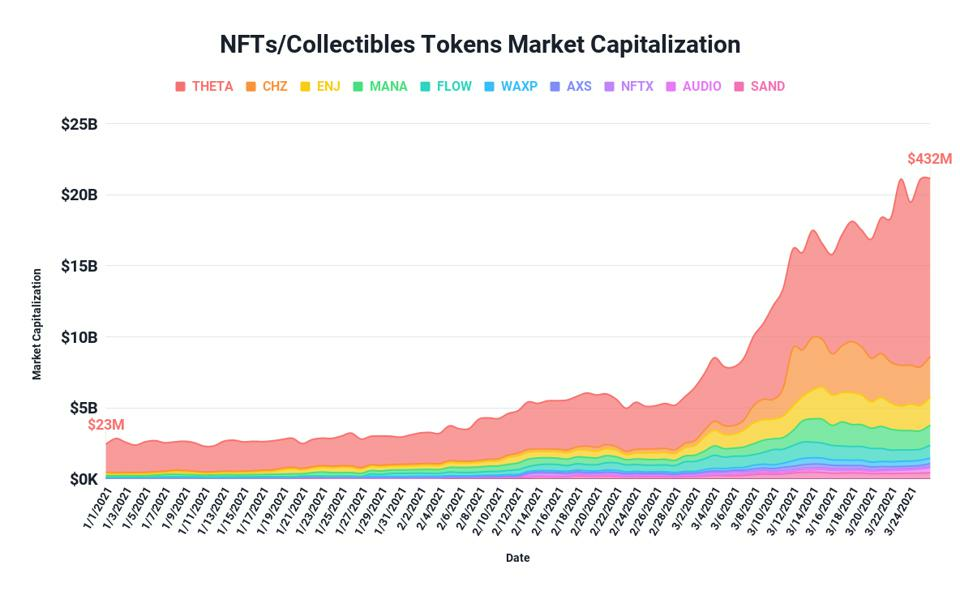 Source: Bitdealer
For example, modern-day digital artist Beeple recently sold a digital work in the form of an NFT for $69 million at an auction at Christie's. The NFТ hype train is seeing major celebrities and invertors jumping in, which made sales volumes on NFT marketplaces explode. The skyrocketing sales also did a massive push to NFT-related tokens.
NFT projects or blockchain-based gaming projects like Theta Network's THETA, Enjin's ENJ, Sandbox's SAND, and Axie Infinity's AXS showed a massive surge in popularity over the past three months.
NFT marketplaces like Opensea and Rarible noted that their sales increased between 50 and 100 times in the same period. Opensea, for example, managed to secure just $5 million in cumulative sales in January 2021, while its March cumulative sales surpassed the $100 million mark.
"Opensea supported CryptoPunks & HashMasks. The protocol provides issuance capabilities and facilitates transactions on Ethereum. Cumulative sales have surpassed $100 million across >50,000 users," Mia Christiano of research company Messari noted.
Meanwhile, the NFT market began receiving recognition and investments from both exchanges and traditional VC funds, as well as from tech and investment companies.
Opensea raised $23 million in an investment round, led by Andreessen Horowitz, while Recur managed to secure $5 million in investments from crypto funds and private investors like Hashed, Gary Vaynerchuk, and Delphi Digital.
However, the NFT boom, just like DeFi can suffer from an increased gas usage, as the vast majority of NFTs are built on top of Ethereum's blockchain. Decentralized exchange platform Polkastarter is a prime example, with the launch of series of Easter-themed collectibles called Polkamon. Over 125,000 unique addresses claimed the mysterious Polkamon eggs, which resulted in a massive gas usage.
"In gas fees alone, we estimate Polkamon fans have spent more than $1 million claiming eggs for their chance to participate in our upcoming IDO on Polkastarter," the company noted.
Furthermore, Polkamon pushes another NFT to be "hatched" on the OpenSea NFT marketplace. Bidding has already commenced, with prices reaching 16 ETH, or $28,600 for the rarest collectible – the "Moonrock x Morningstar Babydragon".
Cryptocurrency
Crypto Market
crypto market monitoring
cryptocurrency news
Market Capitalization
cryptocurrency market
NFT